Locatelli Capricci for Solo Violin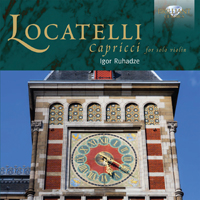 | | |
| --- | --- |
| Composer | Pietro Antonio Locatelli |
| Artist | Igor Ruhadze violin |
| Format | 2 CD |
| Cat. number | 94774 |
| EAN code | 5028421947747 |
| Release | January 2016 |
About this release
The virtuosic, gloriously indulgent music of Pietro Antonio Locatelli has long been passed over in favour of later composers, such as the master of flamboyant showiness Niccolò Paganini (whose 24 Caprices were inspired by these works). Eighty years before Paganini, however, came these capricci (or capriccios), long soloistic passages for solo violin that were originally written as cadences within movements of violin concertos. But Locatelli's knack for this style proved so popular that the works easily stand alone; indeed, some of the capriccios are so long that they actually exceed the length of the movement they originate from! Locatelli would write out the beginning of the capriccio, leaving the player to improvise the final cadenza, and Igor Ruhadze has followed that pattern here, improvising cadences to bridge between all 24 capriccios and as the final tuttis of the concerto movements to which they belong. Even Locatelli's notated section still leaves plenty of room for interpretation; he would simply write the notes in a block chord, leaving the player to pick this apart in whatever style he wished. The writing is rapid, technically demanding and stratospherically high, making huge demands on the performer and providing a treat for the listener in search of a compelling alternative to Paganini.

Igor Ruhadze is a highly experienced performer of Locatelli's works. In 2015 Brilliant Classics released a 21CD set of the composer's ensemble music, featuring Mr. Ruhadze and his aptly-named ensemble Violini Capricciosi. A separately-released volume from the Edition, that of the Trio Sonatas, received a very favourable review from Gramophone magazine, which described the ensemble as 'fine advocates' of Locatelli's music, and praised the 'brilliantly and at times breathtakingly performed' works.

For the first time on CD: the complete 24 Capricci for violin solo by Locatelli!
This issue might be considered as an "afterbirth" of the complete Locatelli Edition on Brilliant Classics. The Capricci are written down cadenzas as featured in the violin concertos Op. 3 (L'Arte del Violino). They are highly virtuosic, demanding the greatest technical skills from the performer (not for nothing Locatelli was called a "devil" performing these works!). The Capricci are so substantial that they can stand on their own. Eighty years later that other "violin devil", Nicolo Paganini would write Capricci as well, thus establishing a new musical form.
Russian violinist Igor Ruhadze received a solid training in Moscow, before specialising in Historically Informed Performance Practice, and is fully equipped to tackle these dazzling works, "breathtakingly performed" as the Gramophone writes.

Other information:
Recorded in The Netherlands in 2013.
Contains notes on the works.
Contains a biography of the artist.
Track list
Disk 1
24 capriccios for Solo Violin: I. Capriccio No. 1 in D Major

24 capriccios for Solo Violin: II. Capriccio No. 2 in D Major

24 capriccios for Solo Violin: III. Capriccio No. 3 in C Minor

24 capriccios for Solo Violin: IV. Capriccio No. 4 in C Minor

24 capriccios for Solo Violin: V. Capriccio No. 5 in F Major

24 capriccios for Solo Violin: VI. Capriccio No. 6 in F Major

24 capriccios for Solo Violin: VII. Capriccio No. 7 in E Major

24 capriccios for Solo Violin: VIII. Capriccio No. 8 in E Major

24 capriccios for Solo Violin: IX. Capriccio No. 9 in C Major

24 capriccios for Solo Violin: X. Capriccio No. 10 in C Major

24 capriccios for Solo Violin: XI. Capriccio No. 11 in G Minor

24 capriccios for Solo Violin: XII. Capriccio No. 12 in G Minor
Disk 2
24 capriccios for Solo Violin: XIII. Capriccio No. 13 in B-Flat Major

24 capriccios for Solo Violin: XIV. Capriccio No. 14 in B-Flat Major

24 capriccios for Solo Violin: XV. Capriccio No. 15 in E Minor

24 capriccios for Solo Violin: XVI. Capriccio No. 16 in E Minor

24 capriccios for Solo Violin: XVII. Capriccio No. 17 in G Major

24 capriccios for Solo Violin: XVIII. Capriccio No. 18 in G Major

24 capriccios for Solo Violin: XIX. Capriccio No. 19 in F Major

24 capriccios for Solo Violin: XX. Capriccio No. 20 in F Major

24 capriccios for Solo Violin: XXI. Capriccio No. 21 in A Major

24 capriccios for Solo Violin: XXII. Capriccio No. 22 in A Major

24 capriccios for Solo Violin: XXIII. Capriccio No. 23 in D Major "Il labirinto armonico"

24 capriccios for Solo Violin: XXIV. Capriccio No. 24 in D Major "Il labirinto armonico"

Capriccio from Concerto in A Major

Capriccio "prova dell'intonazione" (from Sonata Op. 6 No. 12)