Locatelli: Violin Sonatas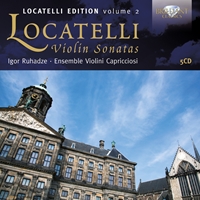 Composer
Pietro Antonio Locatelli
Artist
Igor Ruhadze baroque violin & concert master
Ensemble Violini Capricciosi
Format
5 CD
Cat. number
94423
EAN code
5028421944234
Release
November 2012
About this release
Pietro Antonio Locatelli might not exactly be a household name, but in his day he was an international phenomenon – a prodigiously talented violinist who entertained royalty and who had studied with Corelli's contemporaries from the age of 15. Renowned for exploring the very top register of his instrument, Locatelli is today considered the founding father of the modern virtuoso style. Spanning 5CDs, this compilation celebrates the genius of a man whose violin sonatas occupy an significant position in the history of the string repertoire.

Locatelli's sonatas effectively exploit the capabilities of both the violin and violinist, with many containing extremely high notes as well as rapid shifts between these and lower notes. The composer is also credited with exploring new bowing techniques, such as rapid staccato runs and arpeggios all on one bow, and these are joined by whole passages of double stopping and extended cadenzas – substantial features of the works on the compilation. All in all, there is little doubt that these sonatas were revolutionary masterpieces of their time, ones that pushed the boundaries of technique and whose virtuosic passages continue to dazzle listeners of today.

Igor Ruhadze studied modern violin at the Moscow Central School of Music before pursuing his growing interest in music of the Baroque period. A pioneer of historically informed performance, he co-founded the Ensemble Violini Capricciosi with the aim of performing mostly virtuosic violin music on instruments from the relevant period. This disc marks the group's second recording for the Locatelli edition series, the first of which was devoted to the composer's trio sonatas.

Other information:
- The second instalment of the LOCATELLI EDITION, a first ever on Brilliant Classics.
- Recorded in October 2011, November 2011 and January 2012, Westvestkerk, Schiedam.
- Performed on period instruments/copies: David Tecchler, Rome, 1706 (violin); Jakob Weiss, Salzburg, 1745 (cello); Joop Klinkhamer after Zell (harpsichord).
- This 5-CD set contains the Violin Sonatas, testimony of Locatelli's prodigious gifts as a supreme virtuoso in his day (people thought he was possessed by the devil! Definitively the Paganini of the Baroque…). His instrumental innovations still prove a huge challenge to today's violinists. Russian born and taught Igor Ruhadze succeeds with flying colours, as he already displayed in the first volume of the Locatelli Edition (BC 94376): "his effortless technique enables him to express the beautiful melodic lines and the imaginative instrumental ornamentations of these wonderful Baroque sonatas."
- The CD cover shows picturesque images of Amsterdam, the city where Locatelli settled, worked and prospered.
- Includes booklet notes on the composer and each of the pieces.
Track list
Disk 1
Sonata in B-Flat, Op. 6 No. 1: I. Andante

Sonata in B-Flat, Op. 6 No. 1: II. Allegro

Sonata in B-Flat, Op. 6 No. 1: III. Aria: Cantabile

Sonata in F, Op. 6 No. 2: I. Andante

Sonata in F, Op. 6 No. 2: II. Allegro – Vivace

Sonata in F, Op. 6 No. 2: III. Aria: Vivace

Sonata in B, Op. 6 No. 3: I. Andante

Sonata in B, Op. 6 No. 3: II. Allegro

Sonata in B, Op. 6 No. 3: III. Aria: Menuetto

Sonata in E, Op. 6 No. 4: I. Andante

Sonata in E, Op. 6 No. 4: II. Allegro

Sonata in E, Op. 6 No. 4: III. Aria: Andante
Disk 2
Sonata in C Minor, Op. 6 No. 5: I. Andante

Sonata in C Minor, Op. 6 No. 5: II. Allegro

Sonata in C Minor, Op. 6 No. 5: III. Aria: Vivace

Sonata in D, Op. 6 No. 6: I. Largo

Sonata in D, Op. 6 No. 6: II. Andante

Sonata in D, Op. 6 No. 6: III. Allegro

Sonata in D, Op. 6 No. 6: IV. Aria: Menuetto

Sonata in F Minor, Op. 6 No. 7: I. Largo

Sonata in F Minor, Op. 6 No. 7: II. Grave

Sonata in F Minor, Op. 6 No. 7: III. Vivace

Sonata in F Minor, Op. 6 No. 7: IV. Aria: Cantabile
Disk 3
Sonata in C, Op. 6 No. 8: I. Adagio – Andante

Sonata in C, Op. 6 No. 8: III. Allegro

Sonata in C, Op. 6 No. 8: IV. Andante

Sonata in B Minor, Op. 6 No. 9: I. Largo

Sonata in B Minor, Op. 6 No. 9: II. Vivace

Sonata in B Minor, Op. 6 No. 9: III. Aria: Vivace

Sonata in G, Op. 6 No. 10: I. Andante

Sonata in G, Op. 6 No. 10: II. Allegro

Sonata in G, Op. 6 No. 10: III. Aria: Vivace

Sonata in E-Flat, Op. 6 No. 11: I. Adagio

Sonata in E-Flat, Op. 6 No. 11: II. Allegro

Sonata in E-Flat, Op. 6 No. 11: III. Aria: Cantabile
Disk 4
Sonata in D Minor, Op. 6 No. 12: I. Adagio

Sonata in D Minor, Op. 6 No. 12: II. Allegro

Sonata in D Minor, Op. 6 No. 12: III. Andante

Sonata in D Minor, Op. 6 No. 12: IV. Allegro

Sonata in D Minor, Op. 6 No. 12: V. Capriccio Prova dell'Intonazione

Sonata in G Minor: I. Adagio

Sonata in G Minor: II. Allegro

Sonata in G Minor: III. Largo

Sonata in G Minor: IV. Allegro

Sonata in F, Op. 8 No. 1: I. Largo

Sonata in F, Op. 8 No. 1: II. Allegro

Sonata in F, Op. 8 No. 1: III. Allegro

Sonata in D, Op. 8 No. 2: I. Adagio

Sonata in D, Op. 8 No. 2: II. Allegro

Sonata in D, Op. 8 No. 2: III. Presto – Lento

Sonata in E-Flat, Op. 6 No. 11: I. Adagio

Sonata in E-Flat, Op. 6 No. 11: II. Allegro

Sonata in E-Flat, Op. 6 No. 11: III. Vivace
Disk 5
Sonata in C, Op. 8 No. 4: I. Cantabile

Sonata in C, Op. 8 No. 4: II. Allegro

Sonata in C, Op. 8 No. 4: III. Vivace

Sonata in C, Op. 8 No. 4: IV. Allegro molto

Sonata in G, Op. 8 No. 5: I. Largo

Sonata in G, Op. 8 No. 5: II. Allegro

Sonata in G, Op. 8 No. 5: III. Andante

Sonata in G, Op. 8 No. 5: IV. Allegro

Sonata in E-Flat, Op. 8 No. 6: I. Adagio

Sonata in E-Flat, Op. 8 No. 6: II. Allegro

Sonata in E-Flat, Op. 8 No. 6: III. Aria di menuetto pietro Locatelli