Ludovico Einaudi: Clouds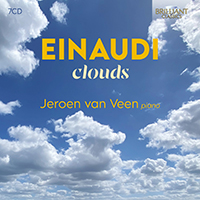 | | |
| --- | --- |
| Composer | Ludovico Einaudi |
| Artist | Jeroen van Veen piano |
| Format | 7 CD |
| Cat. number | 96912 |
| EAN code | 5028421969121 |
| Release | May 2023 |
About this release
Among the best-selling composers of our time, Ludovico Einaudi has won a following of millions through his distinctively calm, smoothly unfolding works, which spin unbroken songs from the simplest material and cast a spell of relaxed enchantment over their audience.

Jeroen van Veen is the Dutch pianist who has likewise won an international following for his many albums of Minimalist piano music on Brilliant Classics, including a previous collection of Einaudi's music, 'Waves' (9452).

'Clouds' is another 7CD collection, which ranges across 30 years of Einaudi's oeuvre, from the Stanze ('Verses') of 1992 to the Underwater collection from 2022. In fact, as a relatively early work, Stanze contains intriguing and uncharacteristic elements: as the composer himself explained, 'I had one goal: to remove, and leave space. The title refers to the poetic stanzas but also to invisible spaces to be inhabited with the mind.'

In 2012, Einaudi produced a project called Elements as a tribute to the memory of his mentor and teacher Luciano Berio. Each instrumental song of Elements evolves from a small gesture or motif, evoking a journey through fragmented thoughts and feelings. In a similar way, but on a much grander scale, the Seven Days Walking project of 2019 developed from a walking tour of the Alps, where Einaudi had the idea of observing and evoking the times of day and moods across the cycle of an entire week. This cycle finds the composer at his most bewitchingly minimalist, drawing in the listener to a space of private reflection.

The Underwater collection thrives on the interplay of pure, sparkling and warm, melancholic sounds and invites you to forget the hustle and bustle of everyday life. The tempo is restful and the pulse flowing even in a seascape such as 'Swordfish'. Finally, Jeroen van Veen has selected an album's worth of Einaudi's prolific work in the world of film, in which his songs often present a mirror to troubled souls and an oasis of calm amid violence.

- Ludovico Einaudi's (b. 1955) minimalist, deceptively simple piano works reach a massive audience well beyond the strict boundaries of traditional classical music. CDs with his music break sales records, the hypnotic calmness of his works being the perfect recipe against modern world's stress and fatigue. In that sense Einaudi may well become the "Satie of the 21st century".
- Einaudi's piano works fit in logically with Jeroen van Veen's survey of Minimalist Piano Music, and this 7-CD set is the successor of Van Veen's hugely successful set "Waves", issued in 2013 (Brilliant Classics 9452).
- This new set presents works from Einaudi's most recent compositions: Stanze, Elements, Seven Days Walking, Underwater and film music.
- Dutch pianist, pioneer and champion of Minimalism Jeroen van Veen plays the piano in his inimitable way: focused, serene and hypnotizing. Praise for Jeroen van Veen on Brilliant Classics: 'Van Veen is quite brilliant in the quirky fourth [Philip Glass Etude] and his reading of the exquisite, valedictory 20th is excellent.' Gramophone. 'Jeroen van Veen's recording can stand alongside the best from any source, and this [Arvo Pärt] set is worthy of high praise in every regard.' MusicWeb International. 'Van Veen is a supremely eloquent performer of his own music. His touch is remarkably varied, carrying none of the hammered urgency of, for example, Michael Nyman's performances of Nyman.' Fanfare.
Listening
Track list
Disk 1
Ludovico Einaudi: Stanze: I. Notte

Ludovico Einaudi: Stanze: II. Calore

Ludovico Einaudi: Stanze: III. Moto

Ludovico Einaudi: Stanze: IV. Calmo

Ludovico Einaudi: Stanze: V. Vega

Ludovico Einaudi: Stanze: VI. Onda

Ludovico Einaudi: Stanze: VII. Contatti

Ludovico Einaudi: Stanze: VIII. Respiro

Ludovico Einaudi: Stanze: IX. Lento

Ludovico Einaudi: Stanze: X. Attesa

Ludovico Einaudi: Stanze: XI. Cadenza

Ludovico Einaudi: Stanze: XII. Orbite

Ludovico Einaudi: Stanze: XIII. Moto perpetuo

Ludovico Einaudi: Stanze: XIV. Cerchio

Ludovico Einaudi: Stanze: XV. Ritorno

Ludovico Einaudi: Stanze: XVI. Notte
Disk 2
Ludovico Einaudi: Elements: I. Petricor

Ludovico Einaudi: Elements: II. Night

Ludovico Einaudi: Elements: III. Drop

Ludovico Einaudi: Elements: IV. Four Dimensions

Ludovico Einaudi: Elements: V. Elements

Ludovico Einaudi: Elements: VI. Whirling Winds

Ludovico Einaudi: Elements: VII. Twice

Ludovico Einaudi: Elements: VIII. ABC

Ludovico Einaudi: Elements: IX. Numbers

Ludovico Einaudi: Elements: X. Mountain

Ludovico Einaudi: Elements: XI. Logos

Ludovico Einaudi: Elements: XII. Song for Gavin

Ludovico Einaudi: Elements: XIII. Elements for Piano Solo
Disk 3
Ludovico Einaudi: Seven Days Walking, Day 1: I .Low Mist Var. 1

Ludovico Einaudi: Seven Days Walking, Day 1: II. Low Mist

Ludovico Einaudi: Seven Days Walking, Day 1: III. Gravity

Ludovico Einaudi: Seven Days Walking, Day 1: IV. Matches

Ludovico Einaudi: Seven Days Walking, Day 1: V. Cold Wind Var. 1

Ludovico Einaudi: Seven Days Walking, Day 1: VI. Golden Butterflies

Ludovico Einaudi: Seven Days Walking, Day 1: VII. Fox Tracks

Ludovico Einaudi: Seven Days Walking, Day 1: VIII. A Sense of Symmetry

Ludovico Einaudi: Seven Days Walking, Day 1: IX. The Path of the Fossils

Ludovico Einaudi: Seven Days Walking, Day 1: X. Ascent

Ludovico Einaudi: Seven Days Walking, Day 1: XI. Low Mist Var. 2

Ludovico Einaudi: Seven Days Walking, Day 1: XII. Low Mist Var. 1

Ludovico Einaudi: Seven Days Walking, Day 2: I. Golden Butterflies Var. 1

Ludovico Einaudi: Seven Days Walking, Day 2: II. Birdsong
Disk 4
Ludovico Einaudi: Seven Days Walking, Day 2: III. Campfire Var. 1

Ludovico Einaudi: Seven Days Walking, Day 2: IV. Matches Var. 1

Ludovico Einaudi: Seven Days Walking, Day 2: V. Low Mist Var. 2

Ludovico Einaudi: Seven Days Walking, Day 3: I. Campfire

Ludovico Einaudi: Seven Days Walking, Day 3: II. View from the Other Side

Ludovico Einaudi: Seven Days Walking, Day 3: III. Full Moon

Ludovico Einaudi: Seven Days Walking, Day 3: IV. Cold Wind

Ludovico Einaudi: Seven Days Walking, Day 4: I. Low Mist Var. 1

Ludovico Einaudi: Seven Days Walking, Day 4: II. Gravity Var. 1

Ludovico Einaudi: Seven Days Walking, Day 4: III. Low Mist Var. 2

Ludovico Einaudi: Seven Days Walking, Day 4: IV. View from the Other Side

Ludovico Einaudi: Seven Days Walking, Day 5: I. Matches Var. 1

Ludovico Einaudi: Seven Days Walking, Day 5: II. Campfire Var. 1

Ludovico Einaudi: Seven Days Walking, Day 5: III. Golden Butterflies Var. 1

Ludovico Einaudi: Seven Days Walking, Day 5: IV. Low Mist Var. 1
Disk 5
Ludovico Einaudi: Seven Days Walking, Day 6: I. Matches

Ludovico Einaudi: Seven Days Walking, Day 6: II. A Sense of Symmetry

Ludovico Einaudi: Seven Days Walking, Day 6: III. Cold Wind

Ludovico Einaudi: Seven Days Walking, Day 6: IV. Low Mist Var. 2

Ludovico Einaudi: Seven Days Walking, Day 6: V. The Path of the Fossils

Ludovico Einaudi: Seven Days Walking, Day 7: I. Campfire Var. 1

Ludovico Einaudi: Seven Days Walking, Day 7: II. Cold Wind Var. 1

Ludovico Einaudi: Seven Days Walking, Day 7: III. Golden Butterflies Var. 1

Ludovico Einaudi: Seven Days Walking, Day 7: IV. Low Mist Var. 1

Ludovico Einaudi: Seven Days Walking, Day 7: V. Birdsong

Ludovico Einaudi: Seven Days Walking, Day 7: VI. Cold Wind Var. 2

Ludovico Einaudi: Seven Days Walking, Day 7: VII. Low Mist Var. 2
Disk 6
Ludovico Einaudi: Film Music, Pt. 1: I. Berlin Song

Ludovico Einaudi: Film Music, Pt. 1: II. Nuvole bianche

Ludovico Einaudi: Film Music, Pt. 1: III. Fly

Ludovico Einaudi: Film Music, Pt. 1: IV. L'origine nascosta

Ludovico Einaudi: Film Music, Pt. 1: V. Una mattina

Ludovico Einaudi: Film Music, Pt. 1: VI. Writing Poems

Ludovico Einaudi: Film Music, Pt. 1: VII. Time Lapse

Ludovico Einaudi: Film Music, Pt. 1: VIII. Ascolta

Ludovico Einaudi: Film Music, Pt. 1: IX. Experience

Ludovico Einaudi: Film Music, Pt. 1: X. Run

Ludovico Einaudi: Film Music, Pt. 1: XI. Walk

Ludovico Einaudi: Film Music, Pt. 1: XII. Cache Cache

Ludovico Einaudi: Film Music, Pt. 1: XIII. Dietro casa

Ludovico Einaudi: Film Music, Pt. 1: XIV. Ritornare
Disk 7
Ludovico Einaudi: Film Music, Pt. 2: I. Oltremare

Ludovico Einaudi: Film Music, Pt. 2: II. The Water Diviner

Ludovico Einaudi: Film Music, Pt. 2: III. Newton's Cradle

Ludovico Einaudi: Underwater: I. Luminous

Ludovico Einaudi: Underwater: II. Rolling like a Ball

Ludovico Einaudi: Underwater: III. Indian Yellow

Ludovico Einaudi: Underwater: IV. Flora

Ludovico Einaudi: Underwater: V. Natural Light

Ludovico Einaudi: Underwater: VI. Almost June

Ludovico Einaudi: Underwater: VII. Swordfish

Ludovico Einaudi: Underwater: VIII. Wind Song

Ludovico Einaudi: Underwater: IX. Atoms

Ludovico Einaudi: Underwater: X. Temple White

Ludovico Einaudi: Underwater: XI. Nobody Knows

Ludovico Einaudi: Underwater: XII. Underwater