Lully: Dies Irae, Te Deum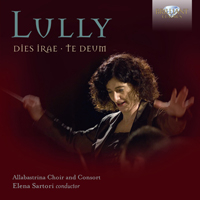 Composer
Jean Baptiste Lully
Artist
Allabastrina Choir and Consort
Elena Sartori conductor
Format
1 CD
Cat. number
95592
EAN code
5028421955926
Release
November 2017
About this release
The maestro of Versailles, the pioneer of high French Baroque style: isn't that the uncontested place awarded by posterity to Jean-Baptiste Lully? The Italian musicologist and conductor Elena Sartori would have us think differently, with this fascinating act of rediscovery that works from a logical point of origin: Lully's place of birth, Florence, as Giambattista Lulli. Her aim with this new recording is to reinterpret a pair of the composer's grand motets through the prism of his Italian heritage.

As Sartori notes in her booklet essay, the magnificent Te Deum shares little of musical style or text-setting in common with Lully's operas. The ornamentation and stylised, asymmetric rhythms that are woven through the texture of his dramatic works and those of his successors such as Rameau are notable by their absence; she finds, instead, 'a deep-rooted, maternal sense of melody, and an enduring, even unwitting memory of Latinate language that leads the work away from factional claims (of national style).'

The Dies Irae is still further removed from norms of French style; the handling of the chorus is closer to Carissimi and the instrumental parts to Corelli. Accordingly, she has produced new performing editions of both works. She conducts them with the vocal and instrumental ensemble which she recently founded in order to give historically aware performance of dramatic music from the Italian Renaissance and Baroque eras. The result of her scholarship is to bring a more immediate sense of drama, even danger, to the multi-part Dies Irae, and a greater urgency of celebration than is customary to the Te Deum setting. Anyone who follows Lully's music and the French Baroque will want to investigate this new recording, which was made in the Basilica of San Vitale, Ravenna: a Byzantine-era building with its own complex history which lends an imposing sense of space to the interpretations.

Born in Florence, the cradle of the Italian language, Jean-Baptiste Lulli was the first Italian musician to settle and be fully accepted in France, at the prestigious and illustrious court of Versailles, the centre of refined taste. Lully not only accepted the French style, even more: he created it. His sacred music is splendidly dramatic, the orchestra is full and sonorous, with important roles for the wind and percussion instruments, a feast of colours, driving rhythms and ornaments!
This new recording presents two masterpieces of French sacred music: the jubilant Te Deum and the powerful Dies Irae. Conductor Elena Sartori revised, edited and reconstructed the orchestral parts on the basis of the 1700 Versailles score. The Allabastrina Choir and Orchestra, conducted by Elena Sartori, has recorded for Glossa, Decca and Christophorus. Elena Sartori wrote her own informative liner notes in the booklet.
Track list
Disk 1
Dies irae, LWV 61/1: I. Simphonie, tuba mirum

Dies irae, LWV 61/1: II. Liber scriptus

Dies irae, LWV 61/1: III. Quid sum miser

Dies irae, LWV 61/1: IV. Rex tremendae

Dies irae, LWV 61/1: V. Recordare

Dies irae, LWV 61/1: VI. Ingemisco

Dies irae, LWV 61/1: VII. Confutatis

Dies irae, LWV 61/1: VIII. Lacrymosa

Dies irae, LWV 61/1: IX. Pie Jesu

Te deum, LWV 55: I. Simphonie I

Te deum, LWV 55: II. Te deum laudamus

Te deum, LWV 55: III. Pleni sunt coeli et terra

Te deum, LWV 55: IV. Simphonie II

Te deum, LWV 55: V. Patrem immensae majestatis

Te deum, LWV 55: VI. Simphonie III

Te deum, LWV 55: VII. Te ergo quaesumus

Te deum, LWV 55: VIII. Simphonie IV

Te deum, LWV 55: IX. Per singulos dies

Te deum, LWV 55: X. Et laudamus

Te deum, LWV 55: XI. Simphonie V

Te deum, LWV 55: XII. Dignare domine, miserere

Te deum, LWV 55: XIII. In te domine speravi