Lyadov: Complete Orchestral Works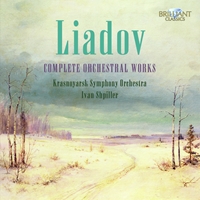 Composer
Anatoly Konstantinovich Liadov
Artist
Krasnoyarsk Symphony Orchestra
Ivan Shpiller conductor
Format
1 CD
Cat. number
94077
EAN code
5028421940779
Release
October 2010
About this release
Anatoly Liadov (1855-1914) was, like his Norwegian contemporary Grieg, a miniaturist. At a time when his fellow Russian composers were composing operas, symphonies and concertos, he concentrated on producing a remarkable collection of wonderfully scored and evocative orchestral miniatures. He did sometimes venture into larger musical forms, and this is illustrated by 'Fragment from the Apocalypse', a large unfinished work that shares the same visionary sound world as Scriabin. One of his most famous works 'the Enchanted Lake' is suffused with a Debussian soundscape. This work, like 'Kikimora' (about a tiny thimble sized human hating witch who listens to stories told by her cat) were intended to be incorporated into operas that were either never started or finished.

Liadov was the first composer Diaghilev asked for a ballet on the Russian folktale 'The Firebird'. Liadov's legendary laziness saw to it that he never completed the commission – another pupil of Rimsky Korsakov, the young Igor Stravinsky was asked instead and made it his first major ballet success.

Liadov's research into folk music – another thing he had in common with Grieg, laid the foundations for other composers including Bartok, Kodaly, and Vaughan Williams to preserve and exploit the rich musical heritage of folk music in Europe.

Other information:
- Recorded in 2001.
- Booklet notes included.
- Of interest to those who like Rimsky Korsakov, Rachmaninov, Glazunov, Scriabin and Tchaikovsky.
Track list
Disk 1
Polonaise in Memory of Pushkin, Op. 49

About Olden Times, Op.21b

Scherzo No.1, Op.16

Nenie, Op.16

Musical Snuffbox, Op.32

Dance of the Amazon, Op.65

Fragment from the Apocalypse, Op.66

Polonaise for the Unveiling of the Statue of Rubinstein, Op.55

8 Russian folk songs for orchestra, Op.58: Religious Chant

8 Russian folk songs for orchestra, Op.58: Christmas Carol

8 Russian folk songs for orchestra, Op.58: Melancholy Song

8 Russian folk songs for orchestra, Op.58: Melancholy Song

8 Russian folk songs for orchestra, Op.58: Humorous Song (I Danced with a Gnat)

8 Russian folk songs for orchestra, Op.58: Legend of the Birds

8 Russian folk songs for orchestra, Op.58: Cradle Song

8 Russian folk songs for orchestra, Op.58: Round Dance

8 Russian folk songs for orchestra, Op.58: Village Dance

3 Symphonic poems: Kikimora Op.63

3 Symphonic poems: The Enchanted Lake Op.62

3 Symphonic poems: Baba-Yaga Op.56