Malipiero: Chamber Music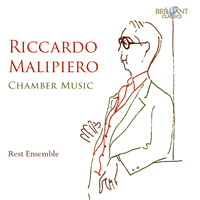 Download booklet
| | |
| --- | --- |
| Composer | Riccardo Malipiero |
| Artist | Rest Ensemble |
| Format | 1 CD |
| Cat. number | 95971 |
| EAN code | 5028421959719 |
| Release | March 2020 |
About this release
Cantabile modernism: New recordings of chamber music by the scion of a distinguished Italian family of composers and musicians.

The Milanese composer Riccardo Malipiero was born in Milan in 1914 and took lessons with his uncle, Gian Francesco Malipiero in the late 30s. Malipiero disowned all that he wrote up until 1938 and saved only a small amount of that written before 1945: the surviving early pieces show the influence of his uncle's teaching and the neo-classicism of Casella and Stravinsky. However, influenced by Luigi Dallapiccola, he came to embrace a personal, lyrical language of 12-tone composition which ultimately traces its roots back to the music of Berg.

The four-movement Violin Sonata from 1956 makes an ideal introduction to Riccardo Malipiero's music, with a nervous, waltz-likeScherzo and a frozen slow movement leading into the finale's extensive violin cadenza, beautifully written for the instrument and played here by Rebecca Raimondi with burning conviction as well as ferocious accuracy (she included the sonata within her Master's recital at the Guildhall School of Music and Drama, from which she graduated in 2017).

At her graduation recital she was accompanied by Alessandro Viale, and together with the other members of the Rest Ensemble they have given concerts of Malipiero's music in both the UK and Italy, lending to these studio recordings the ring of intimacy and impassioned authenticity that is rare in recordings of unfamiliar modernist music. The Piano Trio of 1969 sets a tougher challenge to both performers and listeners, more angular and explosive, yet still imbued with a strain of wit and grace that runs through his output.

Scored for viola and piano, the Ciacona di Davide of 1970 was dedicated to his friend, the violist, teacher and conductor David Burchuk, and the 12-tone row outlined at the start of the Chaconne derives its shape from Burchuk's name. Mosaico II was composed as a competition piece for solo violin: The subtitle 'capriccio per violino solo' highlights the virtuosic and rhapsodic character of the work. Pizzicato and picchettato passages evoke the virtuoso literature of Paganini and Ernst, but the character of the piece is ironic; Malipiero takes his craft seriously but his music doesn't take itself too seriously, and it should make a strong appeal to any curious-minded listeners.

Riccardo Malipiero (1914-2003) was an Italian composer, pianist, critic and music educator. He studied at the Milan and Turin Conservatory, later he pursued further studies with his uncle Gian Francesco Malipiero.
Malipiero's early works were composed in a free atonality. In 1945 he began using a twelve-tone technique in his compositions, becoming one of the pioneers of that technique in Italy. In 1949 he organized the First Congress of twelve-tone music in Milan, which was attended by such famous composers as John Cage, Luigi Dallapiccola, Karl Amadeus Hartmann and Bruno Maderna.
This new recording presents his Piano Trio as well as works for viola and piano, violin and piano and cello solo. The music is highly charged and expressive, passionate, alternating violent and lyrical sections of great power and beauty: a discovery!
Played by the Italian Rest Ensemble, specialized in the performance and recording of contemporary chamber music.
Listening
Track list
Disk 1
Riccardo Malipiero: Sonata for Violin and Piano: I. Moderato

Riccardo Malipiero: Sonata for Violin and Piano: II. Molto presto

Riccardo Malipiero: Sonata for Violin and Piano: III. Molto lento

Riccardo Malipiero: Sonata for Violin and Piano: IV. Deciso, ma a cadenza

Riccardo Malipiero: Ciaccona di Davide

Riccardo Malipiero: Mosaico II

Riccardo Malipiero: Trio for Piano, Violin and Cello: I. —

Riccardo Malipiero: Trio for Piano, Violin and Cello: II. —

Riccardo Malipiero: Trio for Piano, Violin and Cello: III. —

Riccardo Malipiero: Trio for Piano, Violin and Cello: IV. —