Mancini: 12 Recorder Concertos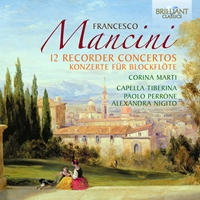 Composer
Francesco Mancini
Artist
Corina Marti recorder
Capella Tiberina
Paolo Perrone concert master
Alexandra Nigito maestro al cembalo
Format
2 CD
Cat. number
94324
EAN code
5028421943244
Release
August 2012
About this release
Here's a second release from Brilliant Classics of the Neapolitan musician Francesco Mancini (1672–1737), a leading light in his city's culture of composition and education as director of the Conservatorio di S Maria di Loreto, maestro of the Royal Chapel and composer of 29 operas and more than 200 cantatas. His modern reputation largely rests on his recorder sonatas (available on 94058); the new release extends our knowledge of that cheerful aesthetic to his recorder concertos, in similarly sprightly, periodinstrument
performances by young musicians with a background in this repertoire.

Corina Marti studied at the Schola Cantorum Basiliensis, famed nursery of talent in the performance of early music, and the concertos are led from the keyboard by another Swiss-based musician, Alexandra Nigito, who has already proved her expertise in this music with recordings of cantatas by Pasquini (on 94225).

The recorder concertos are more demanding to play than to listen to. One unusual stylistic trademark is the preponderance of fugue in the fast movements, but that does not imply a dryly academic style – like Mancini's sonatas, the concertos are full of memorable and deftly surprising melodies.

Other information:
- CD Premiere: the complete Recorder Concertos of Mancini, recorded in May 2011 in Rome.
Francesco Mancini was a prominent composer in Napoli during the first half of the 18th century and a perfect representative of the Neapolitan style: brilliant, witty, virtuosic and charming, aiming to give undiluted pleasure to the listener.
- Excellent period instrument performances, brimming with vigour, enthusiasm and enjoyment. This is the second Brilliant Classics release of Mancini, the earlier issue of the recorder sonatas (94058) received excellent reviews in the international press.
- Includes booklet notes in English and Italian.
Track list
Disk 1
Concerto VIII in C Minor: Vivace

Concerto VIII in C Minor: Largo e staccato

Concerto VIII in C Minor: Fuga – Allegro

Concerto VIII in C Minor: Largo

Concerto VIII in C Minor: Allegro

Concerto V in G: Allegro

Concerto V in G: Largo

Concerto V in G: Fuga – Allegro

Concerto V in G: Larghetto

Concerto V in G: Allegro

Concerto XIX in E Minor: Allegrissimo

Concerto XIX in E Minor: Larghetto

Concerto XIX in E Minor: Fuga

Concerto XIX in E Minor: Moderato

Concerto XIX in E Minor: Allegro

Concerto XX in C Minor: Comodo

Concerto XX in C Minor: Fuga – Allegro

Concerto XX in C Minor: Lento

Concerto XX in C Minor: Comodo

Concerto XVIII in F: Largo

Concerto XVIII in F: Fuga

Concerto XVIII in F: A tempo giusto

Concerto XVIII in F: Allegro

Concerto XIV in G Minor: Comodo

Concerto XIV in G Minor: Fuga – Allegro

Concerto XIV in G Minor: Larghetto

Concerto XIV in G Minor: Allegro
Disk 2
Concerto X in B-Flat: Larghetto

Concerto X in B-Flat: Allegro

Concerto X in B-Flat: Largo

Concerto X in B-Flat: Allegro

Concerto I in C Minor: Moderato

Concerto I in C Minor: Grave

Concerto I in C Minor: Moderato

Concerto I in C Minor: Allegro

Concerto XIII in G Minor: Largo

Concerto XIII in G Minor: Fuga

Concerto XIII in G Minor: Largo

Concerto XIII in G Minor: Spiritoso

Concerto XVI in F: Affettuoso

Concerto XVI in F: Fuga

Concerto XVI in F: Un poco andante

Concerto XVI in F: Allegro

Concerto VI in D Minor: Amoroso

Concerto VI in D Minor: Allegro

Concerto VI in D Minor: Largo

Concerto VI in D Minor: Allegro

Concerto XVII in A Minor: Allegro

Concerto XVII in A Minor: Andante

Concerto XVII in A Minor: Spiritoso

Concerto XVII in A Minor: Largo

Concerto XVII in A Minor: Allegro