Manfredini: Complete String Quartets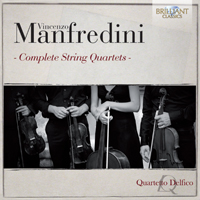 Composer
Vincenzo Manfredini
Artist
Quartetto Delfico
Mauro Massa violin
Andrea Vassalle violin
Gerardo Vitale viola
Valeria Brunelli cello
Format
1 CD
Cat. number
94786
EAN code
5028421947860
Release
June 2014
About this release
For Manfredini, instrumental music was 'a form of language, in a way similar to painting and poetry', and its main objective 'to please and touch the heart'. This beautiful collection shows the extent to which his work reflected his theoretical and aesthetic ideals. Each of the string quartets exhibits a consummate balance between the instruments, between melody and harmony, and between lyricism and chiaroscuro effects. Here was a composer who knew his art through and through, and who, moreover, successfully defended it in disputes with other contemporary music theorists. The listener will be transported by the emotive dialogues at the centre of this Italian master's finest pieces.

The Quartetto Delfico is a group of four orchestral players who came together to specialise in the Italian string quartet repertoire. Their practice on original instruments lends them a unique identity, and they have played a number of international festivals, as well as appearing on BBC Radio 3.

Other information:
- Recorded: September 2013, Villa San Fermo, Lonigo, Italy.
- For the first time on CD: the complete string quartets by Manfredini.
- Vincenzo Manfredini (son of the famous Francisco Manfredini, the baroque composer) wrote these string quartets in classical style ("invented" by Papa Haydn) and in Italian spirit: charming, melodious, harmonious and with that very special sense of beauty only seen in Italian landscapes.
- Excellent performances in historical style by the Quartetto Delfico.
- Booklet contains Scholarly liner notes in English and Italian and an ensemble biography.
Track list
Disk 1
Vincenzo Manfredini: String Quartet No. 5 in G Major: I. Allegro

Vincenzo Manfredini: String Quartet No. 5 in G Major: II. Adagio

Vincenzo Manfredini: String Quartet No. 5 in G Major: III. Allegretto

Vincenzo Manfredini: String Quartet No. 2 in B-Flat Major: I. Andante

Vincenzo Manfredini: String Quartet No. 2 in B-Flat Major: II. Allegro Molto

Vincenzo Manfredini: String Quartet No. 2 in B-Flat Major: III. Minuè

Vincenzo Manfredini: String Quartet No. 4 in C Major: I. Allegro

Vincenzo Manfredini: String Quartet No. 4 in C Major: II. Grave

Vincenzo Manfredini: String Quartet No. 4 in C Major: III. Allegretto

Vincenzo Manfredini: String Quartet No. 3 in A Major: I. Allegro

Vincenzo Manfredini: String Quartet No. 3 in A Major: II. Adagio

Vincenzo Manfredini: String Quartet No. 3 in A Major: III. Allegretto

Vincenzo Manfredini: String Quartet No. 6 in F Major: I. Allegro con Brio

Vincenzo Manfredini: String Quartet No. 6 in F Major: II. Andante

Vincenzo Manfredini: String Quartet No. 6 in F Major: III. Presto

Vincenzo Manfredini: String Quartet No. 1 in D Major: I. Allegro Brioso

Vincenzo Manfredini: String Quartet No. 1 in D Major: II. Largo

Vincenzo Manfredini: String Quartet No. 1 in D Major: III. Presto