Marcello: Complete Sonatas for Organ and Harpsichord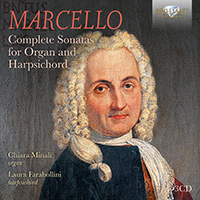 Download booklet
Composer
Benedetto Marcello
Artist
Chiara Minali organ
Laura Farabollini harpsichord
Format
3 CD
Cat. number
95277
EAN code
5028421952772
Release
September 2018
About this release
Historically informed performances of poised and inventive keyboard music from the Golden Age of the Venetian Baroque.

The epitome of a Renaissance man, Benedetto Marcello (1686-1739) won success and acclaim as a poet, writer, musician, lawyer, judge, administrator and philologist. Though his keyboard sonatas have appeared on several recorded collections of the Italian Baroque, they have rarely been presented in a comprehensive manner. In doing so, this album celebrates the personal even idiosyncratic style of a composer whose technical accomplishment facilitates rather than stifling his creative voice.

The 12 Sonatas were later published as Op.3. They date from early in Marcello's career, and are mostly cast in three andfour brief movements, though the first and last of them, in D minor and C minor respectively, feature more extended forms. The minor-key sonatas are generally more dramatic and varied in mood; two complementary performances of the G minor Sonata afford the opportunity to compare the tone-colours of the different instruments used on the recording.

There are several sonatas not belonging to the Op.3 collection which are less often heard, and their inclusion here is valuable, alongside Marcello's magnificent chaconne, subtitled 'La stravaganza': a 15-minute tour-de-force of keyboard invention.

The album is enhanced by a vivid account of Marcello's music, life and career, written by the harpsichordist Laura Farabollini. On this recording she plays a modern Italian copy of a late-18th century French instrument by Taskin, with two manuals and four registers. Chiara Minali plays an organ built by Gio' Batta Sona in 1812, in the Cornu Evangelii choir of the parish church of San Pietro in Cattedra at Valeggio sul Mincio near Verona.

From an early age Benedetto Marcello (Venice 1686 - Brescia 1739) proved to be a man of great versatility: a poet, writer, musician, lawyer, judge, administrator and philologist, holding important posts in these functions during his entire life. As a composer he wrote a substantial oeuvre, covering all important fields of composition: sacred and secular choral works, opera and a large body of instrumental music.
This 3CD set presents Marcello's complete works for keyboard, both harpsichord and organ: the 12 Sonatas for harpsichord and a variety of works specifically written for organ. The Sonatas are in 3 or 4 movements, the slow movements showing an elegant lyricism, while the fast movements brim with vivacious energy.
Played by two expert Italian musicians: organist Chiara Minali on an 1812 Gio' Batta Sona organ, and Laura Farabollini, who already recorded to great critical acclaim the complete keyboard works by Zipoli for Brilliant Classics.
Listening
Track list
Disk 1
Benedetto Marcello: Sonata I in D Minor: I. Largo

Benedetto Marcello: Sonata I in D Minor: II. Allegro

Benedetto Marcello: Sonata I in D Minor: III. Presto

Benedetto Marcello: Sonata VIII in B-Flat Major: I. Adagio

Benedetto Marcello: Sonata VIII in B-Flat Major: II. Vivace

Benedetto Marcello: Sonata VIII in B-Flat Major: III. Presto

Benedetto Marcello: Sonata VIII in B-Flat Major: IV. Allegro

Benedetto Marcello: Sonata IV in G Minor: I. Toccata

Benedetto Marcello: Sonata IV in G Minor: II. Allegro

Benedetto Marcello: Sonata IV in G Minor: III. Vivace e presto

Benedetto Marcello: Sonata IV in G Minor: IV. Giga. Presto

Benedetto Marcello: Sonata VI in D Minor: I. Allegro

Benedetto Marcello: Sonata VI in D Minor: II. Presto

Benedetto Marcello: Sonata VI in D Minor: III. Presto

Benedetto Marcello: Sonata IX in A Major: I. Largo

Benedetto Marcello: Sonata IX in A Major: II. Presto

Benedetto Marcello: Sonata IX in A Major: III. Presto

Benedetto Marcello: Sonata IX in A Major: IV. Allegro

Benedetto Marcello: Sonata X in G Minor: I. Allegro

Benedetto Marcello: Sonata X in G Minor: II. Largo ma vivace

Benedetto Marcello: Sonata X in G Minor: III. Presto
Disk 2
Benedetto Marcello: Sonata II in G Major: I. Largo ma vivace

Benedetto Marcello: Sonata II in G Major: II. Presto

Benedetto Marcello: Sonata II in G Major: III. Allegro

Benedetto Marcello: Sonata II in G Major: IV. Presto

Benedetto Marcello: Sonata III in C Major: I. Andante

Benedetto Marcello: Sonata III in C Major: II. Allegro

Benedetto Marcello: Sonata III in C Major: III. Allegro

Benedetto Marcello: Sonata V in F Major: I. Largo ma vivace

Benedetto Marcello: Sonata V in F Major: II. Allegro

Benedetto Marcello: Sonata V in F Major: III. Allegro

Benedetto Marcello: Sonata V in F Major: IV. Presto

Benedetto Marcello: Sonata VII in A Minor: I. Presto-Adagio

Benedetto Marcello: Sonata VII in A Minor: II. Cantabile e largo

Benedetto Marcello: Sonata VII in A Minor: III. Allegro

Benedetto Marcello: Sonata VII in A Minor: IV. Presto

Benedetto Marcello: Sonata VII in A Minor: V. Minuetto

Benedetto Marcello: Sonata XI in D Major: I. Largo ma vivace

Benedetto Marcello: Sonata XI in D Major: II. Allegro

Benedetto Marcello: Sonata XI in D Major: III. Presto

Benedetto Marcello: Sonata XI in D Major: IV. Prestissimo

Benedetto Marcello: Sonata XII in C Minor: I. Presto

Benedetto Marcello: Sonata XII in C Minor: II. Largo

Benedetto Marcello: Sonata XII in C Minor: III. Presto

Benedetto Marcello: Sonata XII in C Minor: IV. Prestissimo
Disk 3
Benedetto Marcello: Sonata di sua eccellenza Benedetto Marcello in C Major

Benedetto Marcello: Ciaccona

Benedetto Marcello: Sonata del signor Benedetto Marcello in C Minor: I. Preludio

Benedetto Marcello: Sonata del signor Benedetto Marcello in C Minor: II. Allegro

Benedetto Marcello: Sonata del Signor Benedetto Marcello in G Major: I. Allegro

Benedetto Marcello: Sonata del Signor Benedetto Marcello in G Major: I. Presto

Benedetto Marcello: Variationi, o partite per il cembalo ò organo del signor Benedetto Marcello Nobile Veneto

Benedetto Marcello: Fuga per organo del signor Benedetto Marcello Nobile Veneto in G Minor

Benedetto Marcello: Sonata del sig. Benedetto Marcello in G Major

Benedetto Marcello: Fuga per organo del signor Benedetto Marcello in E Minor

Benedetto Marcello: Sonata di organo del sig. Benedetto Marcello in C Major