Margola: Music for Mandolin and other Chamber Music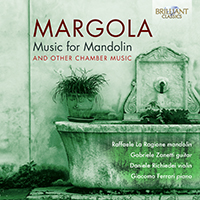 Download booklet
Composer
Franco Margola
Artist
Giacomo Ferrari piano
Gabriele Zanetti guitar
Daniele Richiedei violin
Raffaele La Ragione mandolin
Format
1 CD
Cat. number
96037
EAN code
5028421960371
Release
December 2019
About this release
An exact contemporary of Olivier Messiaen (1908-92), Franco Margola was a Brescian musician born and bred, growing up within the culture of the city's historic industry of string-instrument making. He composed in all the major classical genres but his music has been little heard outside Italy: a situation which this engaging new collection of his chamber music should remedy.

Though he composed operas and symphonies, Margola was most at home in the world of miniatures such as we find on this album. He had a ready fund of quirky, memorable melodies which spring from the neoclassical Italian idiom honed by composers of the 1920s and 30s such as Respighi and Casella. While still a student, he met Alfredo Casella, and showed him a recently composed song. Casella was impressed and asked for more, so Margola an instrumental trio which Casella proceeded to perform with his own ensemble throughout Italy and farther.

These precociously mature student years are represented on this album by the Piccola Sonata for violin and piano, composed in 1929. There are three sections within its concise five-minute span, largely elegiac in character and flavoured not only with late-Romantic harmonies but the unmistakable influence of Maurice Ravel.

At the other end of his life, Margola began to write for mandolin as a professor at the conservatoire in Parma. He treats the instrument like a lute, as if transcribing Renaissance dances in the style of Respighi, but the harmonies remain richly Romantic. One particular highlight is the Romanza senza parole, a song without words with an airy theme that alternates between the piano and the mandolin in a lyrical mood that naturally brings Mendelssohn and the world of Lieder to mind.

Made in the composer's home city of Brescia, these recordings are led by the mandolin player Raffaele La Ragione, an experienced soloist in music of the Baroque and Romantic eras, with a previous Brilliant Classics album of neglected Neapolitan music to his credit, 'Serenata Napoletana' (BC95096).

Franco Margola (1908-1992) has his musical roots in the 19th century, in particular in the cultural movement which was predominantly interested in instrumental music, as opposed to the opera. Franco's musical language is classicist, with clear formal structures and a leading role for the melody.
Margola was one of the first to treat the mandolin as a serious classical instrument, and this new recording presents a selection of works for mandolin, guitar, violin and piano, in diverse combinations with each other: highly attractive music of immediate appeal!
Played mandolin player Raffaele La Ragione, and his ensemble, who already recorded a CD with music for mandolin quartet by Calace for Brilliant Classics.
Listening
Track list
Disk 1
Franco Margola: Grande Sonata for Mandolin and Guitar

Franco Margola: Piccola Suonata for Violin and Piano

Franco Margola: Allegro for Violin and Guitar

Franco Margola: Moderato for Mandolin and Piano

Franco Margola: Fantasia for Guitar and Piano

Franco Margola: Adagio for Mandolin and Piano

Franco Margola: Sonata for Violin and Guitar: I. Allegro

Franco Margola: Sonata for Violin and Guitar: II. Adagio

Franco Margola: Sonata for Violin and Guitar: III. Vivace

Franco Margola: Tre pezzi for Mandolin and Piano: I. Allegro

Franco Margola: Tre pezzi for Mandolin and Piano: II. Adagio

Franco Margola: Tre pezzi for Mandolin and Piano: III. Finale

Franco Margola: Improvviso for Guitar and Piano

Franco Margola: Romanza senza parole for Mandolin and Piano

Franco Margola: Minimal Choro for Mandolin, Guitar, Violin and Piano