Martini: Complete Organ Music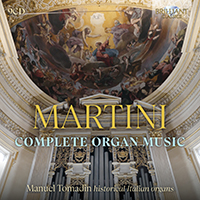 | | |
| --- | --- |
| Composer | Giovanni Battista Martini |
| Artist | Manuel Tomadin historical Italian organs |
| Format | 9 CD |
| Cat. number | 96182 |
| EAN code | 5028421961828 |
| Release | August 2022 |
About this release
A first-ever complete recording for the organ output by a pivotal figure in 18th-century music across Europe.

'Upon so short an acquaintance I never liked any man more,' wrote the English traveller Charles Burney, 'and I felt as little reserve with him after a few hours conversation, as with an old friend or beloved brother.' The young Mozart was also privileged to enjoy his friendship: 'I never cease to grieve that I am far away from that one person in the world whom I love, revere and esteem most of all.'

They are writing of (and to) Giovanni Battista Martini (1706-1784), who was referred to at his death as 'Dio della musica de' nostri tempi' – the God of music of our time. Born and raised in Bologna, he took holy orders at an early age and rarely left his home city, apparently due to poor health.

However, this cloistered lifestyle scarcely inhibited a mind of prodigious energy and industry. In 1758 he was made a member of Bologna's most select academic society after presenting a paper (in Latin) on the use of geometry in music. Martini also wrote comprehensive manuals on counterpoint and music history, demonstrating an erudition which he passed on to many students who would become among the most noted composers of the day, among them J.C. Bach, Grétry, Jommelli, Mozart and Naumann.

His own music speaks of a lively mind, thoroughly schooled in 18th-century conventions but presenting a considerable variety of styles, doubtless informed by his scholarship. His organ output is dominated by a set of 12 Sonatas Op.2, some composed as French dance suites, others as Italian trio sonatas, readily transferrable between harpsichord and organ.

Then there are many individual shorter pieces for liturgical use, to mark the Elevation of the Host, the final Blessing and the end of Mass, which Martini would doubtless have first played himself at the Bologna church where he was director of music for almost 60 continuous years. Around the specifically liturgical pieces, Manuel Tomadin arranges Toccatas, Allegros and 'Pieni per organo' to make nine recitals which cover the full stylistic range of Martini's output and may be enjoyed specifically liturgical pieces, Manuel Tomadin arranges Toccatas, Allegros and 'Pieni per organo' to make nine recitals which cover the full stylistic range of Martini's output and may be enjoyed independently of the others.

This box is the latest of Manuel Tomadin's achievements for Brilliant Classics in reviving more or less unfamiliar figures from the Baroque era with first-ever complete editions of their keyboard music. Previous such editions have been dedicated to, among others, Hans Leo Hassler (95331), Anthoni van Noordt (95895) and Johann Ludwig Krebs (95363), and many of them have won enthusiastic reviews
'Yet another entry in the excellent series of recordings by Brilliant Classics of organ repertoire by little-known Italian Renaissance and Baroque masters… Manuel Tomadin has obviously become a major house organist for Brilliant Classics, which is good news, as his playing is unfailingly stylish and tasteful… The proceedings are vividly recorded; enthusiastically recommended.' (Fanfare on Bertoldo/Borgo, 95874).

Giovanni Battista Martini (1706-1784) was born in Bologna, in that era part of the Papal States. His father, Antonio Maria Martini, a violinist, taught him the elements of music and the violin and he later learned singing and harpsichord playing and the art of counterpoint from Giacomo Antonio Perti. Having received his education in classics from the priests of the "Congregation of the Oratory of Saint Philip Neri", he became a priest himself in 1722.
In 1725, though only nineteen years old, he received the appointment of chapel-master at the Basilica of San Francesco in Bologna, where his compositions attracted attention. At the invitation of amateurs and professional friends he opened a school of composition at which several celebrated musicians were trained; as a teacher he consistently declared his preference for the traditions of the old Roman school of composition. Martini was a zealous collector of musical literature, and possessed an extensive musical library, estimated at 17,000 volumes. Among his many students was…Wolfgang Amadeus Mozart, who held him in high regard and always spoke fondly of him.
"Padre" Martini, as he was called, wrote an immense oeuvre of more than 2500 works, many of them sacred vocal works. His keyboard works include more than 100 sonatas.
This new recording presents the complete organ works of Martini, consisting mainly of Sonatas, but also shorter pieces like fugues, toccatas and preludes. In his earlier works Martini adopted the style of his illustrious predecessors, the masters of Baroque counterpoint, later he wrote in a less learned, more elegant and "pleasant" style, according to the demands of his audience.
Played on a variety of historic Italian organs from the 18th century by Manuel Tomadin, one of the foremost Italian organists of today, a scholar and passionate musician, with an impressive discography to his name: Husumer Organ Book, Alberti Complete Keyboard Works, Van Noordt, Krebs, Lübeck, Hassler and other North German organ masters.
Listening
Track list
Disk 1
Giovanni Battista Martini: Sonata, Op. 2 No. 3: I. Preludio

Giovanni Battista Martini: Sonata, Op. 2 No. 3: II. Allegro

Giovanni Battista Martini: Sonata, Op. 2 No. 3: III. Adagio

Giovanni Battista Martini: Sonata, Op. 2 No. 3: IV. Gavotta

Giovanni Battista Martini: Sonata, Op. 2 No. 3: V. Canon ad diapason intensum

Giovanni Battista Martini: Al post communio in C Major

Giovanni Battista Martini: Aria 11 in B-Flat Major

Giovanni Battista Martini: Pieno per organo 11 andantino

Giovanni Battista Martini: Sonata appendice: I. Allegro

Giovanni Battista Martini: Sonata appendice: II. Largo

Giovanni Battista Martini: Sonata appendice: III. Aria

Giovanni Battista Martini: Elevazione in E-Flat Major

Giovanni Battista Martini: Sonata in D Major

Giovanni Battista Martini: Sonata, Op. 3 No. 1: I. Preludio

Giovanni Battista Martini: Sonata, Op. 3 No. 1: II. Allegro

Giovanni Battista Martini: Sonata, Op. 3 No. 1: III. Vivace

Giovanni Battista Martini: Sonata per l'organo con flauti in C Major

Giovanni Battista Martini: Sonata, Op. 3 No. 4: I. Adagio

Giovanni Battista Martini: Sonata, Op. 3 No. 4: II. Vivace

Giovanni Battista Martini: Pieno per organo 10 andante

Giovanni Battista Martini: Sonata, Op. 3 No. 2: I. Allegro

Giovanni Battista Martini: Sonata, Op. 3 No. 2: II. Adagio in G Minor

Giovanni Battista Martini: Pieno per organo 25 andante

Giovanni Battista Martini: Toccata in C Minor
Disk 2
Giovanni Battista Martini: Toccata in C Minor

Giovanni Battista Martini: Aria 13 in D Major

Giovanni Battista Martini: Post communio in G Major

Giovanni Battista Martini: Sonata, Op. 2 No. 5: I. Preludio

Giovanni Battista Martini: Sonata, Op. 2 No. 5: II. Allegro

Giovanni Battista Martini: Sonata, Op. 2 No. 5: III. Adagio

Giovanni Battista Martini: Sonata, Op. 2 No. 5: IV. Allegro

Giovanni Battista Martini: Sonata, Op. 2 No. 5: V. Sarabanda

Giovanni Battista Martini: Pieno per organo 24 andante

Giovanni Battista Martini: Sonata, Op. 2 No. 7: I. Preludio

Giovanni Battista Martini: Sonata, Op. 2 No. 7: II. Allegro

Giovanni Battista Martini: Sonata, Op. 2 No. 7: III. Adagio

Giovanni Battista Martini: Sonata, Op. 2 No. 7: IV. Allegro

Giovanni Battista Martini: Sonata, Op. 2 No. 7: V. Aria

Giovanni Battista Martini: Sonata da organo per postcommunio in C Major

Giovanni Battista Martini: Sonata in E-Flat Major

Giovanni Battista Martini: Aria 16 in C Major

Giovanni Battista Martini: Sonata sui flauti in C Major

Giovanni Battista Martini: Pieno per organo 17 largo

Giovanni Battista Martini: Sonata da organo in F Major

Giovanni Battista Martini: Toccata III in D Major

Giovanni Battista Martini: Sonata, Op. 2 No. 6: I. Preludio

Giovanni Battista Martini: Sonata, Op. 2 No. 6: II. Allegro

Giovanni Battista Martini: Sonata, Op. 2 No. 6: III. Adagio

Giovanni Battista Martini: Sonata, Op. 2 No. 6: IV. Allegro

Giovanni Battista Martini: Sonata V. Balletto

Giovanni Battista Martini: Versetti I, II, III, IV, V

Giovanni Battista Martini: Toccata in B Major
Disk 3
Giovanni Battista Martini: Sonata per l'organo in C Minor

Giovanni Battista Martini: Preludio in E Minor

Giovanni Battista Martini: Pastorale I in C Major

Giovanni Battista Martini: Ouverture e allegro 3,4 in D Minor

Giovanni Battista Martini: Elevazione in F Major

Giovanni Battista Martini: Toccata in B Major

Giovanni Battista Martini: Sonata, Op. 2 No. 4: I. Preludio

Giovanni Battista Martini: Sonata, Op. 2 No. 4: II. Allegro

Giovanni Battista Martini: Sonata, Op. 2 No. 4: III. Adagio

Giovanni Battista Martini: Sonata, Op. 2 No. 4: IV. Allegro

Giovanni Battista Martini: Sonata, Op. 2 No. 4: V. Aria

Giovanni Battista Martini: Pieno per organo 6 andante

Giovanni Battista Martini: Sonata 14 in B-Flat Major

Giovanni Battista Martini: Post communio col flauto in D Major

Giovanni Battista Martini: Grave per la benedizione

Giovanni Battista Martini: Toccata in G Major

Giovanni Battista Martini: Pieno per organo 14 andante

Giovanni Battista Martini: Preludio e sonata 1,2 in C Minor

Giovanni Battista Martini: Preludio in B-Flat Major

Giovanni Battista Martini: Sonata in A Major: I. Preludio

Giovanni Battista Martini: Sonata in A Major: II. Fuga

Giovanni Battista Martini: Sonata in A Major: III. Largo

Giovanni Battista Martini: Sonata in A Major: IV. Fuga

Giovanni Battista Martini: Sonata da organo in A Minor

Giovanni Battista Martini: Sonata in C Major

Giovanni Battista Martini: Sonata in F Major

Giovanni Battista Martini: Toccata in B-Flat Major
Disk 4
Giovanni Battista Martini: Sonata, Op. 2 No. 2: I. Preludio

Giovanni Battista Martini: Sonata, Op. 2 No. 2: II. Allegro

Giovanni Battista Martini: Sonata, Op. 2 No. 2: III. Adagio

Giovanni Battista Martini: Sonata, Op. 2 No. 2: IV. Corrente

Giovanni Battista Martini: Sonata, Op. 2 No. 2: V. Aria

Giovanni Battista Martini: Toccata e fuga per l'offertorio in G Major

Giovanni Battista Martini: Sonata, Op. 2 No. 8: I. Preludio

Giovanni Battista Martini: Sonata, Op. 2 No. 8: II. Allegro

Giovanni Battista Martini: Sonata, Op. 2 No. 8: III. Sarabanda

Giovanni Battista Martini: Sonata, Op. 2 No. 8: IV. Corrente

Giovanni Battista Martini: Sonata, Op. 2 No. 8: V. Giga

Giovanni Battista Martini: 4 Versetti per organo

Giovanni Battista Martini: Sonata, Op. 2 No. 9: I. Preludio

Giovanni Battista Martini: Sonata, Op. 2 No. 9: II. Allegro

Giovanni Battista Martini: Sonata, Op. 2 No. 9: III. Sicciliana

Giovanni Battista Martini: Sonata, Op. 2 No. 9: IV. Corrente

Giovanni Battista Martini: Sonata, Op. 2 No. 9: V. Minuetto

Giovanni Battista Martini: Sonata sui flauti III in F Major

Giovanni Battista Martini: Pieno per organo 3 in G Minor

Giovanni Battista Martini: Sonata, Op. 2 No. 11: I. Preludio

Giovanni Battista Martini: Sonata, Op. 2 No. 11: II. Allegro

Giovanni Battista Martini: Sonata, Op. 2 No. 11: III. Adagio

Giovanni Battista Martini: Sonata, Op. 2 No. 11: IV. Allegro

Giovanni Battista Martini: Sonata, Op. 2 No. 11: V. Aria

Giovanni Battista Martini: Toccata per il deo gratias in D Major
Disk 5
Giovanni Battista Martini: Toccata e fuga in D Major

Giovanni Battista Martini: Sonata per l'elevazione in G Minor

Giovanni Battista Martini: Post communio in B-Flat Major

Giovanni Battista Martini: Messa da morti

Giovanni Battista Martini: Aria 9 in A Major

Giovanni Battista Martini: Per la benedizione e toccata in B-lat Major

Giovanni Battista Martini: Pieno per organo 18 andante

Giovanni Battista Martini: Sonata all'offertorio in G Major

Giovanni Battista Martini: Aria 10 in F Major

Giovanni Battista Martini: Elevazione in D Major

Giovanni Battista Martini: Pieno per organo 8 in C Major

Giovanni Battista Martini: Largo in E Major

Giovanni Battista Martini: Messa solemnis

Giovanni Battista Martini: Post comunio in C Major

Giovanni Battista Martini: Per l'elevazione in F Major (at the Venzone organ)
Disk 6
Giovanni Battista Martini: Pieno per organo 20 andante mosso

Giovanni Battista Martini: All'offertorio in A Major

Giovanni Battista Martini: Elevazione in G Major

Giovanni Battista Martini: Fuga in B-Flat Major

Giovanni Battista Martini: Sonata da organo per l'elevazione in E-Flat Major

Giovanni Battista Martini: Pieno per organo I in D Minor

Giovanni Battista Martini: Toccata in C Minor

Giovanni Battista Martini: Pieno per organo 7 in F Major

Giovanni Battista Martini: Elevazione in E-Flat Major

Giovanni Battista Martini: Sonata sui flauti in D Major

Giovanni Battista Martini: Grave e toccata per benedizione in G Major

Giovanni Battista Martini: Pieno per organo 2 in C Major

Giovanni Battista Martini: Sonata, Op. 3 No. 3: I. Allegro

Giovanni Battista Martini: Sonata, Op. 3 No. 3: II. Aria

Giovanni Battista Martini: Sonata, Op. 3 No. 3: III. Minuetto

Giovanni Battista Martini: Sonata, Op. 3 No. 6: I. Adagio

Giovanni Battista Martini: Sonata, Op. 3 No. 6: II. Allegro

Giovanni Battista Martini: Sonata all'offertorio in A Major

Giovanni Battista Martini: Sonata all'elevazione in G Major

Giovanni Battista Martini: Pieno per organo 16 andante

Giovanni Battista Martini: Pastorale in C Major

Giovanni Battista Martini: Post communio in F Major

Giovanni Battista Martini: Toccata in G Major
Disk 7
Giovanni Battista Martini: Toccata e fuga per l'offertorio in G Major

Giovanni Battista Martini: Sonata in G Major

Giovanni Battista Martini: All'elevazione in G Minor

Giovanni Battista Martini: Pieno per organo 23 andante

Giovanni Battista Martini: Toccata in B-Flat Major

Giovanni Battista Martini: Sonata da organo in F Major

Giovanni Battista Martini: Per la benedizione e toccata in G Major

Giovanni Battista Martini: Pastorale II in C Major

Giovanni Battista Martini: Sonata in C Major

Giovanni Battista Martini: Sonata per l'organo con flauti in F Major

Giovanni Battista Martini: Pieno per organo 9 andante

Giovanni Battista Martini: Toccata II in C Minor

Giovanni Battista Martini: Pieno per organo 12 adagio

Giovanni Battista Martini: Toccata in E Major

Giovanni Battista Martini: Pieno per organo 26 andante

Giovanni Battista Martini: Toccata I in C Major

Giovanni Battista Martini: Versetto I tono e amen in D Minor

Giovanni Battista Martini: Post communio in B-Flat Major

Giovanni Battista Martini: Toccata e fuga in B-Flat Major

Giovanni Battista Martini: Sonata in B-Flat Major

Giovanni Battista Martini: Toccata in G Minor

Giovanni Battista Martini: Sonata sui flauti II in F Major

Giovanni Battista Martini: Toccata deo gratias in G Major
Disk 8
Giovanni Battista Martini: Sonata, Op. 2 No. 10: I. Preludio

Giovanni Battista Martini: Sonata, Op. 2 No. 10: II. Allegro

Giovanni Battista Martini: Sonata, Op. 2 No. 10: III. Andante

Giovanni Battista Martini: Sonata, Op. 2 No. 10: IV. Allemanda

Giovanni Battista Martini: Sonata, Op. 2 No. 10: V. Minuetto

Giovanni Battista Martini: Toccata e fuga per l'offertorio: I. Toccata per l'offertorio

Giovanni Battista Martini: Toccata e fuga per l'offertorio: II. Fuga per l'offertorio

Giovanni Battista Martini: Toccata e fuga per l'offertorio: III. Grave

Giovanni Battista Martini: Toccata e fuga per l'offertorio: IV. Toccata

Giovanni Battista Martini: Allegro in C Minor

Giovanni Battista Martini: Adagio in C Major

Giovanni Battista Martini: Elevazione II in F Minor

Giovanni Battista Martini: Pieno per organo 22 andante

Giovanni Battista Martini: Fuga in A Minor

Giovanni Battista Martini: Sonata in E-Flat

Giovanni Battista Martini: Pieno per organo 19 andante

Giovanni Battista Martini: Sonata al post communio sui flauti in D Major

Giovanni Battista Martini: Pieno per organo 4 largo

Giovanni Battista Martini: Aria 12 in A Major

Giovanni Battista Martini: Pieno per organo 5 andante

Giovanni Battista Martini: Sonata in C Major

Giovanni Battista Martini: Sonata all'Offertorio II in G Minor
Disk 9
Giovanni Battista Martini: Sonata in G Major: I. Allegro

Giovanni Battista Martini: Sonata in G Major: II. Adagio

Giovanni Battista Martini: Sonata in G Major: III. Allegro

Giovanni Battista Martini: Sonata in G Major: IV. Aria

Giovanni Battista Martini: Pieno per organo 13 largo

Giovanni Battista Martini: Sonata in C Major: I. Adagio

Giovanni Battista Martini: Sonata in C Major: II. Minuetto

Giovanni Battista Martini: Sonata in C Major: III. Vivace

Giovanni Battista Martini: Pieno per organo 15 andante

Giovanni Battista Martini: Rondeau in C Major

Giovanni Battista Martini: Pieno per organo 21 largo

Giovanni Battista Martini: Preludio in F Major

Giovanni Battista Martini: Allegro in F Major

Giovanni Battista Martini: Sonata, Op. 2 No. 1: I.

Giovanni Battista Martini: Sonata, Op. 2 No. 1: II.

Giovanni Battista Martini: Sonata, Op. 2 No. 1: III.

Giovanni Battista Martini: Sonata, Op. 2 No. 1: IV.

Giovanni Battista Martini: Sonata, Op. 2 No. 1: V.

Giovanni Battista Martini: Allegro in G Minor

Giovanni Battista Martini: Aria 20 in D Major

Giovanni Battista Martini: Sonata, Op. 2 No. 12: I. Allemanda

Giovanni Battista Martini: Sonata, Op. 2 No. 12: II. Allegro

Giovanni Battista Martini: Sonata, Op. 2 No. 12: III. Grave

Giovanni Battista Martini: Sonata, Op. 2 No. 12: IV. Aria

Giovanni Battista Martini: Sonata, Op. 2 No. 12: IV. Gavotta