Martinu: Cello Sonatas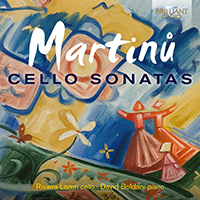 Download booklet
Composer
Bohuslav Martinu
Artist
Riviera Lazeri cello
David Boldrini piano
Format
1 CD
Cat. number
95687
EAN code
5028421956879
Release
July 2021
About this release
Each one of Bohuslav Martinů's (1890-1959) three cello sonatas belongs to a significant period or event in his life. Composed in May 1939, the first seems indelibly marked by the tension and anxiety which gripped Europe in the months before war broke out, though the composer was also going through a crisis in his personal life, having lately had an intense extramarital affair with Vítězslava Kaprálová, a young composer and conductor.
The First Sonata is a tense and often angry work, even in its brooding central movement, and the mood carries over into the beginning of the Second , which was one of the first works completed by Martinů after his emigration to the US with his wife and children. This was another period of stress and homesickness, which may be heard in the Czech character of the melodies growing stronger during the sonata's course, until the finale synthesises old and new worlds with a fusion of jazz and Bohemian folk melody.
Like much of Martinů's later music such as the last symphony and The Greek Passion, the Third Sonata of 1952 is more elusive – often almost naïve in character, and finding release in a neoclassical gigue which perhaps symbolises the composer coming to terms with a homeland whose soil he would never again touch. Many cellists of distinction have been attracted to these compact but challenging works, and audiences with them. Rivera Lazeri is an Italian cellist at home in the world of new music, partnered here by a pianist, David Boldrini, who has made critically acclaimed Brilliant Classics albums of music by Cimarosa and Czerny, among others.

Bohuslav Jan Martinů was one of the most remarkable, successful and prolific Czech composers of the 20th century, composing in all existing genres and forms. He was a violinist in the Czech Philharmonic Orchestra, and briefly studied under Czech composer and violinist Josef Suk. After leaving Czechoslovakia in 1923 for Paris, Martinů deliberately withdrew from the Romantic style in which he had been trained. During the 1920s, he experimented with modern French stylistic developments, also adopting jazz idioms. In the early 1930s, he found his most personal compositional style: neoclassicism, infusing it with Czech folk elements, using Bohemian and Moravian folk melodies throughout his oeuvre.
This new recording presents the three Cello Sonatas, spanning the period from 1939 to 1952, music brimming with ideas and emotions, both grim and dark (reflecting the horrors of WWO II) and lyrical and joyous, always betraying the cultural background of the composer.
Albanian cellist Riviera Lazeri studied at the Luigi Cherubini Conservatoire in Florence with Andrea Nannoni, having also attended masterclasses with Franco Maggio Ormezowsky, Mstislav Rostropovich and Lynn Harrell. David Boldrini is a musician equally at home in the roles of pianist, conductor, composer and organist.
Listening
Track list
Disk 1
Bohuslav Martinu: Sonata No. 1, H.277: I. Poco allegro

Bohuslav Martinu: Sonata No. 1, H.277: II. Lento

Bohuslav Martinu: Sonata No. 1, H.277: III. Allegro con brio

Bohuslav Martinu: Sonata No. 2, H.286: I. Allegro

Bohuslav Martinu: Sonata No. 2, H.286: II. Largo

Bohuslav Martinu: Sonata No. 2, H.286: III. Allegro comodo

Bohuslav Martinu: Sonata No. 3, H.340: I. Poco andante

Bohuslav Martinu: Sonata No. 3, H.340: II. Andante

Bohuslav Martinu: Sonata No. 3, H.340: III. Allegro ma non presto