Martucci: 6 Piano Pieces, Novella, Fantasia, 2 Nocturnes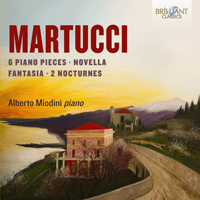 | | |
| --- | --- |
| Composer | Giuseppe Martucci |
| Artist | Alberto Miodini piano |
| Format | 1 CD |
| Cat. number | 94800 |
| EAN code | 5028421948003 |
| Release | August 2016 |
About this release
The symphonies and tone-poems of Giuseppe Martucci (1856-1909) have retained a place on the fringes of the repertoire outside his native Italy thanks to advocacy by Arturo Toscanini and, latterly, Riccardo Muti.

Martucci was a man of protean talents and unflagging energy, who excelled as a composer, pianist, conductor, teacher
and moving force in musical culture. The direction of that force was set against the prevailing operatic scene of contemporary Italy – except, notably, where it intersected with German music. Thus he conducted Brahms, Liszt and especially Beethoven, as well as the Italian premiere of Tristan und Isolde. His own piano music is a continuation of the Lisztian tradition – at least, it becomes so, after flirting with the world of salon music in his early 20s.

The six Op.44 pieces are a much more substantial synthesis of elements from Italian popular culture – the gondoliers' barcarola, the mule-drivers' tarantella among them – with a wide-ranging, elaborately contrapuntal and fiendishly virtuosic style which owes much not only to Brahms and Liszt but to the composer's formidable powers of performance. The Novella
Op.50 and Fantasia Op.51 experiment with more delicate textures in the manner of Chopin, and this tendency is further explored in the two Nocturnes Op.70, which move the form into late Lisztian realms of crepuscular harmony and dreamy phrases; the first of these Nocturnes became known in the early years of the last century through an orchestral transcription
which was often programmed by Toscanini. The pianist Alberto Miodini has studied these little-known works for years and written the introductory essay for these new recordings. This is his second recording for Brilliant Classics, after a well-received 4CD set (BC94806) of Schubert's piano miniatures and free-standing pieces such as the Impromptus.

After years of comparative neglect Giuseppe Martucci is taking his rightful place as one of the most important late romantic Italian composers. His style is a happy and individual mix of Wagner and Verdi, dramatic chromatism softened by lyrical, bel canto style melodies. Martucci was a composer, conductor, teacher and excellent pianist, who made extensive European tours as a soloist. His piano music from his early period is written in sophisticated salon style, charming and picturesque. Later Martucci wrote more substantial works, like the Fantasia Op. 50 and Novella Op. 51, reminiscent of Chopin's Scherzi and Ballades. The virtuoso pianism is proof of Martucci's great gift as a performer.
Played with strong dedication and feeling for atmosphere by Italian pianist Alberto Miodini, pianist of the famous Trio di Parma, who already recorded successfully for Brilliant Classics the Klavierstücke by Schubert (BC94806).
Listening
Track list
Disk 1
Giuseppe Martucci: 6 Pezzi Op. 44: I. Capriccio. Allegro risoluto

Giuseppe Martucci: 6 Pezzi Op. 44: II. Pezzo fantastico. Allegro

Giuseppe Martucci: 6 Pezzi Op. 44: III. Colore orientale. Tempo di Marcia – Poco più mosso

Giuseppe Martucci: 6 Pezzi Op. 44: IV. Barcarola. Andantino con moto – Animato

Giuseppe Martucci: 6 Pezzi Op. 44: V. Notturno. Moderato, ma non troppo – Animato molto e con agitazione

Giuseppe Martucci: 6 Pezzi Op. 44: VI. Tarantella. Allegro molto

Giuseppe Martucci: Novella in B-Flat Major, Op. 50

Giuseppe Martucci: Fantasia in G Minor, Op. 51

Giuseppe Martucci: 2 Notturni, Op. 70: No. 1 in G-Flat Major. Moderato

Giuseppe Martucci: 2 Notturni, Op. 70: No. 2 in F-Sharp Minor. Andantino