Mascagni: Cavalleria Rusticana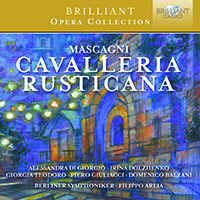 Composer
Pietro Mascagni
Artist
Berliner Symphoniker
Filippo Arlia conductor
Format
1 CD
Cat. number
96179
EAN code
5028421961798
Release
October 2020
About this release
One would be hard pressed to find an opera more proudly Southern Italian than Cavalleria rusticana, set in Vizzini, a small mountain village in the Sicilian hinterland that was the birthplace of the story's playwright, Giovanni Verga. Its enduring popularity makes it surprising indeed that the last studio recording dates to exactly 30 years ago (1990, Semyon Bychkov), preceded just a year earlier by Giuseppe Sinopoli's critically acclaimed production dedicated to his father, who, like its protagonists and Verga, was Sicilian. This new interpretation is thus long overdue and joins a small but prestigious circle of recordings, with Carmine Gallone (1953, film), Tullio Serafin (1960), Herbert von Karajan (1965), James Levine (1978), Franco Zeffirelli (1982, film) and Georges Prêtre (1983) predating Sinopoli.

This new production of Cavalleria Rusticana brings together some of the most prominent artists on today's international opera stages under conductor Filippo Arlia, a native of South Italy's Calabria and youngest-ever Director of an Italian conservatory (Nocera Terinese's 'Tchaikovsky' Conservatory). The recording's soloists are no less impressive: tenor Piero Giuliacci (Turiddu, winner of the 'Mascagni d'Oro' 2013 and 'Pavarotti d'Oro' 2017); mezzo-soprano Alessandra Di Giorgio (Santuzza); baritone Domenico Balzani (Alfio); mezzo-soprano Irina Dolzhenko (Lucia); and soprano Giorgia Teodoro (Lola) who, like Arlia, calls Calabria home.

This recording revives Mascagni's voice in a new millennium with artists capable of honouring the verismo vocal colour he pioneered, before an entire generation of opera composers followed suit.

Pietro Mascagni (1863-1945) was an Italian composer primarily known for his operas. His masterpiece, which established forever his name as one of the most important Verismo composers, was Cavalleria Rusticana (1890).
Set in a village in Sicilia it is based on the novel by Giovanni Verga. The one act opera took the musical world by storm and became an instant classic of the repertoire.
This new recording presents a line of excellent young soloists: tenor Piero Giuliacci (winner of the "Mascagni d'Oro 2013" and "Pavarotti d'Oro 2017"), Alessandra di Giorgio, Domenico Balzani, Irina Dolzhenko, and Giorgio Teodoro. The splendid Berliner Symphoniker is conducted by the young and promising Filippo Arlia, of Calabrian soil.
Listening
Track list
Disk 1
Pietro Mascagni: Cavalleria rusticano: I. Prelude – Siciliana. O Lola ch'ai di latti la cammisa (Turiddu)

Pietro Mascagni: Cavalleria rusticano: II. Introductory Chorus. Gli aranci olezzano (Chorus)

Pietro Mascagni: Cavalleria rusticano: III. Scene and Arrival of Alfio. Dite, Mamma Lucia (Santuzza · Lucia) – Il cavallo scalpita (Alfio) –O che bel mestiere (Chorus. Tenors – All)

Pietro Mascagni: Cavalleria rusticano: IV. Scene and Prayer. Beato voi, compar Alfio (Lucia · Alfio)

Pietro Mascagni: Cavalleria rusticano: V. Romance and Scene. Voi lo sapete, o mamma (Santuzza) – Miseri noi (Lucia · Santuzza)

Pietro Mascagni: Cavalleria rusticano: VI. a) Scene. Tu qui, Santuzza? b) Lola's refrain. Fior di giaggiolo c) Duet. Ah! Lo vedi, che hai tu detto? d) Duet. Oh! Il Signore vi manda, compar Alfio!

Pietro Mascagni: Cavalleria rusticano: VII. Intermezzo

Pietro Mascagni: Cavalleria rusticano: VIII. Scene, Chorus and Toasts. A casa, a casa, amici (Chorus) Comare Lola (Turiddu · Lola) Viva il vino spumeggiante (Turiddu · Lola · Chorus)

Pietro Mascagni: Cavalleria rusticano: IX. Finale. A voi tutti, salute! (Alfio · Turiddu · Lola · Chorus) Lo so che il torto è mio (Turiddu · Alfio) Mamma! Mamma, quel vino è generoso (Turiddu · Lucia) Santuzza!' (Lucia)… Oh, madre mia! (Santuzza · Chorus)