Mascagni: Messa di Gloria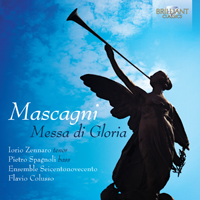 Composer
Pietro Mascagni
Artist
Ensemble Seicentonovecento
Flavio Colusso conductor
Format
1 CD
Cat. number
94943
EAN code
5028421949437
Release
August 2014
About this release
Today Mascagni is best remembered for his verismo opera Cavalleria rusticana, a work which firmly belongs in many of the greatest opera houses' core repertory, but his Messa di Gloria – which predates this composition by a matter of months and from which many of Cavalleria's themes in fact derive – was also greatly lauded in its day. Mascagni's interest in church music can be traced back to the days of his gifted adolescence: by the age of 13 he has written a Kyrie; at the age of 16 he refers in a letter to his involvement in composing a Mass (together with his friend Barbini); and during his student days in Milan he composed a motet as well as a great deal of music for the Messa per la festa di Maria SS. del Rosario. First performed in the Apulian town of Cerginola and conducted by the composer himself, a contemporary account of the Messa di Gloria described it as 'a very powerful and original work, full of beauty, inspired by the requirements of modern taste'. In 1891 Mascagni repeated the peformance to an audience of 6000, as part of the celebrations marking the sixth centenary of Orvieto's famous cathedral; such was the reception that the magazine Teatro illustrato declared the occasion 'an event for the art of music in Italy'. Anyone expecting to hear a chorale, a fugue or even a simple fugato anywhere in the piece would have been disappointed, however, and doubts were raised regarding the religious nature of the work.

Instead, as the composer himself wrote, the Messa di Gloria can be described as a 'prayer. The Mass is a prayer, all love and all passion!' Here it is performed with aplomb by Ensemble Seicentonovento, an internationally renowned vocal-instrumental group that has recorded widely and appeared with such notable singers as José Carreras and Patrizia Pace. Iorio Zennaro and Pietro Spagnoli contribute well-executed arias to the mix as the respective tenor and bass soloists.

Other information:
- Recorded in Rome in June 1991.
- Pietro Mascagni went into musical history as a one-composition-composer, the famous opera Cavalleria Rusticana. However, he wrote an extensive oeuvre of fine works, both instrumental and vocal.
- The Messa di Gloria was written in the same period as Cavalleria Rusticana. It was very popular in its time, and one wonders why it is not performed more widely nowadays. It is an unashamedly romantic and popular work, devoid of the usual religious features, such as fugues, chorales or chant. It sounds like grand opera in its jubilant arias and ariosos, orchestral pomp and circumstance, and feeling for atmosphere and drama: hugely enjoyable!
- Excellent performance by leading Italian soloists, and the Ensembel Seicentonovecento conducted by Flavio Colusso, a specialist in Early Music, but with a soft spot for this gem in the sacred repertoire.
- Booklet contains detailed notes on the composer's sacred music journey.
Track list
Disk 1
Pietro Mascagni: Messa di Gloria: Kyrie (Tenor, Bass, Chorus)

Pietro Mascagni: Messa di Gloria: Gloria (Tenor, Bass, Chorus)

Pietro Mascagni: Messa di Gloria: Gloria. Laudamus (Tenor, Chorus)

Pietro Mascagni: Messa di Gloria: Gloria. Gratias (Bass)

Pietro Mascagni: Messa di Gloria: Gloria. Domine Deus (Tenor, Bass)

Pietro Mascagni: Messa di Gloria: Gloria. Qui tollis (Tenor)

Pietro Mascagni: Messa di Gloria: Gloria. Qui sedes (Bass)

Pietro Mascagni: Messa di Gloria: Gloria. Quoniam (Tenor, Bass, Chorus)

Pietro Mascagni: Messa di Gloria: Gloria. Cum Sancto Spiritu (Tenor, Bass, Chorus)

Pietro Mascagni: Messa di Gloria: Credo (Chorus)

Pietro Mascagni: Messa di Gloria: Credo. Et incarnatus (Tenor, Chorus)

Pietro Mascagni: Messa di Gloria: Credo. Et resurrexit (Tenor, Bass, Chorus)

Pietro Mascagni: Messa di Gloria: Sanctus (Tenor, Chorus)

Pietro Mascagni: Messa di Gloria: Sanctus. Elevazione

Pietro Mascagni: Messa di Gloria: Sanctus. Benedictus (Bass)

Pietro Mascagni: Messa di Gloria: Sanctus. Hosanna (Chorus)

Pietro Mascagni: Messa di Gloria: Agnus Dei (Tenor, Bass, Chorus)