Matiegka: Complete Music for Solo Guitar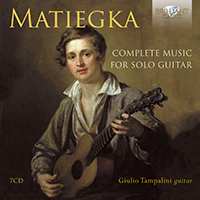 Download booklet
| | |
| --- | --- |
| Composer | Wenzeslaus Thomas Matiegka |
| Artist | Giulio Tampalini guitar |
| Format | 7 CD |
| Cat. number | 95084 |
| EAN code | 5028421950846 |
| Release | April 2019 |
About this release
Guitar music from Schubert's Vienna: Sonatas, serenades, variations and fantasies full of good tunes and light spirits.

After wide-ranging surveys of guitar music in Spain and the Americas, Brilliant Classics has uncovered a largely forgotten but flourishing guitar culture in central Europe at the turn of the 19th century. A recent album dedicated to Johann Kaspar Mertz (BC95722) shone the spotlight on an early-Romantic figure writing tone-poems for the guitar just as Schumann was doing the same for the piano. His models and forbears had included Mauro Giuliani (featured on many Brilliant Classics releases) and the indefatigable Anton Diabelli.

Their lesser-known contemporaries included Simon Molitor and the subject of this newly recorded compendium, Wenzeslaus Thomas Matiegka (1773-1830). Bohemian in origin, and born into a musical family, he studied music within the family before moving to Prague in the year of Mozart's death, 1791.

Having graduated with a law degree, however, he moved to Vienna, studied composition more assiduously and encountered the fashionable guitar, which soon became his favourite instrument. By 1806 he was described (by Molitor) as among the main exponents of 'the new Viennese guitar school'.

In that capacity Matiegka established for himself a successful career as a teacher, performer and composer, until his death from consumption at the age of 57. The works presented here illustrate his all-round gifts, satisfying as they do the varied purposes of teaching, entertainment, display and serious contemplation. The pair of 'grandes sonates' on CD1 of this set certainly fulfil the requirements of the last aim, with a Schubertian breadth of phrase and contentment. CD2 is occupied by a set of Six Sonatas Op.31 which are cast in a lighter vein but still within the Classical structures formed and perfected by Haydn.

Virtuoso brilliance is the order of the day on CD3, with its 12 Menuets Brillants, and a fantasia and variation set based on popular melodies. CD4 includes both a Sonata facile and Sonate progressive aimed at students, as well as several more variation sets. Matiegka's work as a pedagogue also dominates CDs 5 and 6 in the form of a progressive guitar method Op.24, and the collection comes to a delightful close with the composer's Opus 1 – a set of 12 Leichte Ländler – and more variations, including an Op.12 set based on Mozart's Don Giovanni.

Among his substantial discography for Brilliant Classics, Giulio Tampalini's complete recordings of the guitar music by Llobet (BC94335) and Tarrega (BC94336) have met with particular praise. 'A quite outstanding Recuerdos de la Alhambra that would be hard to beat under any circumstances' (MusicWeb International).

First recording of the complete solo guitar music by Matiegka.
Wenzeslaus Matiegka (1773-1830) was born in a small town in Bohemia, at that time part of the Habsburg Monarchy. He studied music with Abbé Gelinek and showed an extraordinary talent for the fortepiano, while at the same time studying law. He became a legal employee at the court of Count Kinsky, an early sponsor of Beethoven. Later he moved to Vienna and became a well known composer, teacher, fortepianist and guitarist. He was highly respected by Beethoven and above all Schubert, who wrote several works for the guitar as well.
Matiegka wrote in the Classical Viennese style of his time: Sonatas, Dances (Menuets and Ländlers), sets of Variations on popular themes, as well as a substantial amount of educational works for teaching purposes: charming and highly melodious music for "Kenner und Liebhaber".
Played by one of today's best guitarists, Giulio Tampalini, specialist in this repertoire, having recorded for Brilliant Classics works by Mozzani, Llobet, Tarrega, Paganini and Castelnuovo-Tedesco.
Listening
Track list
Disk
Disk 1
Wenzeslaus Thomas Matiegka: Sonate in B Minor, Op. 23: I. Presto – Fugato

Wenzeslaus Thomas Matiegka: Sonate in B Minor, Op. 23: II. Menuetto

Wenzeslaus Thomas Matiegka: Sonate in B Minor, Op. 23: III. Rondò - Allegro non tanto

Wenzeslaus Thomas Matiegka: Grande Sonate No. 1: I. Allegro maestoso

Wenzeslaus Thomas Matiegka: Grande Sonate No. 1: II. Andante molto

Wenzeslaus Thomas Matiegka: Grande Sonate No. 1: III. Rondò capriccioso

Wenzeslaus Thomas Matiegka: Grande Sonate No. 2: I. Moderato

Wenzeslaus Thomas Matiegka: Grande Sonate No. 2: II. Andante con espressione

Wenzeslaus Thomas Matiegka: Grande Sonate No. 2: III. Variations sur l'air allemande par Haydn "Liebes Mädchen hör mir zu, lach dir noch was fragen"

Wenzeslaus Thomas Matiegka: Grande Serenade, Op. 11: I. Allegro moderato

Wenzeslaus Thomas Matiegka: Grande Serenade, Op. 11: II. Menuetto et trio

Wenzeslaus Thomas Matiegka: Grande Serenade, Op. 11: III. Andantino

Wenzeslaus Thomas Matiegka: Grande Serenade, Op. 11: IV. Menuetto - A la polacca

Wenzeslaus Thomas Matiegka: Grande Serenade, Op. 11: V. Thème et variations
Disk 2
Wenzeslaus Thomas Matiegka: Sonate No. 1, Op. 31: I. Allegro moderato

Wenzeslaus Thomas Matiegka: Sonate No. 1, Op. 31: II. Menuetto et trio

Wenzeslaus Thomas Matiegka: Sonate No. 1, Op. 31: III. Rondò – Allegretto

Wenzeslaus Thomas Matiegka: Sonate No. 2, Op. 31: I. Allegro maestoso

Wenzeslaus Thomas Matiegka: Sonate No. 2, Op. 31: II. Menuetto et trio

Wenzeslaus Thomas Matiegka: Sonate No. 2, Op. 31: III. Variations sur l'air "Vive Henri IV"

Wenzeslaus Thomas Matiegka: Sonate No. 3, Op. 31: I. Allegro moderato

Wenzeslaus Thomas Matiegka: Sonate No. 3, Op. 31: II. Menuetto et trio

Wenzeslaus Thomas Matiegka: Sonate No. 3, Op. 31: III. Rondò - Un poco andantino, con moto

Wenzeslaus Thomas Matiegka: Sonate No. 4 in E Minor, Op. 31: I. Allegro moderato

Wenzeslaus Thomas Matiegka: Sonate No. 4 in E Minor, Op. 31: II. Scherzo et trio

Wenzeslaus Thomas Matiegka: Sonate No. 4 in E Minor, Op. 31: III. Capriccio

Wenzeslaus Thomas Matiegka: Sonate No. 5, Op. 31: I. Allegro moderato

Wenzeslaus Thomas Matiegka: Sonate No. 5, Op. 31: II. Menuetto et trio

Wenzeslaus Thomas Matiegka: Sonate No. 5, Op. 31: III. Rondò – Allegro

Wenzeslaus Thomas Matiegka: Sonate No. 6 in B Minor, Op. 31: I. Allegro non molto

Wenzeslaus Thomas Matiegka: Sonate No. 6 in B Minor, Op. 31: II. Scherzo et trio

Wenzeslaus Thomas Matiegka: Sonate No. 6 in B Minor, Op. 31: III. Finale – Allegretto

Wenzeslaus Thomas Matiegka: 6 Variations, Op. 13 on an aria from "La Molinara" by G. Paisiello
Disk 3
Wenzeslaus Thomas Matiegka: Fantaisie in C Major, Op. 4: I. Largo, Intermezzo

Wenzeslaus Thomas Matiegka: 9 Variationen, Op. 7 über das Volkslied "Gott erhalte Franz den Kaiser"

Wenzeslaus Thomas Matiegka: Menuetto No. 1 et trio, Op. 15

Wenzeslaus Thomas Matiegka: Menuetto No. 2 et trio, Op. 15

Wenzeslaus Thomas Matiegka: Menuetto No. 3 et trio, Op. 15

Wenzeslaus Thomas Matiegka: Menuetto No. 4 et trio, Op. 15

Wenzeslaus Thomas Matiegka: Menuetto No. 5 et trio, Op. 15

Wenzeslaus Thomas Matiegka: Menuetto No. 6 et trio, Op. 15

Wenzeslaus Thomas Matiegka: Menuetto No. 7 et trio, Op. 15

Wenzeslaus Thomas Matiegka: Menuetto No. 8 et trio, Op. 15

Wenzeslaus Thomas Matiegka: Menuetto No. 9 et trio, Op. 15

Wenzeslaus Thomas Matiegka: Menuetto No. 10 et trio, Op. 15

Wenzeslaus Thomas Matiegka: Menuetto No. 11 et trio, Op. 15

Wenzeslaus Thomas Matiegka: Menuetto No. 12 ettTrio, Op. 15
Disk 4
Wenzeslaus Thomas Matiegka: 6 Variations, Op. 14

Wenzeslaus Thomas Matiegka: Sonate facile, Op. 16: I. Tempo giusto

Wenzeslaus Thomas Matiegka: Sonate facile, Op. 16: II. Menuetto

Wenzeslaus Thomas Matiegka: Sonate facile, Op. 16: III. Rondò – Allegro

Wenzeslaus Thomas Matiegka: Sonate progressive, Op. 17: I. Cantabile

Wenzeslaus Thomas Matiegka: Sonate progressive, Op. 17: II. Andante

Wenzeslaus Thomas Matiegka: Sonate progressive, Op. 17: III. Rondò moderato

Wenzeslaus Thomas Matiegka: 15 Variations on a Tyrolean Song, Op. 27

Wenzeslaus Thomas Matiegka: 8 Variations, Op. 28

Wenzeslaus Thomas Matiegka: 12 Variations, Op. 29
Disk 5
Wenzeslaus Thomas Matiegka: 24 Pièces progressives, Op. 20: I. Theme et variations

Wenzeslaus Thomas Matiegka: 24 Pièces progressives, Op. 20: II. Rondò

Wenzeslaus Thomas Matiegka: 24 Pièces progressives, Op. 20: III. Andante

Wenzeslaus Thomas Matiegka: 24 Pièces progressives, Op. 20: IV. Menuetto

Wenzeslaus Thomas Matiegka: 24 Pièces progressives, Op. 20: V. Siciliane

Wenzeslaus Thomas Matiegka: 24 Pièces progressives, Op. 20: VI. Theme et variations

Wenzeslaus Thomas Matiegka: 24 Pièces progressives, Op. 20: VII. Theme et variations

Wenzeslaus Thomas Matiegka: 24 Pièces progressives, Op. 20: VIII. Rondò

Wenzeslaus Thomas Matiegka: 24 Pièces progressives, Op. 20: IX. Andante

Wenzeslaus Thomas Matiegka: 24 Pièces progressives, Op. 20: X. Menuetto

Wenzeslaus Thomas Matiegka: 24 Pièces progressives, Op. 20: XI. Theme et variations

Wenzeslaus Thomas Matiegka: 24 Pièces progressives, Op. 20: XII. Rondò

Wenzeslaus Thomas Matiegka: 24 Pièces progressives, Op. 20: XIII. Theme et variations

Wenzeslaus Thomas Matiegka: 24 Pièces progressives, Op. 20: XIV. Menuetto – Moderato
Disk 6
Wenzeslaus Thomas Matiegka: 24 Pièces progressives, Op. 20: XV. Andante et variations

Wenzeslaus Thomas Matiegka: 24 Pièces progressives, Op. 20: XVI. Todtenmarsch

Wenzeslaus Thomas Matiegka: 24 Pièces progressives, Op. 20: XVII. Menuetto et variations

Wenzeslaus Thomas Matiegka: 24 Pièces progressives, Op. 20: XVIII. Rondò

Wenzeslaus Thomas Matiegka: 24 Pièces progressives, Op. 20: XIX. Ländler

Wenzeslaus Thomas Matiegka: 24 Pièces progressives, Op. 20: XX. Theme et variations

Wenzeslaus Thomas Matiegka: 24 Pièces progressives, Op. 20: XXI. Allegro - En forme d'une symphonie

Wenzeslaus Thomas Matiegka: 24 Pièces progressives, Op. 20: XXII. Theme à la cosaca et variations

Wenzeslaus Thomas Matiegka: 24 Pièces progressives, Op. 20: XXIII. Caprice et variations

Wenzeslaus Thomas Matiegka: 24 Pièces progressives, Op. 20: XXIV. Marcia – Maestoso

Wenzeslaus Thomas Matiegka: 12 Leichte Ländler, Op. 1
Disk 7
Wenzeslaus Thomas Matiegka: Caprice sur l'Air Allemande "Ich bin liederlich, Du bist liederlich", Op. 2

Wenzeslaus Thomas Matiegka: 12 Pièces faciles, Op. 3: I. Adagio

Wenzeslaus Thomas Matiegka: 12 Pièces faciles, Op. 3: II. Contradanse

Wenzeslaus Thomas Matiegka: 12 Pièces faciles, Op. 3: III. Menuetto

Wenzeslaus Thomas Matiegka: 12 Pièces faciles, Op. 3: IV. A la turca

Wenzeslaus Thomas Matiegka: 12 Pièces faciles, Op. 3: V. Contradanse

Wenzeslaus Thomas Matiegka: 12 Pièces faciles, Op. 3: VI. Marcia Française

Wenzeslaus Thomas Matiegka: 12 Pièces faciles, Op. 3: VII. Tempo de menuetto

Wenzeslaus Thomas Matiegka: 12 Pièces faciles, Op. 3: VIII. Contradanse

Wenzeslaus Thomas Matiegka: 12 Pièces faciles, Op. 3: IX. Scherzo

Wenzeslaus Thomas Matiegka: 12 Pièces faciles, Op. 3: X. Allemande

Wenzeslaus Thomas Matiegka: 12 Pièces faciles, Op. 3: XI. Rondò

Wenzeslaus Thomas Matiegka: 12 Pièces faciles, Op. 3: XII. Marcia

Wenzeslaus Thomas Matiegka: 6 Leichte Variationen on a Bohemian Song, Op. 5

Wenzeslaus Thomas Matiegka: Variations on the Mass song "Wir werfen uns darnieder", Op. 6

Wenzeslaus Thomas Matiegka: 6 Variations, Op. 8

Wenzeslaus Thomas Matiegka: 10 Variations capricieuses, Op. 10

Wenzeslaus Thomas Matiegka: 8 Variations on the opera "Don Juan" by W.A. Mozart, Op. 12