Medtner: Angel, Complete Songs, Vol. 3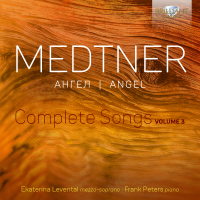 Download booklet
Composer
Nikolai Medtner
Artist
Ekaterina Levental mezzo-soprano
Frank Peters piano
Format
1 CD
Cat. number
96062
EAN code
5028421960623
Release
January 2022
About this release
Anybody who has entered into the cosmos of Medtner's music, and especially of his songs, will be aware of its introvert, secretive, sometimes even hermetic character. His mixture of Russian and German philosophy and art, indebted to the bicultural upbringing in his family, was unique. Yet the outstanding quality of his songs does not lie in their stylistic singularity, but in their resistance to cliches of the genre and their musical and psychological insights.
Medtner digs deep into his chosen texts. Even his choice of the poet Lermontov for his first published song ('The Angel') is significant for a composer who always professed his belief in the divine nature of art and the artist's vocation. Testifying to a similar artistic credo, Goethe's poem 'Geweihter Platz' ('The Sacred Grove') was first set by Medtner as an introduction to the Sonata-Vocalise Op.41 No.1. He recomposed the song in his Op 46 set but then returned to it once more for this Suite-Vocalise, which opens with a wordless evocation of the lofty mood established by the poet. The finale alludes to Schumann ('Was der Dichter spricht') while returning to the rapt opening. The Suite-Vocalise as a whole is one of Medtner's most experimental works, paying homage to an exemplary reflection about the sacred quality of art and the mysterious secrets of artistic inspiration.
The Pushkin songs Op.52, finished in summer 1929, are Medtner's last authored song collection. The chosen poems focus on longing, unfulfilled love, or love connected to death and murder. His settings once more reach powerful heights of expression, both in his description of despair and torment and in his peculiar way of finding to hope and joy despite of all tragedy.
The original form of the Suite-Vocalise is counterpointed here by the Sonata-Idyll Op.56, which exemplifies Medtner's late and distilled style of composition in contrast to the prodigious complexity of his earlier piano music. The album closes with three unpublished songs on religious subjects: a Prayer, an Epitaph and a Psalm.

Critical praise for previous volumes in the series:
'Levental has a dark, rich voice, but her pure tone is never burdened by excess vibrato… She couldn't ask for a more responsive partner than Peters, who reveals an astonishingly deft touch and an uncanny ear for detail.' Fanfare (Volume 1, 96056)
'The phrasing is so perfect, the sense of line so keen, the rubato so natural sounding, that this seems the only way to sing them… this lucidity is due to the purity of Levental's voice, which she employs with sure intonation and minimum vibrato, as well with an exquisite (but always controlled) play of colour… This is a major release.' Fanfare (Volume 2, 96061)

- The third volume of this exciting new series, the recording of the complete songs by Medtner, bears the title "Angel", referring to the mystical and spiritual character of some of the songs presented.
- Nikolai Medtner was born in Moscow in 1880. After piano lessons with his mother he entered the Moscow Conservatory where he had lessons from Pavel Pabst and Sergey Taneyev. He won the prestigious Anton Rubinstein Prize at age 20. A younger contemporary of Scriabin and Rachmaninoff he was destined for a brilliant pianistic career but he chose to concentrate on composition. In 1936 he settled in London where he spent the rest of his life teaching and composing till 1951.
- Medtner's style is rooted in the 19th century, full-blooded romantic, with a highly personal harmonic and melodic language, often complex and dense, but hauntingly beautiful.
- This new recording contains the song "The Angel, Op.1 bis", the Suite-Vocalise Op.41 No.2, 7 Pushkin Songs Op.52 and 3 unpublished songs. In addition to the songs the pianist Frank Peters, an early advocate of Medtner's piano music, delivers an expressive performance of the solo Piano Sonata Idyll Op.56.
- Ekaterina Levental was born in Uzbekistan. She settled in The Netherlands where she studied at the Conservatory of The Hague. She embarked on a successful career as singer, dramatist and theatre producer. Pianist Frank Peters is a highly respected Dutch pianist, both as soloist and chamber music partner. He is an indefatigable champion of the piano works of Medtner.
- "Levental's soft high notes are truly exquisite, and she can do things with the voice that most modern singers cannot, such as to drain the voice of vibrato for expressive effect. All things considered, she is a virtuoso vocalist of the old school, and such artists are extremely rare nowadays… We are very lucky to have a pianist like Peters, who fully understands this dichotomy, as the pianist on this album." (Artmusiclounge.com).
Listening
Track list
Disk 1
Nikolai Medtner: The Angel, Op. 1 bis

Nikolai Medtner: Suite–Vocalise, Op. 41 No. 2: I. Introduction & Song of the Nymphs

Nikolai Medtner: Suite–Vocalise, Op. 41 No. 2: II. Secrets

Nikolai Medtner: Suite–Vocalise, Op. 41 No. 2: III. Procession of the Graces

Nikolai Medtner: Suite–Vocalise, Op. 41 No. 2: IV. What the Poet Speaks

Nikolai Medtner: 7 Songs after Pushkin, Op. 52: I. The Window

Nikolai Medtner: 7 Songs after Pushkin, Op. 52: II. The Ravens

Nikolai Medtner: 7 Songs after Pushkin, Op. 52: III. Elegy

Nikolai Medtner: 7 Songs after Pushkin, Op. 52: IV. Visions

Nikolai Medtner: 7 Songs after Pushkin, Op. 52: V. Spanish Romance

Nikolai Medtner: 7 Songs after Pushkin, Op. 52: VI. Serenade

Nikolai Medtner: 7 Songs after Pushkin, Op. 52: VII. The Prisoner

Nikolai Medtner: Sonata–Idyll, Op. 56: I. Pastorale. Allegretto cantabile

Nikolai Medtner: Sonata–Idyll, Op. 56: II. Allegro moderato e cantabile

Nikolai Medtner: 3 Unpublished Songs: I. Prayer

Nikolai Medtner: 3 Unpublished Songs: II. Epitaph, Op. 13a

Nikolai Medtner: 3 Unpublished Songs: III. Psalm