Melani: Concerti Spirituali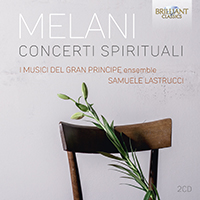 Download booklet
Composer
Alessandro Melani
Artist
I Musici del Gran Principe
Samuele Lastrucci music director
Format
2 CD
Cat. number
95970
EAN code
5028421959702
Release
November 2019
About this release
Sacred and sinuous motets by a major figure in the musical life of 17th-century Rome.

Brilliant Classics has long been renowned for reviving little-known figures from the Baroque and Renaissance eras. Little enough is now known about Alessandro Melani, and his music has almost been forgotten, but this beautifully prepared collection of his religious music should go some way to reviving his reputation.

Born in 1639 in the city of Pistoia to the cathedral's bell-ringer, the youngest of seven sons, Alessandro Melani undertook his musical apprenticeship at the cathedral before taking up directorships in grander Italian cities. A move to Rome in 1667 changed his career and established his reputation; he came under the patronage of the Medici family, and published three collections of sacred music. The last of them now receives its first-ever complete recording.

This is Baroque vocal chamber music at once sombre and sumptuous, reverent and yet richly decorated like the basilicas where Melani worked. Marian hymns, penitential psalms and liturgical propers all receive lavish treatments in combinations of two, three and five voices, buttressed in this recording by a five-part continuo accompaniment designed to draw out every one of Melani's luscious harmonies and featuring organ, harpsichord, cello, string bass, archlute and theorbo.

The recording is the work of a dynamic young Italian early-music group founded in 2017 and led by the prodigiously talented Samuele Lastrucci, formerly assistant to the mercurial Baroque expert Federico Maria Sardelli. Since 2015 he has been the artistic director of the Tuscan-based Da Vinci Baroque Festival; he is presently maestro di capella of the Church of Ss. Michele and Gaetano in Florence.

Alessandro Melani (1639-1703) was one of the leading composers active in Rome in the 17th century, together with Pasquini and Alessandro Scarlatti. His brother Atto was a famous castrato and diplomat at the court of France's Sun King, while his other brother Jacopo became a celebrated opera composer.
Alessandro Melani's Opus 3, the Concerti Spirituali, were written for the Grand Prince of Firenze Ferdinando de Medici. The vocal writing has a distinctive instrumental and "concertante" character, which was much in vogue in that time.
The Italian ensemble "I Musici del Gran Principe" explores and performs music from the rich heritage of the Medici dynasty.
Track list
Disk 1
Alessandro Melani: Concerti spirituali, Op. 3: XI. Ad arma cor meum

Alessandro Melani: Concerti spirituali, Op. 3: XII. Peccantem me quotidie

Alessandro Melani: Concerti spirituali, Op. 3: V. Cantemus domino

Alessandro Melani: Concerti spirituali, Op. 3: IV. Eia in arma

Alessandro Melani: Concerti spirituali, Op. 3: X. O felix anima

Alessandro Melani: Concerti spirituali, Op. 3: VIII. Fallacicum sono

Alessandro Melani: Concerti spirituali, Op. 3: XIII. Quid dormis

Alessandro Melani: Concerti spirituali, Op. 3: XIV. Derelinquat impius

Alessandro Melani: Concerti spirituali, Op. 3: XV. Congregate cætum
Disk 2
Alessandro Melani: Concerti spirituali, Op. 3: III. Ecce salus

Alessandro Melani: Concerti spirituali, Op. 3: VI. Salve superum regina

Alessandro Melani: Concerti spirituali, Op. 3: IX. Alma Redemptoris

Alessandro Melani: Concerti spirituali, Op. 3: I. Salve mater et regina

Alessandro Melani: Concerti spirituali, Op. 3: II. Spirate zeffir

Alessandro Melani: Concerti spirituali, Op. 3: XVIII. Quæ est ista

Alessandro Melani: Concerti spirituali, Op. 3: VII. Iustus ut palma

Alessandro Melani: Concerti spirituali, Op. 3: XVI. Date voces pueri

Alessandro Melani: Concerti spirituali, Op. 3: XVII. Recolite memoriam