Mendelssohn: A Midsummernight's Dream Op.61, Overture The Fair Melusine Op.32, for piano 4-hands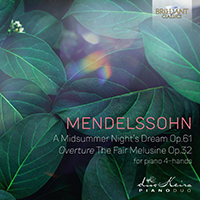 | | |
| --- | --- |
| Composer | Felix Mendelssohn |
| Artist | DuoKeira Piano Duo |
| Format | 1 CD |
| Cat. number | 96010 |
| EAN code | 5028421960104 |
| Release | August 2020 |
About this release
The piano duet was an opportunity to have fun and make music with friends for Mendelssohn as it was for many other 19th-century composers, who wrote pieces that far transcended their domestic origins and often arranged their larger-scale works for the medium so that it could be appreciated by listeners where full orchestral performances were much harder to come by.

In 1844 Mendelssohn made his own piano-duet arrangement of the Incidental music he had composed to accompany a production of A Midsummer Night's Dream in Potsdam two years earlier, a suite which itself drew on the precociously immortal Overture he had composed as a 16-year-old. The magical purity of the orchestral score is here translated into a limpid graininess which renders each phrase even more crystalline than in the symphonic version, especially in its most rapid passages.

The relationship between the two versions might be likened to that between a sketch and a painting, though with no certainty as to which had been composed first. A comparison of the full-colour orchestral score with the 'black and white' of the piano-duet arrangement reveals how the timbres of Mendelssohn's orchestral imagination stem from the conceptual outlines and regular forms first devised on a keyboard. Thus the arrangement has plenty to reveal about the score to even to listeners intimately familiar with the fully scored original.

Having given the triumphant premiere of the overture to The Fair Melusine in Leipzig in 1836, Mendelssohn then arranged it for piano duet the same year. Again, every phrase of the symphonic original resounds with greater emphasis: the yielding swell of the waves is evoked by a delicacy of touch rendered almost liquid by brushing of the damper pedal.

With this album the Italian DuoKeira makes a most promising debut on Brilliant Classics. Michela Chiara Borghese and Sabrina De Carlo have played together since 2008, giving concerts in prestigious venues such as Carnegie Hall and in Paris at the invitation of UNESCO; in 2017 they were among the winners of the Global Music Awards for their performance of Samuel Barber's Souvenirs.

This new recording presents the transcription for piano duet that Felix Mendelssohn made of his immensely popular music for Shakespeare's Ein Sommernachtstraum ( a Midsummer Night's Dream). Mendelssohn, one of the greatest piano virtuosos of his time, perfectly managed to maintain the fairytale atmosphere of the orchestral score in this beautifully written piano arrangement: the famous Scherzo shines with pianistic glitter and the Wedding March receives the appropriate festiveness and pomp.
Brilliantly played by the Italian DuoKeira, prize winners of the 2010 IBLA Grand Prize World Music Competition and one of the recipients of the Global Music Awards.
Listening
Track list
Disk 1
Felix Mendelssohn: Overture the Fair Melusine, Op. 32

Felix Mendelssohn: A Midsummer Night's Dream, Op. 61: Overture

Felix Mendelssohn: A Midsummer Night's Dream, Op. 61: I. Scherzo

Felix Mendelssohn: A Midsummer Night's Dream, Op. 61: II. Fairy March

Felix Mendelssohn: A Midsummer Night's Dream, Op. 61: III. Song with Chorus

Felix Mendelssohn: A Midsummer Night's Dream, Op. 61: IV. Intermezzo

Felix Mendelssohn: A Midsummer Night's Dream, Op. 61: V. Nocturne

Felix Mendelssohn: A Midsummer Night's Dream, Op. 61: VI. Wedding March

Felix Mendelssohn: A Midsummer Night's Dream, Op. 61: VII. Allegro comodo. Funeral March

Felix Mendelssohn: A Midsummer Night's Dream, Op. 61: VIII. Bergamask Dance

Felix Mendelssohn: A Midsummer Night's Dream, Op. 61: IX. Finale