Mendelssohn: Chamber Music with Clarinet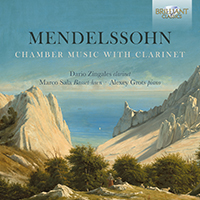 Download booklet
Composer
Felix Mendelssohn
Artist
Dario Zingales clarinet
Marco Sala basset-horn
Alexey Grots piano
Format
1 CD
Cat. number
96081
EAN code
5028421960814
Release
November 2019
About this release
Mendelssohn wrote beautifully for the clarinet when it was a relatively new instrument, hardly half a century old, but he left precious little solo music. There is a Clarinet Sonata from his prodigal teenage years, and a pair of virtuoso concert pieces dating from much later – a trio of masterpieces in their own right – but no concerto to rival Mozart or to surpass the work of less gifted contemporaries such as Crusell.

The Italian clarinettist Dario Zingales has accordingly raided the cupboard for transcriptions and turned up seven Songs without Words, as well as having new chamber versions made of clarinet-centred movements in the Scottish and Italian symphonies. Arranged together in a 75-minute sequence, these works range between the lyrical and intimate tone of Mendelssohn's voice to the brilliant virtuoso at ease with his own extraordinary gifts.

The two Concert Pieces were commissioned in 1833 by the Baermanns, father and son clarinet virtuosos, as they passed through Berlin on their way to undertake a tour of Russia. Mendelssohn obliged speedily with Op.113, and then produced Op.114 when the Baermanns requested a companion piece. Dario Zingales is well placed to emulate their famed sensitivity and bullet-proof technical command, having recorded a Brilliant Classics album (BC95785) of music by Carl and Heinrich themselves.
This was much praised on its release in 2018: 'Dario Zingales is a young Italian clarinettist who has studied with Wenzel Fuchs at the Salzburg Mozarteum. He has a light, attractive tone and plenty of technique... this is a nice survey of [the Baermanns'] music. Recommended as a matter of course to clarinet fanciers' (Fanfare magazine, September 2019). 'The playing from both artists, especially Zingales, is first-rate throughout, and the sound has been most faithfully recorded… Especially if you're a clarinettist, the chance to acquire six first-recordings on a disc that is so very entertaining, must surely equate to a win-win scenario' (MusicWeb International, February 2019).

In the early 19th century the clarinet was still rarely heard as a solo instrument. The two brothers Bärmann, Heinrich and Carl, were the first German virtuosos on the instrument and it was for them that Mendelssohn wrote two Konzertstücke with clarinet. These highly attractive, 3-movement works are written for clarinet, basset horn and piano and display all the instrumental virtuosity the Bärmanns were capable of.
Also presented here are the Clarinet Sonata and a variety of arrangements for clarinet and piano of Mendelssohn's famous Lieder Ohne Worte and two movements from the Scottish and Italian symphonies, delightful instrumental gems!
Brilliantly performed with zest, energy and lyricism by Dario Zingales (clarinet), Marco Sala (Basset-horn) and Alexey Grots (piano). Zingales already successfully recorded works for clarinet and piano by the Bärmann brothers on Brilliant Classics BC95785.
Listening
Track list
Disk 1
Felix Mendelssohn: Konzertstück No. 1 in F Minor, Op. 113: I. Allegro con fuoco

Felix Mendelssohn: Konzertstück No. 1 in F Minor, Op. 113: II. Andante

Felix Mendelssohn: Konzertstück No. 1 in F Minor, Op. 113: III. Presto

Felix Mendelssohn: Clarinet Sonata in E-Flat Major, MWV Q 15: I. Adagio - Allegro moderato

Felix Mendelssohn: Clarinet Sonata in E-Flat Major, MWV Q 15: II. Andante

Felix Mendelssohn: Clarinet Sonata in E-Flat Major, MWV Q 15: III. Allegro moderato

Felix Mendelssohn: Lieder ohne Worte, Op. 85: XIV. Andante espressivo

Felix Mendelssohn: Lieder ohne Worte, Op. 67: III. Andante tranquillo

Felix Mendelssohn: Lieder ohne Worte, Op. 53: I. Andante con moto

Felix Mendelssohn: Symphony No. 3 in A Minor: II. Vivace non troppo

Felix Mendelssohn: Lieder ohne Worte, Op. 65: V. Moderato in B Minor

Felix Mendelssohn: Lieder ohne Worte, Op. 38: VI. Andante con moto in A-Flat Major

Felix Mendelssohn: Symphony No. 4 in A Major: II. Andante con moto

Felix Mendelssohn: Lieder ohne Worte, Op. 102: III. Andante espressivo

Felix Mendelssohn: Lieder ohne Worte, Op. 30: III. Andante tranquillo

Felix Mendelssohn: Lieder ohne Worte, Op. 19: IV. Andante con moto

Felix Mendelssohn: Lieder ohne Worte, Op. 102: II. Andante con moto

Felix Mendelssohn: Konzertstück No. 2, Op. 114: I. Presto

Felix Mendelssohn: Konzertstück No. 2, Op. 114: II. Andante

Felix Mendelssohn: Konzertstück No. 2, Op. 114: III. Allegretto grazioso