Mendelssohn: Complete Organ Music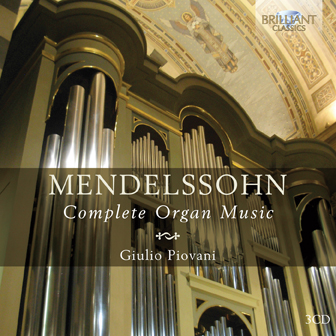 | | |
| --- | --- |
| Composer | Felix Mendelssohn |
| Artist | Giulio Piovani organ |
| Format | 3 CD |
| Cat. number | 94845 |
| EAN code | 5028421948454 |
| Release | September 2014 |
About this release
Mendelssohn's passion for the organ was due in part to his Lutheran upbringing, but he also owes much to his famous predecessor, J.S. Bach, whose influence is especially felt in the Ostinato in C minor. While he only composed sporadically for the organ between 1823 and 1831, Mendelssohn reached new heights of awareness in his composition in the 1830s. A visit to England in 1832 saw him commissioned to write some organ music for publisher Vincent Novello, and in his lifetime he would be much admired by (and admire in turn) several leading English organists, including Thomas Attwood, to whom he dedicated the Three Preludes and Fugues Op.37 in 1837, which can be found on discs 1 and 2. The end of disc 2, and the entirety of disc 3, is devoted to his last and most significant works for the organ, the Six Sonatas Op.65, which were commissioned by English publishers Coventry & Hollier in 1844.

This release is the first complete recording of Mendelssohn's organ music by an Italian organist, adapting this iconic composer's work to modern Italian instruments and thus presenting it from a slightly different perspective. Giulio Piovani first studied the organ under Giuseppe Gai at the 'A. Vivaldi' Conservatory of Alessandria. He then went on to specialise at the 'F. Ghedini' Conservatory of Cuneo, and has since worked with the Academia di Musica Sacra di S. Rocco di Alessandria and the Diocese of Vigevano. He is currently organist of the Waldesian Temple of Milan, since 2011.

Other information
- Recorded in 2013 in Italy.
- This 3CD set contains the complete music written for organ by Felix Mendelssohn.
- Mendelssohn was a great admirer of Johann Sebastian Bach (it was he who revived the Matthäus Passion and performed it for the first time since the master's death in 1750), therefore it is no wonder that he (a Lutheran) wrote a substantial body for the instrument.
- The first two CD's contain contrapuntal works, Preludes and Fugues in quasi Bach style (of amazing skill and emotional content!), whereas the 3rd CD is devoted to the 6 Grand Sonatas for the organ, a dazzling display of the instrument's possibilities and his own creative powers, he really put his soul into these 6 masterworks!
- Played by the young Italian virtuoso Giulio Piovani, on superb contemporary Italian instruments.
- A valuable addition to the growing Brilliant Classics discography of organ recordings, of excellent quality and interest!
- Booklet contains notes on the music, an artist biography and organ specifications.
Track list
Disk 1
Prelude in D Minor (1820)

Andante in D Major (1823)

Chorale with Variations "Wie groß ist des allmächt'gen Güte" (1823)

Ostinato in C Minor (1823)

Fughetta in A Major (1828)

Nachspiel in D Major (1831)

Andante con moto in G Minor (1833)

Fughetta in D Major (1834)

Prelude and Fugue in C Minor, Op. 37 No. 1: I. Prelude

Prelude and Fugue in C Minor, Op. 37 No. 1: II. Fugue

Prelude and Fugue in G Major, Op. 37 No. 2: I. Prelude

Prelude and Fugue in G Major, Op. 37 No. 2: II. Fugue
Disk 2
Prelude and Fugue in D minor, Op. 37 No. 3: I. Prelude

Prelude and Fugue in D minor, Op. 37 No. 3: II. Fugue

Fugue in E Minor (1839)

Fugue in F Minor (1839)

Prelude in C Minor (1841)

Trio in F Major (1844)

Andante with Variations in D Major (1844)

Allegro, Chorale and Fugue in D minor (1844)

Allegro in B-Flat Major (1844)

Allegro moderato maestoso in C Major (1845)

Sonata No. 1 in F Minor, Op. 65 No. 1: I. Allegro moderato e serioso

Sonata No. 1 in F Minor, Op. 65 No. 1: II. Adagio

Sonata No. 1 in F Minor, Op. 65 No. 1: III. Recitativo

Sonata No. 1 in F Minor, Op. 65 No. 1: IV. Allegro vivace assai
Disk 3
Sonata No. 2 in C Minor, Op. 65 No. 2: I. Grave

Sonata No. 2 in C Minor, Op. 65 No. 2: II. Adagio

Sonata No. 2 in C Minor, Op. 65 No. 2: III. Allegro maestoso e vivace

Sonata No. 2 in C Minor, Op. 65 No. 2: IV. Fuga

Sonata No. 3 in A Major, Op. 65 No. 3: I. Con moto maestoso

Sonata No. 3 in A Major, Op. 65 No. 3: II. Andante tranquillo

Sonata No. 4 in B-Flat Major, Op. 65 No. 4: I. Allegro con brio

Sonata No. 4 in B-Flat Major, Op. 65 No. 4: II. Andante religioso

Sonata No. 4 in B-Flat Major, Op. 65 No. 4: III. Allegretto

Sonata No. 4 in B-Flat Major, Op. 65 No. 4: IV. Allegro maestoso e vivace

Sonata No. 5 in D Major, Op. 65 No. 5: I. Andante

Sonata No. 5 in D Major, Op. 65 No. 5: II. Andante con moto

Sonata No. 5 in D Major, Op. 65 No. 5: III. Allegro maestoso

Sonata No. 6 in D Minor, Op. 65 No. 6: I. Choral mit Variationen

Sonata No. 6 in D Minor, Op. 65 No. 6: II. Fuga

Sonata No. 6 in D Minor, Op. 65 No. 6: III. Andante