Mendelssohn: Complete Piano Quartets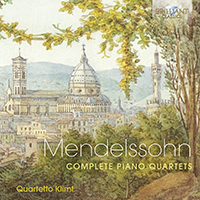 | | |
| --- | --- |
| Composer | Felix Mendelssohn |
| Artist | Quartetto Klimt |
| Format | 2 CD |
| Cat. number | 95532 |
| EAN code | 5028421955322 |
| Release | September 2020 |
About this release
Early, little-known, free-spirited chamber works from music's supreme teenage genius.

By the time Felix Mendelssohn composed his first three opus-numbered works he had a substantial catalogue of chamber, vocal and orchestral works to his credit – all at the age of 15! This trio of piano quartets predates the miraculous Octet for strings, yet each of them holds its distinct appeal. A fluent grasp of form and voicing can be taken for granted in one already thoroughly schooled in compositional technique. Mendelssohn was still finding his own voice, melodically speaking, while emerging from the shadow of Mozart's and Beethoven's, but these are already pieces with his fingerprints and no-one else's, even in 1824, when Beethoven and Schubert were still alive.

Even the Opp. 1-3 are predated by another piano quartet, composed in 1821 by the 12-year-old Mendelssohn. He deemed it unfit for publication, but its relative brevity demonstrates that the teenage composer already had both the intuition and the talent to write within strict self-imposed boundaries: he does not waste notes, even in the finales which fizz with fun.

Outside complete box-sets of the composer's music the Piano Quartets are rarely encountered on disc, making this fine new recording an even more attractive acquisition for Mendelssohn fans and enthusiasts for early-Romantic chamber rarities. Formed in 1995, the Quartetto Klimt is an Italian ensemble with an impressive record of appearances at prestigious festivals based at home and abroad and long experience of teaching at chamber-music centres such as Fiesole and Livorno. This album marks their debut on Brilliant Classics.

Felix Mendelssohn (1809-1847) was one of the most extraordinary child prodigies in history. At age 15 he was declared by his teacher Carl Zelter a mature musician "in the brotherhood of Bach, Mozart and Haydn". By that age he had already composed symphonies, choral works, Singspiele, 4 concertos, piano and organ works.
Mendelssohn wrote his 4 Piano Quartets (for piano and string trio) between 1821 and 1824 (between his 12th and 15th year..), forming his Opus 1, 2 and 3. Clearly modelled on Mozart's Classical Style, they are vintage Mendelssohn: brilliant, virtuoso, containing clever counterpoint, strongly melodic both in the fast movements as in the slow movements (characteristic "Lieder ohne Worte"), the Scherzi foreshadowing his Sommernachtstraum music.
Played with fire and youthful enthusiasm, as well as tenderness and lyricism by pianist Matteo Fossi and Duccio Ceccanti, Edoardo Rosadini and Alice Gabiani.
Listening
Track list
Disk 1
Felix Mendelssohn: Piano Quartet No. 1 in C Minor, Op. 1: I. Allegro vivace

Felix Mendelssohn: Piano Quartet No. 1 in C Minor, Op. 1: II. Adagio

Felix Mendelssohn: Piano Quartet No. 1 in C Minor, Op. 1: III. Scherzo. Maggiore

Felix Mendelssohn: Piano Quartet No. 1 in C Minor, Op. 1: IV. Allegro moderato

Felix Mendelssohn: Piano Quartet No. 2 in F Minor, Op. 2: I. Allegro molto

Felix Mendelssohn: Piano Quartet No. 2 in F Minor, Op. 2: II. Adagio

Felix Mendelssohn: Piano Quartet No. 2 in F Minor, Op. 2: III. Intermezzo. Allegro moderato

Felix Mendelssohn: Piano Quartet No. 2 in F Minor, Op. 2: IV. Allegro molto vivace
Disk 2
Felix Mendelssohn: Piano Quartet No. 3 in B Minor, Op. 3: I. Allegro molto. Più allegro

Felix Mendelssohn: Piano Quartet No. 3 in B Minor, Op. 3: II. Andante

Felix Mendelssohn: Piano Quartet No. 3 in B Minor, Op. 3: III. Allegro molto

Felix Mendelssohn: Piano Quartet No. 3 in B Minor, Op. 3: IV. Finale. Allegro vivace

Felix Mendelssohn: Piano Quartet in D Minor, MWV Q 10: I. Allegro molto

Felix Mendelssohn: Piano Quartet in D Minor, MWV Q 10: II. Andante

Felix Mendelssohn: Piano Quartet in D Minor, MWV Q 10: III. Finale. Allegro molto