Mendelssohn: Complete Works for Cello and Piano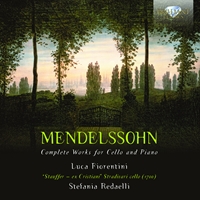 Composer
Felix Mendelssohn
Artist
Luca Fiorentini Stradivari cello
Stefania Redaelli piano
Format
1 CD
Cat. number
94368
EAN code
5028421943688
Release
June 2012
About this release
This CD features for the first time on CD the celebrated cello built by Antonio Stradivari, the "Staufer- ex Cristiani" instrument, of enormous power and sonority.
Born into a family where music-making lay at the heart of domestic life, Felix Mendelssohn was from an early age exposed to a broad range of composers and styles. First introduced to the cello by his brother, Paul, the young prodigy went on to write a number of charming works for the instrument together with piano accompaniment; this engaging CD details all such compositions, with the music brought to life through Luca
Fiorentini's intuitive performances on the stunning 'Stauffer – ex Cristiani' Stradivari cello.
The compilation begins with the delightful Variations concertantes in G Op.17, written when Mendelssohn was just 20 years old. It is followed by the first of two sonatas that make up the backbone to this release – No.2 Op.58, a work revealing the composer's creative maturity and containing many original passages such as the ebullient 6/8 metre of the opening movement. While the Sonata No.1 may not have achieved the
same popularity as its imposing counterpart, the composition remains one of the era's most important within the genre. It is a fitting contrast to the collection's final Albumblatt: a short, descriptive piece in which the cello and piano lines interweave, creating a charming, dream-like atmosphere. Mendelssohn's affecting Lied ohne Worte Op.109, however, is without doubt the focal point of the collection.
Taking centre place, it is of particular significance given that it was first performed on exactly the same Stradivari as the one used in this release, an instrument that, under the ownership of the famous cellist Lise Cristiani, had inspired Mendelssohn. The music is wonderfully interpreted by Fiorentini and Redaelli, a partnership whose compelling musicianship is evident throughout the album.

Other Information:
- New recording by the Italian maestro Luca Fiorentini and pianist Stefania Redaelli, recorded in the magnificent Fondazione Teatro Ponchielli in Cremona, Italy.
- Includes comprehensive notes on each work as well as a detailed history of the Stradivari 'Stauffer – ex Cristiani' cello used in the recording (the first of its kind to be built by the celebrated string maker).
Track list
Disk 1
Variations concertantes in D, Op. 17 (1829): Theme: Andante con moto

Variations concertantes in D, Op. 17 (1829): Variation No. 1

Variations concertantes in D, Op. 17 (1829): Variation No. 2

Variations concertantes in D, Op. 17 (1829): Variation No. 3: Più vivace

Variations concertantes in D, Op. 17 (1829): Variation No. 4: Allegro con fuoco

Variations concertantes in D, Op. 17 (1829): Variation No. 5: L'istesso tempo

Variations concertantes in D, Op. 17 (1829): Variation No. 6: L'istesso tempo

Variations concertantes in D, Op. 17 (1829): Variation No. 7: Presto ed agitato

Variations concertantes in D, Op. 17 (1829): Variation No. 8: Tempo I

Cello Sonata No. 2 in D, Op. 58 (1843): I. Allegro assai vivace

Cello Sonata No. 2 in D, Op. 58 (1843): II. Allegretto scherzando

Cello Sonata No. 2 in D, Op. 58 (1843): III. Adagio

Cello Sonata No. 2 in D, Op. 58 (1843): IV. Molto allegro e vivace

Lied ohne Worte in D, Op. 109 (1843)

Cello Sonata No. 1 in B-Flat, Op. 45 (1838): I. Allegro vivace

Cello Sonata No. 1 in B-Flat, Op. 45 (1838): II. Andante

Cello Sonata No. 1 in B-Flat, Op. 45 (1838): III. Allegro assai

Albumblatt (1835)