Mendelssohn: Concerto for Violin and String Orchestra in D Minor, Concerto for Violin, Piano and Orchestra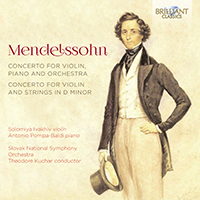 Download booklet
Composer
Felix Mendelssohn
Artist
Solomiya Ivakhiv violin
Antonio Pompa-Baldi piano
Slovak National Symphony Orchestra
Theodore Kuchar conductor
Format
1 CD
Cat. number
95733
EAN code
5028421957333
Release
October 2019
About this release
A new and stylish recording of the 'other' Mendelssohn violin concerto, a product of the composer's prodigious teenage years, coupled with a grand double concerto that also predates the miraculous Octet.

The child Mendelssohn developed extraordinarily rapidly after progressing, apparently late in 1819, from imitative student exercises to composing his own music. Over the next two years he tackled increasingly ambitious large-scale works, including a number of string symphonies, a Singspiel, and his first concerto, in A minor for piano, written early in 1822. The Concerto for Violin and Strings in D minor followed later that year, and the Concerto for Violin and Piano, again in D minor, in the spring of 1823; the latter was also initially accompanied by strings only, but Mendelssohn later added parts for wind and timpani, in which version it is heard here. Even between these two concertos one can hear a striking advance in the young composer's sense of originality and mastery.

The Violin Concerto draws on Classical-era models such as Mozart, but it is also influenced by French innovations in violin writing developed in Mendelssohn's own time, and fully exploits the evolving techniques of new virtuosos. Among them was Eduard Rietz, Mendelssohn's teacher, the work's dedicatee, still a teenager himself and yet leader of the Berlin Court Orchestra. There is much dazzling filigree writing here but also some deeply expressive modulations which convey an emotional maturity far beyond what one could expect from a 13-year-old composer. Dating from six months later, the Double Concerto is an even more polished work, full of memorable melody, no less brilliant in its solo writing but astonishingly confident in its handling of material indebted to Bach, to Mozart and Beethoven and somehow none the worse for all that The Ukrainian violinist Solomiya Ivakhiv is now based in the US, where she works as both a soloist and a teacher, including Head of Strings at the University of Connecticut. She is fluently partnered here by Antonio Pompa-Baldi, who has performed and recorded much of the supremely challenging late-Romantic repertoire: a favorite performer at keyboard festivals such as Rarities of Piano Music in Husum, he is also a member of the piano faculty at the Cleveland Institute of Music.

This new recording presents two striking examples of the precocious talent of the young Mendelsohn. Written by Felix barely entering his teens the D minor Violin Concerto and the Concerto for Violin, Piano and Strings display an astonishing ripeness, skill, wit, charm and sentiment, while the solo writing is extraordinary challenging in its brilliant bravura and virtuosity.
Played with esprit and "Spielfreude" by Solomiya Ivakhiv (violin) and Antonio Pompa-Baldi (piano) accompanied with much gusto by the Slovak Sinfonietta conducted by Theodore Kuchar.
The booklet contains excellent liner notes written by Alain Frogley.
Listening
Track list
Disk 1
Felix Mendelssohn: Concerto for Violin and String Orchestra in D Minor, MWV O 3: I. Allegro

Felix Mendelssohn: Concerto for Violin and String Orchestra in D Minor, MWV O 3: II. Andante

Felix Mendelssohn: Concerto for Violin and String Orchestra in D Minor, MWV O 3: III. Allegro

Felix Mendelssohn: Concerto for Violin, Piano and Orchestra in D Minor, MWV O 4: I. Allegro

Felix Mendelssohn: Concerto for Violin, Piano and Orchestra in D Minor, MWV O 4: II. Adagio

Felix Mendelssohn: Concerto for Violin, Piano and Orchestra in D Minor, MWV O 4: III. Allegro molto