Mendelssohn: Organ Music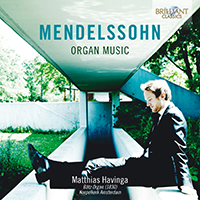 | | |
| --- | --- |
| Composer | Felix Mendelssohn |
| Artist | Matthias Havinga organ |
| Format | 1 CD |
| Cat. number | 95658 |
| EAN code | 5028421956589 |
| Release | May 2018 |
About this release
An invaluable single-disc survey of Mendelssohn's organ music, including not only works originally conceived for the instrument but also arrangements to display the majestic tonal possibilities of a fine Dutch instrument as well as the virtuosity of one of the most talented young organists in the Netherlands.

Bach was a central figure in the musical education of the prodigious young Mendelssohn, and he continued to expand the family's collection of the Leipzig master's organ music. However, he was also gifted at the art of improvisation which is central to the organist's training, and he later wrote out several of his best improvisations as compositions for posterity. His organ music abounds in the elegance and impetuous vitality which characterise his music in general, while his lifelong immersion in the music of Bach is evident in both the counterpoint and the chorale movements to be found throughout his organ sonatas.

Matthias Havinga plays three of the best-known of those sonatas on this album: Op.65 Nos 3, 4 and 6. No.3 concludes in a lovely song without words, a style which he revisited for the Andante tranquillo of No.4. No.6, by contrast, opens with a magnificent set of variations upon the 'Our Father' chorale theme Vater unser in Himmelreich, elaborated with such mastery by Bach in the Clavierübung III.

Three standalone movements include an energetic E minor fugue and a much more introverted, even melancholic F minor fugue (a cousin to the despairing F minor string quartet which became his last major composition). The Allegro in D minor begins in brilliant and pianistic fashion (perhaps also owing something to Bach's D major Prelude and Fugue BWV532) before seguing into a chorale and fugue. The arrangements are of the overture to his oratorio St Paul (transcribed by the English organist W.T. Best) and the Scherzo from his incidental music to A Midsummer Night's Dream, which translates surprisingly well to the organ. It is played here on the 1830 Bätz organ in the Koepelkerk in Amsterdam by Matthias Havinga, who also contributes an extensive booklet essay, considering Mendelssohn both as an organist and organ composer.

Felix Mendelssohn (1809-1847) received his main musical education from the famous teacher and composer Carl Friedrich Zelter, who thoroughly schooled him in traditional composition, counterpoint and music history. Zelter was also a great Bach admirer and regularly performed his works at the Berliner Singakademie, of which the Mendelssohn family were also members. It was Zelter who urged the young Mendelssohn to play the organ as well as the piano, and this led to his lifetime relationship with this majestic instrument.
This new recording presents some of Mendelssohn's best organ works: three of his superb Organ Sonatas Op. 65 (Nos. 3, 4 and 6), as well as some spectacular transcriptions from his Midsummer Night's Dream (the famous Scherzo) and his oratorio Paulus.
Dutch organist Matthias Havinga plays on the famous 1830 Bätz organ of the Ronde or Koepelkerk in Amsterdam, a magnificent instrument which fits Mendelssohn's style perfectly, as he professed to like "a strong and powerful organ, where the sound doesn't shake at all, and is not lacking in various types of lovely soft registers".
Listening
Track list
Disk 1
Felix Mendelssohn: Organ Sonata No. 3 in A Major, Op. 65: I. Con moto maestoso

Felix Mendelssohn: Organ Sonata No. 3 in A Major, Op. 65: II. Andante tranquillo

Felix Mendelssohn: Ein Sommernachtstraum, Op. 61: I. Scherzo

Felix Mendelssohn: Andante sostenuto in F Minor

Felix Mendelssohn: Organ Sonata No. 4 in B-Flat Major, Op. 65: I. Allegro con brio

Felix Mendelssohn: Organ Sonata No. 4 in B-Flat Major, Op. 65: II. Andante religioso

Felix Mendelssohn: Organ Sonata No. 4 in B-Flat Major, Op. 65: III. Allegretto

Felix Mendelssohn: Organ Sonata No. 4 in B-Flat Major, Op. 65: IV. Allegro maestoso e vivace

Felix Mendelssohn: Organ Sonata No. 6 in D Minor, Op. 65: I. Choral mit Variationen

Felix Mendelssohn: Organ Sonata No. 6 in D Minor, Op. 65: II. Fuga

Felix Mendelssohn: Organ Sonata No. 6 in D Minor, Op. 65: III. Finale – andante

Felix Mendelssohn: Fuga in E Minor

Felix Mendelssohn: Allegro in D Minor

Felix Mendelssohn: Paulus, Op. 36: I. Ouverture