Merry Christmas Pianomania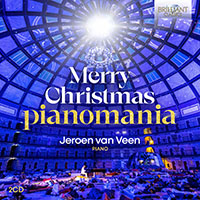 | | |
| --- | --- |
| Composer | Jeroen van Veen |
| Artist | Jeroen van Veen piano |
| Format | 2 CD |
| Cat. number | 96916 |
| EAN code | 5028421969169 |
| Release | October 2023 |
About this release
This album features Christmas music for the piano in a timeless journey through the decades and centuries. These songs have been through a remarkable evolution over the course of several centuries, with the changes they have undergone reflecting the shifting musical styles and cultural influences that prevailed in various times.

The development in popularity of the piano as a household instrument in the 19th century contributed to the spread of traditional Christmas carols and tunes. Christmas songs were made more approachable to a wider audience because of the attractive piano arrangements that composers such as Felix Mendelssohn and Franz Liszt devised for them. Then, throughout the 20th century, Christmas songs were composed in a wide variety of musical styles. Jazz, blues, and popular music were all significant influences on composers during this period. Composers such as Irving Berlin created Christmas songs centred around the piano that went on to become instant classics. An example that epitomizes this era is Irving Berlin's 'White Christmas'. The growth of Christmas carols arranged for piano is a monument to the everlasting spirit of the Christmas holiday as well as the development of musical styles throughout the course of history.

For this album, Jeroen van Veen has collected both well-known and lesser-known Christmas songs and arranged many of them for his own piano performance. The programme is freely, alternating slow with up-tempo and virtuosic with intimate songs. Some of the tracks are medleys combining two or more songs. Highlights include the 'Christmas Fantasy' by Alexander Rosenblatt, a virtuoso piece that combines several tunes, and the Fred Oldenburg version of 'Silent Night', written in answer to a challenge from some of the jazz teachers at the Enschede conservatory to use the strangest chords to harmonise the well-known song.

Packaged to make it the perfect Christmas gift for music and piano lovers, the two CDs come in an attractive tin along with four festive postcards featuring sunflowers in winter.

- For this unique album Dutch pianist Jeroen Van Veen collected Christmas Songs from all over the world. The arrangements, either by well known musicians and/or by himself, present a wide spectrum of styles, from the most simple and intimate medieval song to an elaborate jazzy or minimalistic guise: a fascinating journey of moods, emotions and atmospheres, the well known melodies going through many unexpected transformations.
- Dutch pianist, pioneer and champion of Minimalism Jeroen van Veen plays the piano in his inimitable way: focused, serene and hypnotizing. Praise for Jeroen van Veen on Brilliant Classics: 'Van Veen is quite brilliant in the quirky fourth [Philip Glass Etude] and his reading of the exquisite, valedictory 20th is excellent.' Gramophone. 'Jeroen van Veen's recording can stand alongside the best from any source, and this [Arvo Pärt] set is worthy of high praise in every regard.' MusicWeb International. 'Van Veen is a supremely eloquent performer of his own music. His touch is remarkably varied, carrying none of the hammered urgency of, for example, Michael Nyman's performances of Nyman.' Fanfare.
Track list
Disk 1
Jeroen van Veen: Joy to the World & O Come All Ye Faithfull

Jeroen van Veen: It Came Upon the Midnight Clear

Jeroen van Veen: The First Noel

Jeroen van Veen: O Come, O Come Emmanuel

Jeroen van Veen: O Little Town of Bethlehem & O Holy Night

Jeroen van Veen: Silent Night

Jeroen van Veen: What Child Is This? & Away in a Manger

Jeroen van Veen: God Rest Ye Merry, Gentlemen & Ukrainian Bell Carol

Jeroen van Veen: Go, Tell it on the Mountain

Jeroen van Veen: Fantasy on Ode to Joy

Jeroen van Veen: O Come, O Come Emmanuel & Come, Thou Almighthy King

Jeroen van Veen: Angels We Have Heard On High & Come, Christians, Joint o Sing

Jeroen van Veen: It Came Upon the Midnight Clear & To God Be the Glory

Jeroen van Veen: Good Christian Men, Rejoice & Rejoice, the Lord is King

Jeroen van Veen: O Come, All Ye Faithfull & Joyful, Joyful, We Adore Thee

Jeroen van Veen: Oh Worship the King & Angels from the Realms of Glory

Jeroen van Veen: What Child is This? & Fairest Lord Jesus

Jeroen van Veen: We Wish You A Merry Christmas

Jeroen van Veen: Let it Snow! Let it Snow! Let it Snow!
Disk 2
Jeroen van Veen: Lo, How a Rose E'er Blooming

Jeroen van Veen: O Christmas Tree & We Wish You a Merry Christmas

Jeroen van Veen: O Holy Night

Jeroen van Veen: O Little Town of Bethlehem & O Come, All Ye Faithfull

Jeroen van Veen: Silent Night

Jeroen van Veen: Gesu Bambino

Jeroen van Veen: Jingle Bells

Jeroen van Veen: Bring a Torch, Jeannette, Isabella

Jeroen van Veen: I Heard the Bells on Christmas Day

Jeroen van Veen: Masters in This Hall

Jeroen van Veen: O Little Town of Bethlehem

Jeroen van Veen: Wexford Carol

Jeroen van Veen: We Three Kings of Orient Are

Jeroen van Veen: Bethlehem Morning

Jeroen van Veen: Christmas Fantasy, Alexander Rosenblatt

Jeroen van Veen: Stille Nacht

Jeroen van Veen: Santa Claus is Coming to Town

Jeroen van Veen: Have Yourself a Merry Little Christmas

Jeroen van Veen: Rudolph the Red-Nosed Reindeer

Jeroen van Veen: White Christmas