Mertz: Barden-Klänge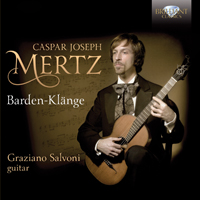 | | |
| --- | --- |
| Composer | Caspar Joseph Mertz |
| Artist | Graziano Salvoni guitar |
| Format | 2 CD |
| Cat. number | 94473 |
| EAN code | 5028421944739 |
| Release | May 2014 |
About this release
In his day Caspar Joseph Mertz (b.1806) was one of the most sought-after musicians in Europe, the court guitarist of Empress Carolina Augusta whose performances (together with his wife Josephine Plantin on piano) became famous throughout Austria, Hungary and Germany. Today he is best remembered for the successful Barden-Klänge (Bardic Sounds), a cycle in which the guitar language of his time was enhanced to a stylistic expressiveness that parted sharply from contemporary works and which was more closely associated with the new, evocative aesthetics of the Romantic composers. The collection takes its title from the works of James Macpherson, the Scottish poet who in 1765 published the immensely successful The Works of Ossian – translations of ancient Celtic poems that deal with motifs quite widespread in Romantic culture, such as the exaltation of warrior and chivalrous virtues.

This release details 11 out of the 15 volumes of Barden-Klänge, the remaining ones either not original works by Mertz or arbitrarily inserted into a later edition. Often the titles contain evocative overtones, such as Elfenreigen (Round Dance of the Elves), but in any case it is the music that always calls to mind images and settings from Macpherson's poems, making good use of imitation throughout the collection. Performing these works is Italian guitarist Graziano Salvoni, who enjoys a busy schedule in his home country both as a soloist and with various chamber orchestras. He plays a Johann Anton Stauffer model – named after and made by one of the most important luthiers in central Europe, a contemporary of Mertz and whose instruments it is highly likely the composer-virtuoso himself regularly performed on.

Other information:
- Recorded: February & March 2013, Recording Me.To. Studio, Asti, Italy.
- The first half of the 19th century was a Golden Age for the guitar, seeing its emancipation as a serious and mature classical instrument. Caspar Joseph Mertz (born in 1806) was one of the leading guitarists of his day, court musician of the Empress Carolina Augusta, and composer of a substantial oeuvre for his instrument.
- Mertz's guitar legacy consists of a series of short cycles called "Barden-Klänge" (Bardic sounds), evoking the romantic image of a travelling artist (bard) singing his tales, poems and legends about knights, courtly love, nature and fairies. They are romantic genre pieces, Charakterstücke, with evocative titles like Unruhe, Elfenreigen and Fingall's Höhle.
- These are first recordings (2013), beautifully played by Graziano Salvoni, with the right touch of sentiment. He plays on an exquisite historical "Stauffer" instrument.
- Booklet includes liner notes on the composer, music and the instrument used for the recording and an artist biography.
Track list
Disk 1
Caspar Joseph Mertz: Barden-Klänge, Book 1: I. An Malvina

Caspar Joseph Mertz: Barden-Klänge, Book 1: II. Romanze

Caspar Joseph Mertz: Barden-Klänge, Book 2: I. Abendlied

Caspar Joseph Mertz: Barden-Klänge, Book 2: II. Unruhe

Caspar Joseph Mertz: Barden-Klänge, Book 2: III. Elfenreigen

Caspar Joseph Mertz: Barden-Klänge, Book 3: I. An die Entfernte

Caspar Joseph Mertz: Barden-Klänge, Book 3: II. Etüde

Caspar Joseph Mertz: Barden-Klänge, Book 3: III. Capriccio

Caspar Joseph Mertz: Barden-Klänge, Book 4: I. Gondoliera

Caspar Joseph Mertz: Barden-Klänge, Book 4: II. Liebeslied

Caspar Joseph Mertz: Barden-Klänge, Book 5: I. Fingals-Höhle

Caspar Joseph Mertz: Barden-Klänge, Book 5: II. Gebeth

Caspar Joseph Mertz: Barden-Klänge, Book 6: I. Tarantelle
Disk 2
Caspar Joseph Mertz: Barden-Klänge, Book 7: I. Variations mignonnes

Caspar Joseph Mertz: Barden-Klänge, Book 8: I. Kindermarchen

Caspar Joseph Mertz: Barden-Klänge, Book 9: I. Rondino

Caspar Joseph Mertz: Barden-Klänge, Book 10: I. Romanze

Caspar Joseph Mertz: Barden-Klänge, Book 10: II. Scherzo

Caspar Joseph Mertz: Barden-Klänge, Book 10: III. Sehnsucht

Caspar Joseph Mertz: Barden-Klänge, Book 11: I. Lied ohne Worte

Caspar Joseph Mertz: Barden-Klänge, Book 11: II. Mazurka