Mertz: Fantasias for Solo Guitar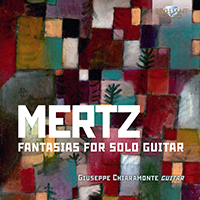 Download booklet
| | |
| --- | --- |
| Composer | Johann Kaspar Mertz |
| Artist | Giuseppe Chiaramonte guitar |
| Format | 1 CD |
| Cat. number | 95722 |
| EAN code | 5028421957227 |
| Release | March 2019 |
About this release
The early-Romantic guitar in focus: a Viennese contemporary of Mendelssohn revived.

Caspar Johann Mertz was born in Bratislava in 1806 at a time when the guitar was a celebrated instrument throughout the Habsburg Empire. By the time he became a musician himself, however, the guitar boom was over. The Russian nobleman Nicolai Petrovich Makarov (1800-1890) I wrote in his memoirs: 'Is the guitar lost forever ?, I wondered. Can anything be done to spur them on to new musical meaning? Are no further technical improvements possible? Are the talented composers gone forever?' And in an attempt to prevent his prophecy from coming to fulfilment, he founded a guitar competition in Brussels in 1856, which was duly won by Mertz, a few months before his death, playing the Concertino which was his last composition.

The impact of Makarov's competition remained low, and only in recent years has Mertz's name become more widely known, not least thanks to the evocative tone-poems which make up the 11-plus volumes of Bärdenklange Op.13. Released in 2014, the Brilliant Classics album by Graziano Salvoni (BC94473) was the most complete recording yet of Bärdenklange and enthusiastically received in the international guitar press.

Giuseppe Chiaramonte has now produced an essential complement to it in terms of appreciating the music of a forgotten Romantic. He opens with the set of Three Pieces Op.65 which includes his best-known work, the Fantasie Hongroise. He continues with the less-familiar, soulful strains of the Pianto dell'Amante and similarly reflective works which anticipate with the guitar the kind of inward, contemplative writing for the piano with which Liszt much later became associated: La Rimembranza, Pensée Fugitive and Harmonie du soir all deserve much wider attention, not least for their rapt melodic beauty.

Chiaramonte concludes this invaluable album with one of the operatic fantasias with which guitarist performer/composers earnt their way around Europe in the
19th century: this one on Mozart's Don Giovanni.

Johann Kaspar Mertz (1806-1856) was one of the greatest guitarists of the first half of the 19th century. This was the time of the great piano virtuosos and Mertz clearly intended to incorporate piano techniques into his own guitar playing. The extreme demands of his guitar works include rapid chord changes in all positions, octaves progressing up to the highest frets, rapid right-hand thumb movements, glissandi, various types of tremolos, embellishments with flurries of notes etc.
Mertz might easily be called "The Franz Liszt of the guitar''. The works on this CD have a relationship with the famous Hungarian composer: Harmonie du Soir, Fantaisie Hongroise, La Rimembranza, and Fantasia on Don Juan. Needless to say the works explore the technical possibilities of the instrument to its extreme.
Giuseppe Chiaramonte is one of today's most outstanding guitarists, a winner of several international competitions. He plays a 6 string guitar by Mario Grimaldi.
Listening
Track list
Disk 1
Johann Kaspar Mertz: 3 Morceaux, Op. 65: I. Fantaisie hongroise

Johann Kaspar Mertz: 3 Morceaux, Op. 65: II. Fantaisie originale

Johann Kaspar Mertz: 3 Morceaux, Op. 65: III. Le Gondolier

Johann Kaspar Mertz: Pianto dell'amante

Johann Kaspar Mertz: La rimembranza

Johann Kaspar Mertz: Pensée fugitive

Johann Kaspar Mertz: Harmonie du soir

Johann Kaspar Mertz: Fantaisie über "Don Juan", Op. 28