Merula: Complete Organ Music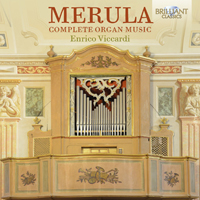 | | |
| --- | --- |
| Composer | Tarquinio Merula |
| Artist | Enrico Viccardi organ |
| Format | 1 CD |
| Cat. number | 95252 |
| EAN code | 5028421952529 |
| Release | October 2015 |
About this release
Recorded earlier this year, here's a small but distinguished volume in the growing Brilliant Classics organ library. The songs and chamber music of Tarquinio Merula (1595-1665) now place him in estimation as one of the most vital and original figures of North Italian musical life after Claudio Monteverdi, but too little attention has been paid to his organ music, which has had only one or two comprehensive recordings – though when one hears the Capriccio Cromatico, it's easy to hear why Gustav Leonhardt and others might pick it out to illustrate the most inventive and challenging works of 16th-century organ music from whatever country. Indeed the piece, and several others like it here, sounds as though it could have been composed yesterday. The juxtaposition of keys is always striking, the movement between them unexpected and yet keenly plotted: Merula leaves the outright bizarre to Gesualdo.

As the organist Enrico Viccardi remarks in his helpfully contextual booklet notes, 'it is the keyboard compositions that clearly reveal his originality and his readiness to experiment'. He highlights Merula's debt to Claudio Merulo, but also the reworked, more advanced nature of that debt in the magnificent Toccata on the Second Tone.

Viccardi has used an original 1647 organ, built by Giovanni Chiappani in the church of San Pietro Apostolo, Mezzana Casati and restored sympathetically in the 19th and 20th centuries. The temperament is uneven but not eccentrically so. This is a release that should receive wide attention in the organ press but also be of interest to anyone who is captivated by the music of Monteverdi and his time.

Tarquinio Merula (1595-1665) was a foremost member of the Venetian School, active as a composer of a substantial vocal oeuvre and instrumental music for keyboard.
This new recording contains the complete works for organ by Merula, consisting of Toccatas, Canzones, Capriccio and three Intonazione Cromatica. Keywords of Merula's innovative style are chromatiscm and a great expressive intensity.
Enrico Viccardi, one of Italy's most venerable and respected organists, plays the historic Chiappani organ, built in 1647.
The booklet contains extensive liner notes on the music written by the artist, the organ specifications and photo, plus an artist biography.
Listening
Track list
Disk 1
Tarquinio Merula: Toccata del secondo tono

Tarquinio Merula: Canzone V

Tarquinio Merula: Canzone IV

Tarquinio Merula: Capriccio in D Minor

Tarquinio Merula: Intonazione cromatica del quarto tono

Tarquinio Merula: Toccata del I tuono e genus cromaticum 1mi toni

Tarquinio Merula: Canzone I

Tarquinio Merula: Canzone II

Tarquinio Merula: Intonazione cromatica del nono tono

Tarquinio Merula: Canzone III

Tarquinio Merula: Due versetti

Tarquinio Merula: Intonazione cromatica del terzo tono

Tarquinio Merula: Capriccio cromatico

Tarquinio Merula: Canzon "La Marca"

Tarquinio Merula: Sonata cromatica per organo