Merulo: Motets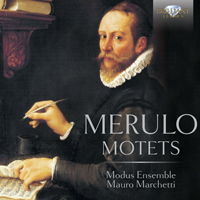 Composer
Claudio Merulo
Artist
Modus Ensemble
Mauro Marchetti conductor
Format
1 CD
Cat. number
95243
EAN code
5028421952437
Release
March 2016
About this release
Claudio Merulo was one of a small number of Italian Renaissance composers who was instrumental in transforming the musical landscape of the 16th century. He was a hugely prolific writer of keyboard music, marking the change from vocal-based forms to new genres written especially for the instrument. Additionally, he wrote sublime sacred music in the Venetian tradition of the High Renaissance, and his motets, which are intended for the Office, are remarkable for their clear and spacious lines alongside bold imitative counterpoint. This is the fifth book of his motets, which reveal an innovative form and sophisticated linguistic freedom. The interplay of musical spaces and colours anticipate the concertato style of the rising Baroque period.

Mauro Marchetti, a prominent choral conductor in his native Italy, is the winner of several choral conducting prizes. Having studied at the prestigious Accademia Nazionale di Santa Cecilia in Rome, he has had an exciting career in conducting for over 20 years, specialising in both early and contemporary music. He directs the Modus Ensemble, a group of young Italian musicians whose repertoire also spans many musical periods, from Renaissance to contemporary. Since their formation in 2012 the group is proud to have been awarded third prize at the fourth Concorso Nazionale in Fermo, Italy. They are joined by a select group of specialist musicians performing on authentic instruments.

Claudio Merulo (1533-1604) held the prestigious post of first organist of the San Marco in Venice. Although he was a key figure in the development of keyboard music he also wrote a large number of vocal works of great importance: masses, motets and madrigals. Merulo's Motets, though standing in the tradition of the High Renaissance, reveal an innovative form and linguistic freedom. In his 5-part Motets for single choir the initial imitative counterpoints develops into antiphonal sections and ritornello passages that anticipate the "concertato" style of the emerging Baroque period.
The Italian Modus Ensemble, conducted by Mauro Marchetti, is accompanied by viola da gamba, violone, theorbo and organ.
The complete sung texts in the original language are included in the booklet.

Other information:
Recorded in Italy in 2014 & 2015.
Contains a note on the music.
Contains sung texts.
Contains biographies of the artists.
Listening
Track list
Disk 1
Claudio Merulo: Libro Primus Sacrarum Cantionum: Salvator noster, dilectissimi

Claudio Merulo: Libro Primus Sacrarum Cantionum: Stephanus autem plenus gratia

Claudio Merulo: Libro Primus Sacrarum Cantionum: Maximum hoc omnium

Claudio Merulo: Libro Primus Sacrarum Cantionum: Innocentes pro Christo

Claudio Merulo: Libro Primus Sacrarum Cantionum: O admirabile commercium

Claudio Merulo: Libro Primus Sacrarum Cantionum: Tribus miraculis ornatum diem

Claudio Merulo: Libro Primus Sacrarum Cantionum: Bonum certamen certavi

Claudio Merulo: Libro Primus Sacrarum Cantionum: Hodie beata Virgo Maria

Claudio Merulo: Libro Primus Sacrarum Cantionum: Ave Maria

Claudio Merulo: Libro Primus Sacrarum Cantionum: Haec est dies

Claudio Merulo: Libro Primus Sacrarum Cantionum: Sancti et justi

Claudio Merulo: Libro Primus Sacrarum Cantionum: Cumque beatissimus Marcus Evangelista

Claudio Merulo: Libro Primus Sacrarum Cantionum: Ascendens Christus in altum

Claudio Merulo: Libro Primus Sacrarum Cantionum: Hodie spiritus sanctus

Claudio Merulo: Libro Primus Sacrarum Cantionum: O adoranda trinitas

Claudio Merulo: Libro Primus Sacrarum Cantionum: Ego sum panis vivus

Claudio Merulo: Libro Primus Sacrarum Cantionum: Puer qui natus est

Claudio Merulo: Libro Primus Sacrarum Cantionum: Tu es Petrus

Claudio Merulo: Libro Primus Sacrarum Cantionum: Beata Elisabeth

Claudio Merulo: Libro Primus Sacrarum Cantionum: Maria unxit pedes Jesu