Merulo: Organ Music Il Primo Libro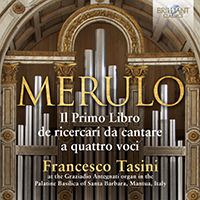 | | |
| --- | --- |
| Composer | Claudio Merulo |
| Artist | Francesco Tasini organ |
| Format | 3 CD |
| Cat. number | 96204 |
| EAN code | 5028421962047 |
| Release | September 2021 |
About this release
According to fellow organist and composer Costanzo Antegnati (1549–1624), Claudio Merulo (1533–1604) was famous for 'the sweet way he played'. In the 16th century the term 'sweetness' was mainly related to the practice of 'diminution', or ornamentation, with skilfully executed passeggiando and a 'judicious breaking up of the figures', so that the application of the coloratura might confer a personal and lively chiaroscuro effect.

In 1574 Merulo published Il primo libro de ricercari da cantare, a qvattro voci in four separate vocal part-books (soprano, alto, tenor, bass), and for this album Francesco Tasini has aptly scored, intabulated, adapted and diminished the Ricercari for performance on the organ. Out of respect for Merulo's original, Tasini's diminution of the 19 Ricercari of the Libro primo always retains each part as it appeared, deliberately abstaining from any temporary suspension of a line which could be brought about in order to give space to the coloratura of another part.

The process of diminution is not limited to the 'filling in' of long note durations with passages of short notes; it also includes a rhetorical game enacted between the parts through syncopes, delayed entrances, changes of register, slurs and various echo and other effects to achieve an underlying lively discourse, as well as arpeggio effects typical of organ practice which Tasini has modelled on numerous passages found in Merulo's two books of Toccate. The addition of coloratura highlights and brings out the formal division within each ricercare and, in addition to the cadences, establishes a different application for each new subject, so as to enhance its distinctive features.

Francesco Tasini has published numerous publications and critical reviews of Italian keyboard works from the 17th and 18th centuries. He is the author of numerous essays on performance practice and organology and is the winner of a number of composition competitions. His discography includes a great number of CDs and will feature the cycle of complete works for organ by Merulo, of which this album is the latest instalment.

Other information:
- Recorded in August 2020 at the Graziadio Antegnati organ (1565) of the Palatine Basilica of Santa Barbara in Mantua, Italy
- Booklet contains a note in English from the artist and his biography, as well as a stop list and specifications of the organ

- Claudio Merulo was an important composer, organist and publisher in Late-Renaissance Italy. He obtained the prestigious post of organist of the famous San Marco in Venice. His keyboard style is highly innovative, and was the basis of further development by composers like Frescobaldi and Sweelinck.
- In 1574 Merulo published in Venice Il primo libro de ricercari da cantare, a quattro voci. These Ricercari have been suitably "partiti", "intavolati", "accomodati" and "diminuiti" for Organ (scored, put into tablature, adapted and diminished for organ) by the present organist Francesco Tasini and are recorded on this triple CD. This practice of adapting vocal music for the organ was common in his time, and is corroborated by many contemporary written sources.
- Francesco Tasini plays the Organ (1565) by Graziadio Antegnati in the Palatine basilica of Santa Barbara in Mantua, the specifications of which are included in the booklet.
Listening
Track list
Disk 1
Claudio Merulo: Ricercar primo

Claudio Merulo: Ricercar secondo

Claudio Merulo: Ricercar terzo

Claudio Merulo: Ricercar quinto

Claudio Merulo: Ricercar sesto

Claudio Merulo: Ricercar septimo
Disk 2
Claudio Merulo: Ricercar octavo

Claudio Merulo: Ricercar nono

Claudio Merulo: Ricercar decimo

Claudio Merulo: Ricercar undecimo

Claudio Merulo: Ricercar duodecimo

Claudio Merulo: Ricercar terzodecimo

Claudio Merulo: Ricercar quartodecimo
Disk 3
Claudio Merulo: Ricercar quintodecimo

Claudio Merulo: Ricercar sestodecimo

Claudio Merulo: Ricercar septimodecimo

Claudio Merulo: Ricercar octavodecimo

Claudio Merulo: Ricercar nonodecimo

Claudio Merulo: Ricercar vigesimo