Meyerbeer: Robert le Diable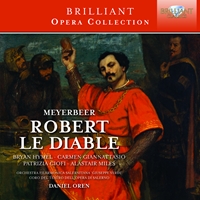 Download booklet
Composer
Giacomo Meyerbeer
Artist
Bryan Hymel Robert
Carmen Giannattasio Alice
Patrizia Ciofi Isabelle
Alastair Miles Bertram
Symphonic Orchestra of the Teatro Verdi, Salerno
Daniel Oren conductor
Format
3 CD
Cat. number
94604
EAN code
5028421946047
Release
January 2013
About this release
Dividing his time in the 1830s between Paris and Berlin, renowned German composer Giacomo Meyerbeer was considered the father of the Grand Opéra thanks to his skilful combination of elements of both the German and Italian opera traditions. After a string of unsuccessful attempts at Singspiel, he finally hit the jackpot with his opera Il crociato in Egitto, and later became one of the most respected opera composers of the era.

Robert le Diable was an immediate success after its premiere at the Paris Opéra in 1831 and brought Meyerbeer's career to new heights. With a libretto by Eugène Scribe and Casimir Delavigne, it narrates the tale of Robert, determined to marry his sweetheart Isabelle, and the influence of his mysterious friend Bertrand, who is entrusted with a mission to possess Robert's soul for the Devil. The original production was a lavish affair, setting a new record for the most amount of money ever spent on set and costume and thus catering for the expensive taste of the 19th-century Parisian audience. Meyerbeer used many combinations of instruments to convey different moods – the use of two orchestras to portray the deafening expanse of Hell, for example – and his innovative use of dramatic devices, such as chorus members singing into cardboard cones, would have delighted the 19th-century audience.

History has not looked kindly on Robert le Diable, which barely features in music history books published in the twentieth century. It is, however, beginning to enjoy something of a revival; taken from a live performance at the Teatro Giuseppe Verdi in Salerno in 2012, this recording boasts a stellar cast, including Bryan Hymel in the title role and Alastair Miles as Bertrand as well as Carmen Giannattasio, Martial Defontaine, Patrizia Ciofi. The esteemed opera maestro Daniel Oren conducts.

Other information:
- Recorded 'live' on 23 March 2012, Teatro Verdi, Salerno.
- A sensational new digital recording of Meyerbeer's Robert le Diable!
- Robert le Diable is one of the most successful and popular operas of 19th century France. Written in the style of "Grande Opéra" it employs German romantic orchestral writing, combined with Italian Belcanto. The libretto is highly melodramatic and sensational, and a staging in the high-tech Paris opera of that time must have been spectacular!
- A more than welcome new recording of this masterwork, of which there are hardly any recordings available!
- Libretto downloadable on www.brilliantclassics.com.