Migot: Complete Works for Guitar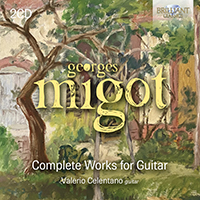 | | |
| --- | --- |
| Composer | Georges Migot |
| Artist | Valerio Celentano guitar |
| Format | 2 CD |
| Cat. number | 96848 |
| EAN code | 5028421968483 |
| Release | December 2023 |
About this release
Georges Migot (1891–1976) authored a vast oeuvre founded on two principles that in various ways pervade all of his work: a nationalist aesthetic and a link to the past. This emerges and is reinforced in repeated references to the French lutenists of old, as well as troubadours and trouveÌres, folk song and ancient monodic forms, particularly plainchant. Rather than limit himself to copying their external structure, however, Migot sought to extract the spirit, sensitivity, grace and sense of freedom from these historic forms, which he believed better suited the infinite nature of human sensitivity. Despite strong and professed ties to his contemporaries Faureì and Debussy, Migot cannot be placed in any school or branch of 20th-century music.
Pour un Hommage aÌ Claude Debussy (composed May 1924) coincided with the Paris debut of Andreìs Segovia and is dedicated to him. Migot composes lines with a modal flavour supported by rich and resonant arpeggiated chords, with densely packed notes providing a thorough exploration of all the instrument's colours.
His four-movement Sonate pour guitare, two PreÌludes pour 2 guitares dedicated to the Argentinian Duo Pomponio-ZaÌrate, and a substantial and tricky Sonate pour 2 guitares date to the early 1960s. These pieces have a more clearly defined and linear style, and feature a profound musical idiom, brimming with emotion.
The three movements of the Sonate pour flûte et guitare – dedicated to Brazilian guitarist Turíbio Santos – are stylistically similar to the above compositions. Migot gives both instruments various solo opportunities, and the two accompany each other, both during the more evanescent passages, where the writing is extremely sparse, and in more densely notated sections.
The 3 Chansons de joye et de souci originate in a cycle of 6 PoeÌmes setting Pierre Moussarie for voice and piano. They were arranged for voice and guitar in 1969 by the composer himself. In these, his final works for guitar, Migot provides us with a sample of his highly refined aesthetic, obtaining sounds not commonly heard on the instrument.

Other information:
- Recorded between July 2022 and March 2023 in Trieste and Salerno, Italy
- Booklet in English contains liner notes on the composer by Valerio Celentano and profiles of him and the guest artists

- Georges Elbert Migot (1891-1976) was a prolific French composer but also a poet, often integrating his poetry into his compositions, as well as an accomplished painter. He won the 1921 Prix Blumenthal. As a youth he very quickly began to compose and, at age fifteen, he produced his first published work. In 1909, he entered the Paris Conservatory and studied with Jules Bonval (harmony), André Gedalge (fugue), Charles-Marie Widor (composition), Alexandre Guilmant and Louis Vierne (organ), Vincent d'Indy (orchestration), Maurice Emmanuel (music history). Migot was passionate about Renaissance and Baroque lute players and composers, with François Couperin and Jean-Philippe Rameau becoming important sources of inspiration.
- His compositional aesthetics are based on a melodic-linear conception of music, where the function of the interval as the smallest part of the line itself is central. In this view, the overlapping lines tend towards complete interdependence: not polyphony but of 'polylinear' music (polynéaire), where counterpoint - renamed counter-linear (contre-ligne) and no longer constrained by academic rules – is liberated. The simultaneity of the lines results in the free resonance of the harmonics.
- Included in this new recording are works for guitar solo and 2 guitars, a sonata for flute and guitar and Trois Chansons for voice and guitar.
- Played by Valerio Celentano, who graduated in classical guitar with the honours from the Conservatory of Music "Giuseppe Martucci" in Salerno under the guidance of Antonio Grande. He has participated in several masterclasses with famous guitarists such as Alirio Díaz, Pavel Steidl, David Russell, Jyrki Myllärinen, Mario Gangi and Carlo Marchione. He studied for several years with Oscar Ghiglia and Frédéric Zigante. He won prizes in many international music competitions.
Listening
Track list
Disk 1
Georges Migot: Pour un hommage à Claude Debussy: I. Prélude

Georges Migot: Pour un hommage à Claude Debussy: II. Pastorale

Georges Migot: Pour un hommage à Claude Debussy: III. Postlude

Georges Migot: Sonate pour guitare: I. Prélude

Georges Migot: Sonate pour guitare: II. Allant

Georges Migot: Sonate pour guitare: III. Andante grave

Georges Migot: Sonate pour guitare: IV. Final

Georges Migot: Trois chansons de joye et de souci de Pierre Moussarie: I. Chanson à danser

Georges Migot: Trois chansons de joye et de souci de Pierre Moussarie: II. Chanson à retenir

Georges Migot: Trois chansons de joye et de souci de Pierre Moussarie: III. Ronde
Disk 2
Georges Migot: Préludes pour deux guitares: I. Sur le nom de Graciela Pomponio

Georges Migot: Préludes pour deux guitares: II. Sur le nom de Jorge Martínez Zárate

Georges Migot: Sonate à deux guitares: I. Prélude

Georges Migot: Sonate à deux guitares: II. Comme une danse à deux

Georges Migot: Sonate à deux guitares: III. Andante

Georges Migot: Sonate à deux guitares: IV. Final

Georges Migot: Sonate pour flûte et guitare: I. Prélude

Georges Migot: Sonate pour flûte et guitare: II. Grave

Georges Migot: Sonate pour flûte et guitare: III. Conclusion