Milhaud: Complete Violin and Viola Sonatas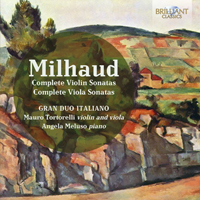 Composer
Darius Milhaud
Artist
Mauro Tortorelli violin & viola
Angela Meluso piano
Format
2 CD
Cat. number
95232
EAN code
5028421952321
Release
October 2016
About this release
In many ways Darius Milhaud was the Haydn of the 20th century. Writing fluently and productively in all the usual genres of classical music, always inventing new instrumental combinations, he was never short of a melody, or an idea to make productive use of the past in his own art.

The chamber music for solo violin and viola was written during the first three decades of his inexhaustibly productive career. The first violin sonata dates from his student days at the Paris Conservatoire but is already marked by some of his distinguishing musical fingerprints such as the rhythmic irregularity and indeterminate, 'floating' tonality that leave the listener with the impression of being carried through a subtly moving mist of sound. It has rarely appeared on record, and this new recording is an invaluable window onto the early career of one of the most protean talents of 20th-century music.

The more familiar Second Sonata was written during Milhaud's stay in Brazil while acting as private secretary to the diplomat and poet, Paul Claudel. From the same period date several of Milhaud's best-known orchestral and ensemble works such as the Saudades do Brasil, and this sonata stands alongside them. It moves freely between sparky neo-Baroque figuration in the first movement to the finale's melodic evocation of the composer's Jewish heritage.

The Quatre Visages and two sonatas for viola are wartime works which studiedly ignore the temper of their times for light-
hearted relief. Their individual movements are brief, by and large dance-like in character, often evoking Baroque forms, always exuding charm, though the central 'Dramatique' panel of the Second Sonata presents a quasi-operatic confrontation between viola and piano.

Mauro Tortorelli and Angela Meluso have toured together throughout Europe and Japan, and tackle these little-known pearls of chamber music with impassioned advocacy.

Darius Milhaud is one of the most colourful and versatile composers of 20th century France.
Milhaud was active in all fields and genres of composition: opera, choral, orchestral, chamber and solo works, a prolific writer and bold spirit, a member of the French composer's group "Les Six", a modernist influenced by jazz, polytonality and Brazilian culture. This new recording contains the complete violin and viola sonatas, highly attractive works in which the formal structures of the sonata form are imbued with the temperament, colours and perfumes of the Provence, the natural habitat of Darius Milhaud. Excellent performances by Mauro Tortorelli, who plays both violin and viola, and pianist Angela Meluso, who already successfully recorded for Brilliant Classics the Violin Sonatas by Saint-Saëns (BC94848), which received 4 and 5 star reviews in the international press. Excellent liner notes in Italian and English.
Track list
Disk 1
Violin Sonata No. 1, Op. 3: Lent et robuste – Animé

Violin Sonata No. 1, Op. 3: Très lent

Violin Sonata No. 1, Op. 3: Très rythmé, joyeux

Printemps, Op. 18

Violin Sonata No. 2, Op. 40: I. Pastoral

Violin Sonata No. 2, Op. 40: II. Vif

Violin Sonata No. 2, Op. 40: III. Très lent

Violin Sonata No. 2, Op. 40: IV. Très vif

Capriccio No. 13 de Paganini, Op. 97
Disk 2
4 Visages for Viola and Piano, Op. 238: I. La Californienne

4 Visages for Viola and Piano, Op. 238: II. The Wisconsonian

4 Visages for Viola and Piano, Op. 238: III. La Bruxelloise

4 Visages for Viola and Piano, Op. 238: IV. La Parisienne

Sonata No. 1 for Viola and Piano, Op. 240: I. Entrée

Sonata No. 1 for Viola and Piano, Op. 240: II. Francaise

Sonata No. 1 for Viola and Piano, Op. 240: III. Air

Sonata No. 1 for Viola and Piano, Op. 240: IV. Final

Sonata No. 2 for Viola and Piano, Op. 244: I. Champetre

Sonata No. 2 for Viola and Piano, Op. 244: II. Dramatique

Sonata No. 2 for Viola and Piano, Op. 244: III. Rude