Mirto: Chamber works with guitar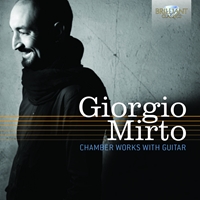 Composer
Giorgio Mirto
Artist
Giorgio Mirto guitar
Víctor Villadangos guitar
Fation Hoxholli violin
Giulio Tampalini guitar
Solisti dell'O.C.B.
Format
1 CD
Cat. number
9259
EAN code
5029365925921
Release
July 2012
About this release
Described by fellow composer-guitarist Maximo Diego Pujol as 'one of the most interesting composers I've met in recent years', Giorgio Mirto is a leading light in the world of contemporary guitar music. Following in the footsteps of a series of critically acclaimed volumes dedicated to guitar works and transcriptions by everyone from Mirto's own contemporaries to Rossini and Scarlatti, this new recording focuses the spotlight on Mirto's own compositions.

Music of great imagination and evocation is a defining characteristic of this recording. Tres piezas de Abril, a set of three songs for two guitars, draws inspiration from the vibrant dances of the tango, milonga and candombe, conjuring the characters and colours of Argentina, just as Triste, Solitario y Final is 'drenched in the characteristic atmosphere' of this country. I sentieri del sogno, meanwhile, is an inspired musical re-telling of Sergio Bambarén's The Dolphin, while Su Bentu uses three guitars to give voice to the fierce winds that whip at the coast of Sardinia.

With performances by Mirto himself, in collaboration with additional guitarists and chamber musicians, these pieces are given ample expression. Mirto's deep affinity for his instrument permeates each composition, resulting in a recording that will delight both the casual fan and the connoisseur of guitar music.

Other information:
- Recorded in July 2011, Italy
- Apart from his prodigious gifts as a guitarist Giorgio Mirto is also a composer, writing with great imagination and feeling for colour and rhythmic vitality. This disc presents attractive chamber music for string instruments and solo guitar, always shining with his love for life and music, both inseparably intertwined.
- Mirto plays himself the solo guitar (who else..?) and is seconded by a superb band of string players, collegue-friends, sharing their enthusiasm for this infectious 21 st century chamber music.
- Liner notes in Italian and English, by Giorgio Mirto, outlining the inspiration of each work
- Giorgio Mirto has also recorded a CD of Nocturnes for Brilliant Classics (9258), as well as two volumes of guitar music by Maximo Diego Pujol (9088, 9209).
Track list
Disk 1
Tres piezas de Abril, for 2 guitars: Por la calle

Tres piezas de Abril, for 2 guitars: Reflexion

Tres piezas de Abril, for 2 guitars: En el puerto

I sentieri del sogno, for violin and guitar: Le onde e lo scorrere del tempo

I sentieri del sogno, for violin and guitar: L'oceano e il delfino

I sentieri del sogno, for violin and guitar: Verso la barriera, volando sull'acqua

Su Bentu, for 3 guitars: Maestrale

Su Bentu, for 3 guitars: Tramontana

Su Bentu, for 3 guitars: Scirocco

Triste, Solitario y Final, for guitar and string quartet: Triste

Triste, Solitario y Final, for guitar and string quartet: Solitario

Triste, Solitario y Final, for guitar and string quartet: Final