Mirto: Nocturnes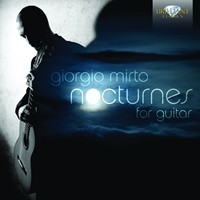 | | |
| --- | --- |
| Composer | Angel E. Lasala, Andrew York, Giorgio Mirto, Giorgio Signorile, Giovanni Albini, Livio Torresan, Maximo Diego Pujol, Miklós Rózsa, Roberto Manca, Rosolino Di Salvo |
| Artist | Giorgio Mirto guitar |
| Format | 1 CD |
| Cat. number | 9258 |
| EAN code | 5029365925822 |
| Release | June 2012 |
About this release
A highly original selection of guitar works in which the night is the inspiration: darkness, suspense and fright for the unknown, but also the mystery, the sense of the supernatural and the immaterial.
With its romantic and mystical connotations, 'night' has long been the inspiration behind many works of art. This release presents an alternative reading of its beguiling message, detailing a selection of little-known and contemporary compositions that have all been written for guitar.
The compilation contains expert performances by Giorgio Mirto and begins with his 3 Nocturnes – the first of several Italian works featured on this disc. As well as revisiting the music of Máximo Diego Pujol,
whose complete guitar duets are detailed in a former Brilliant Classics' release and whose exotic Nocturno brilliantly captures the sights and sounds of Buenos Aires, the collection also includes Valse crépusculaire – written by Hungarian-born Miklós Rózsa for the award-winning film Providence. Andrew York's spirited Into dark completes the survey, a work that perfectly encapsulates the American's predilection for mixing classical music with folk and rock elements.
Brimming with colour and expression, these miniature and highly varied evocations form a gem of a recording that is not to be passed up. The compilation is a worthy addition to the guitar enthusiast's library, with the instrument's subtle nuances perfectly capturing night's enigmatic nature.

Other Information:
- New recording, made in November 2011 and January 2012.
- Composers include Giorgio Mirto himself, and composers writing for Mirto: Manco,Torresan, Di Salvo, Albini, and more familiar composers such as Pujol and Miklos Rozsa whos Valse Crépusculaire was made famous in the film Providence.
- Includes several first recordings.
- Giorgio Mirto is the ideal interpreter for this repertoire: imaginative, speaking the language of love and life itself.
- Includes personal liner notes by the composer and artist, plus a biography of Giorgio Mirto (whose playing can also be heard on Brilliant Classics' recording of Pujol's Complete Guitar Duos, released in 2009).
Track list
Disk 1
Giorgio Mirto: 3 Nocturnes: No. 1

Giorgio Mirto: 3 Nocturnes: No. 2

Giorgio Mirto: 3 Nocturnes: No. 3

Livio Torresan: Notturno

Roberto Manca: Notturno No. 3

Roberto Manca: Ulisse

Rosolino Di Salvo: La notte di Penelope

Giorgio Signorile: Ninna nanna a Donegal

Giorgio Signorile: Le colline di Karen, notturno africano

Giovanni Albini: Corale No. 45, notturno

Maximo Diego Pujol: Nocturno

Angel E. Lasala: Nocturno

Miklós Rózsa: Valse crepusculaire

Andrew York: Into dark