Molinaro: Danze e Fantasie da intavolatura di liuto Libro I Venezia 1599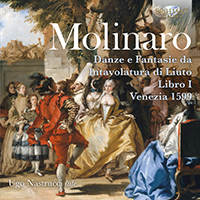 Download booklet
| | |
| --- | --- |
| Composer | Simone Molinaro |
| Artist | Ugo Nastrucci lute |
| Format | 1 CD |
| Cat. number | 95401 |
| EAN code | 5028421954011 |
| Release | February 2019 |
About this release
Lute music by a true Renaissance man: publisher, teacher and performer, Genovese man of letters and musician to his fingertips.

Acknowledged as a model and authority by the great German composer Michael Praetorius, Simone Molinaro (1565-1636) is little known today but was known throughout Europe in his own age. He died as master of music at the ducal palace of Genoa, an eminent role he had held for a decade. Born into a musical family, he trained as a church musician and took vows in the early stages of priesthood before begin dismissed in 1616 as Chapel Master of music at the Cathedral in Genoa, having the previous year married into local aristocracy.
All the while he continued to play, to teach and to compose on his principal instrument, the theorbo. This book of dances, fantasias and intabulations (transcriptions) was published in 1599 and it demonstrates a comprehensive knowledge of the instrument and its repertoire. The rich and challenging chords and fingerings demonstrate Molinaro's own virtuosity as a performer. There is something quintessentially noble about Molinaro's work as a composer. Although his idiom is that of the Renaissance, his musical ideas reveal the sort of horizontal, linear development that owes much to Flemish counterpoint. In Ugo Nastrucci's careful ordering of the volume, moments of strict counterpoint alternate with lighter virtuoso variations in the extended passamezzi which contrast with elegant galliards and sprightly saltarellos.

Nastrucci contributes his own, invaluable essay on the composer and his music to the booklet. He closes the album with what is probably Molinaro's most famous piece, the Ballo detto il Conte Orlando which was transcribed over a century ago in modern notation by Oscar Chilesotti, and rearranged by Ottorino Respighi in the first suite of his Antiche arie e danze of 1917.

Simone Molinaro (1565-1615) was born in Genua where he studied with his uncle Giovanni Battista dalla Gostena, who was Maestro di Capella at the Genoa cathedral. In 1593 Gostena was murdered and Molinaro succeeded him. In 1599 Molinaro published his Intavolatura di Liuto, containing lute works both by himself and by Gostena.
In his Dances for lute Molinaro eschews formal counterpoint. They are purely melodic and harmonic works, attractive and appealing. The instrumental writing is highly skillful and graceful, with a strong vocal quality, capable of expressing all human emotions.
Ugo Nastrucci is a lutenist, theorbist and composer. He is co-founder of prestigious Early Music groups such as Europa Galante, Ensemble Pian e Forte, I Barocchisti, and Ensemble Zefiro.
Listening
Track list
Disk 1
Simone Molinaro: Fantasia prima

Simone Molinaro: Pass'e mezo in otto modi

Simone Molinaro: Gagliarda in quattro modi

Simone Molinaro: Saltarello primo

Simone Molinaro: Fantasia undecimal

Simone Molinaro: Pass'e mezo in dieci modi

Simone Molinaro: Gagliarda in sei modi

Simone Molinaro: Frais & Gaillard. Canzone francese a quattro di Clemens non Papa. Intavolata dal Molinaro

Simone Molinaro: Fantasia quinta

Simone Molinaro: Fantasia terza

Simone Molinaro: Pass'e mezo in quattro modi

Simone Molinaro: Gagliarda in tre modi

Simone Molinaro: Fantasia sesta

Simone Molinaro: Vng gaij bergier. Canzone francese a quattro di Thomas Crecquillon. Intavolata dal Molinaro

Simone Molinaro: Fantasia seconda

Simone Molinaro: Ballo detto Il conte Orlando