Molter: Clarinet Concertos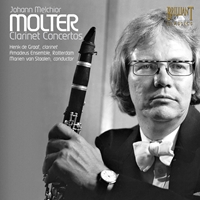 Composer
Johann Melchior Molter
Artist
Henk de Graaf clarinet
Amadeus Ensemble Rotterdam
Marien van Staalen conductor
Format
1 CD
Cat. number
93337
EAN code
5028421933375
Release
March 2007
About this release
Johann Melchoir Molter wrote six clarinet concertos. The first four of these dating from around 1745 makes them the earliest known solo concertos for this instrument. In fact at this stage the writing for the clarinet resembles the contemporary trumpet concertos, only using the upper register for melodies.

The composer clearly tried to break away from the concerto grosso form which resulted in charming concertos with the clarinet in the centre. however, one has to do without the in the Romantic period much used lower register.

These very recent recordings of all six of Molter's concertos provide a much needed addition to available incomplete sets. Brilliant performances by clarinettist Henk de Graaf and the Amadeus Ensemble.
Track list
Disk 1
Concerto Nr. 5 in D Major: Allegro

Concerto Nr. 5 in D Major: Andante

Concerto Nr. 5 in D Major: Tempo di Menuetto

Concerto Nr. 1 in A Major: Moderato

Concerto Nr. 1 in A Major: Largo

Concerto Nr. 1 in A Major: Allegro

Concerto Nr. 2 in D Major: Moderato

Concerto Nr. 2 in D Major: Largo

Concerto Nr. 2 in D Major: Allegro

Concerto Nr. 3 in G Major: Moderato

Concerto Nr. 3 in G Major: Adagio

Concerto Nr. 3 in G Major: Allegro

Concerto Nr. 4 in D Major: Moderato

Concerto Nr. 4 in D Major: Adagio

Concerto Nr. 4 in D Major: Allegro