Molter: Orchestral Music & Cantatas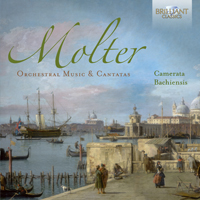 Composer
Johann Melchior Molter
Artist
Camerata Bachiensis
Julia Kirchner soprano
Format
1 CD
Cat. number
95273
EAN code
5028421952734
Release
August 2016
About this release
Johann Melchior Molter (1696-1765) was a younger contemporary of J.S. Bach. The two composers were born in small Thuringian towns half a day's ride away from each other, and then travelled farther afield to make their names in major cities: Bach, south to Leipzig, Molter north to Karlsruhe.

The quantity of Molter's extant music as well as its relative simplicity preclude more detailed comparison with the Kapellmeister of Leipzig, but he deserves to be known for a great deal more than the odd trumpet concerto which has made his name as part of the repertoires of (for example) Maurice Andre, Ludwig Guttler and John Wallace. This album valuably redresses that balance of neglect with historically informed studio recordings of vocal and chamber music which reveal a surprisingly cosmopolitan, vivacious and inventive personality in music. Most of these works are either hitherto unrecorded or long unavailable in any other version. Thus the album is essential listening for Baroque aficionados.

The cantatas show the influence of Molter's three years of study and service in Venice and Rome between 1719 and 1721 when he could have rubbed shoulders with the likes of Vivaldi, Albinoni and Alessandro Scarlatti. Most of his vocal work is known to be lost to us, making these surviving works all the more treasurable. They were evidently written for a highly talented soprano in Karlsruhe, and Molter made full use of her ability to sing long, arching lines over a broad compass and with intense characterisation. Vivaldi and Scarlatti had already set the same texts, but Molter puts his own stamp on them.

Interspersed with the two cantatas are an elaborately ornamented A major Flute Concerto, a concertante Sonata for oboe and strings and a suite-like B flat major Overture in the Telemann model with a grand, three-part introduction succeeded by a sequence of dances. They likely date from earlier in Molter's career, before his move to Karlsruhe, but are distinguished by the galant flourish to be found in the nascent Mannheim school of composers.

Johann Melchior Molter was born in 1696 in Thüringen, where his musical talent was quickly recognised. He served in the orchestra at the court of Karlsruhe. Later he broadened his horizon by going to Italy, where he encountered Albinoni, Vivaldi and Alessandro Scarlatti. He imbued their melodious gifts, studied their instrumental skills and went home to Karlsruhe, where he spent the rest of his life as court composer.
Molter's works are festive and ceremonial, a happy mix of German counterpoint, Italian brilliance and French grandeur.
This new recording presents an attractive variety of orchestral works and cantatas: a Symphony, an Overture, a Flute Concerto and Oboe Sonata, combined with two Italian secular cantatas, dealing with the vicissitudes of love.
Performed on period instruments by the Camerata Bachiensis, soprano Julia Kirchner and Roberto De Franceschi, playing the oboe and traverso.
Excellent liner notes in both English and German.
Listening
Track list
Disk 1
Johann Melchior Molter: Sinfonia in D Major, MWV 7.24: I. —

Johann Melchior Molter: Sinfonia in D Major, MWV 7.24: II. Andante

Johann Melchior Molter: Sinfonia in D Major, MWV 7.24: III. —

Johann Melchior Molter: Cantata in G Major, MWV 2.26: I. Aria "In petto ho un certo affanno"

Johann Melchior Molter: Cantata in G Major, MWV 2.26: II. Recitativo "Ardo tacita amante"

Johann Melchior Molter: Cantata in G Major, MWV 2.26: III. Aria "L'adorar beltà che piace"

Johann Melchior Molter: Concerto in A Major, MWV 6.13: I. —

Johann Melchior Molter: Concerto in A Major, MWV 6.13: II. Adagio

Johann Melchior Molter: Concerto in A Major, MWV 6.13: III. —

Johann Melchior Molter: Sonata à quadro in F Major, MWV 9.20: I. Allegro

Johann Melchior Molter: Sonata à quadro in F Major, MWV 9.20: II. Largo

Johann Melchior Molter: Sonata à quadro in F Major, MWV 9.20: III. Allegro

Johann Melchior Molter: Overture in B-Flat Major, MWV 3.7: I. Overture

Johann Melchior Molter: Overture in B-Flat Major, MWV 3.7: II. Paisan. Viste

Johann Melchior Molter: Overture in B-Flat Major, MWV 3.7: III. Passecaille

Johann Melchior Molter: Overture in B-Flat Major, MWV 3.7: IV. Menuet

Johann Melchior Molter: Cantata in E-Flat Major, MWV 2.25: I. Aria "Care erbette amiche piante"

Johann Melchior Molter: Cantata in E-Flat Major, MWV 2.25: II. Recitativo "Dilettissimo tirso"

Johann Melchior Molter: Cantata in E-Flat Major, MWV 2.25: III. Aria "Colle ninfe e coi pastori"