Monteverdi & Gabrieli: Easter Celebration at St. Mark's in Venice 1600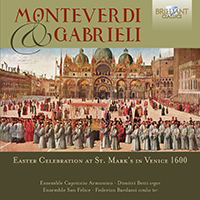 Composer
Claudio Monteverdi, Giovanni Gabrieli
Artist
Dimitri Betti organ
Ensemble San Felice
Federico Bardazzi conductor
Ensemble Capriccio Armonico
Format
1 CD
Cat. number
95747
EAN code
5028421957470
Release
March 2018
About this release
Any listener who has heard the punchy, rousing and original account of Monteverdi's Vespers released in 2016 by these forces on Brilliant Classics (BC95188) will be keen to hear music from the same source performed with similar vitality and attention to historical detail. Federico Bardazzi duly obliges with this recreation of Easter at the Basilica San Marco, around the year 1600.

Chants alternate with spectacular, antiphonal toccatas and canzonas which bounce off the walls of the generous church acoustic, as well as a slight but still exuberant sonata by Giovanni Paolo Cima. Enclosed within are the separate movements of the four-part Mass by Monteverdi, and the liturgical reconstruction concludes with a setting ofthe Ave maris stella which, like the Mass, is to be found in Monteverdi's collection of Selva morale e spirituale, no less treasurable in its way than the better-known Vespers compilation.

Indeed the Selva morale dates from several decades later in Monteverdi's output and reflects an even greater harmonic refinement: the linear polyphony of the Mass obeys the rules of the stile antico, while the psalm settings and hymns such as Laudate Dominum and Cantate Domino belong to the more sectional and vividly illustrative style of the seconda pratica which became particularly associated in his work and that of his successors with the secular madrigal.

In his booklet note, Bardazzi notes that Monteverdi would have expected to perform this music with a mixed-voice choir; the male-only ensemble is a late-19th-century practice. His lively tempi and instrumental arrangements, switching between basso continuo and colla parte instruments, are intended 'to allow Monteverdi's creative genius and originality to permeate the strict counterpoint.'

This recording presents a reconstruction of the Easter Celebration at St. Mark's, Venice, around 1600. The Proprium Mass (the part of the mass which is related to the liturgical year) is from the beautiful Gradulae Giunta (Venice, 1572), the Missa Ordinarium (the standard Mass which is always the same) is by Monteverdi, from his Selva Morale e Spirituale.
The performance by the Ensemble San Felice and conductor Federico Bardazzi is festive and jublilant, supported by a rich instrumentarium of flute, trombone, theorbo, harpsichord, organ and percussion.
The ensemble San Felice already recorded the Monteverdi Vespers, Vocal Music by Hildegard von Bingen and El Cant de la Sibilla.
Track list
Disk 1
Toccata del secondo tono, Ch. 236

Introitus resurrexi et adhuc tecum sum

Kyrie

Gloria

Graduale haec dies es quam fecit dominus

Canzona II a 4, Ch. 187

Laudate dominum in sanctis eius, SV 287

Alleluia pascha nostrum immmolatus est Christus

Sequentia victimae paschali laudes

Cantate domino, SV 293

Credo

Sonata a 3

Offertorium terra tremuit

Canzon I "la spiritata", Ch. 186

Sanctus

Ricercar noni toni, Ch. 226

Agnus dei

Communio pascha nostrum immmolatus est Christus

Canzona III a 4 in C Major, Ch. 188

Ave maris stella