Monteverdi: L'Orfeo (BOC)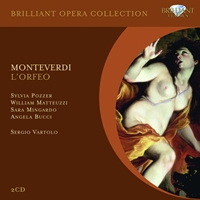 Download booklet
Composer
Claudio Monteverdi
Artist
Sylvia Pozzer soprano
William Matteuzzi tenor
Sara Mingardo mezzo soprano
Angela Bucci soprano
Sergio Vartolo cembalo, spinet & concert master
Format
2 CD
Cat. number
94373
EAN code
5028421943732
Release
June 2012
About this release
Narrating the famous tale of the Thracian singer Orpheus and his quest to the underworld to bring his wife, Euridice, back to the land of the living, Monteverdi's L'Orfeo is one of the most enduringly popular of all operatic works. Numerous performances continue to be staged to this day, and there are no signs of fading appreciation for the work, even four centuries after its first performance (in 1607). Sergio Vartolo's fantastic, historically-informed interpretation presents an ideal opportunity for listeners to explore the reasons behind this opera's vast and undiminishing popularity. Monteverdi's famed skill for giving full expression to a text's meaning is particularly clear – shown, for example, in his careful deployment of dissonance for emotional impact, and in the immensely moving third-act aria. Beyond this, however, L'Orfeo's ability to enthral audiences may lie in its celebration of the power and beauty of music; from the opening Prologue, where Music appears onstage to extol her virtues, to Orpheus's ability to achieve the unthinkable and gain access to the underworld through his talent as a singer, music is the driving force of the opera's action.

This fantastic recording reveals the genius of Monteverdi's work fully, featuring an exemplary and authentic interpretation that is the result of Sergio Vartolo's thorough study of the score. Essential listening for any serious fans of opera, this set is also an excellent starting-point for exploring the music of Monteverdi, who has been dubbed the 'creator of modern music'.

Other Information:
- Recorded in October 2006 at the Auditorium of Pigna, Corsica.
- Performed on period instruments.
- Includes booklet notes by Lorenzo Bianconi. Libretto with English translation available by clicking on 'Download booklet' below the cover image..
- Soloists include the crème of Baroque Voices: the great Sara Mingardo, Sylvia Pozzer, Gabriella Martellacci, Gianpaolo Fagotto and the inspiring and historically based direction of Sergio Vartolo.
- "In every respect this is a superb performance, with a uniformly fine cast of singers and players and a carefully studied interpretation of the score" (Fanfare).
Track list
Disk 1
Claudio Monteverdi: L'Orfeo Toccata (Orchestra) – Prologue: Dal mio Permesso amato (Musica)

Claudio Monteverdi: L'Orfeo: Act 1: In questo lieto e fortunato giorno (Pastore/Coro/Ninfa)

Claudio Monteverdi: L'Orfeo: Act 1: Ma tu gentil cantor (Pastore/Orfeo/Euridice/Coro)

Claudio Monteverdi: L'Orfeo: Act 1: Ma s'il nostro gioir (Pastore/Coro)

Claudio Monteverdi: L'Orfeo: Act 2: Sinfonia (Orchestra) - Ecco pur ch'a voi ritorno (Orfeo/Pastore/Due Pastori/Coro)

Claudio Monteverdi: L'Orfeo: Act 2: Vi ricorda boschi ombrosi (Orfeo/Pastore/Messaggera)

Claudio Monteverdi: L'Orfeo: Act 2: In un fiorito prato (Messaggera/Pastore/Orfeo)

Claudio Monteverdi: L'Orfeo: Act 2: Ahi, caso acerbo (Coro/Messaggiera/Due pastori)
Disk 2
Claudio Monteverdi: L'Orfeo: Sinfonia (Orchestra) - Act 3: Scorto da te mio nume (Orfeo/Speranza/Caronte)

Claudio Monteverdi: L'Orfeo: Act 3: Possente Spirto (Orfeo)

Claudio Monteverdi: L'Orfeo: Act 3: Sol tu, nobile Dio (Orfeo/Caronte/Coro di Spiriti)

Claudio Monteverdi: L'Orfeo: Act 4: Signor, quel infelice (Proserpina/Plutone/Spiriti del Coro/Coro di Spiriti)

Claudio Monteverdi: L'Orfeo: Act 4: Qual honor di te fia degno (Orfeo/Un Spirito del Coro/Euridice/Coro di Spiriti)

Claudio Monteverdi: L'Orfeo: Act 5: Questi i campi di Tracia (Orfeo/Eco)

Claudio Monteverdi: L'Orfeo: Act 5: Perch'a lo sdegno (Apollo/Orfeo/Coro)