Monteverdi: Selva Morale e Spirituale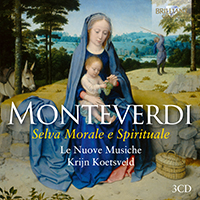 Download booklet
Composer
Claudio Monteverdi
Artist
Le Nuovo Musiche
Krijn Koetsveld leader, harpsichord & organ
Format
3 CD
Cat. number
96165
EAN code
5028421961651
Release
June 2022
About this release
In 1641, the collection Selva morale e spirituale was published in Venice by Bartolomeo Magni. The set raises a number of questions. Was it compiled by Monteverdi himself or were commercial interests at play? Was it a musical testament or another's tribute to the great composer? Who would have been allowed to go through his overflowing library and choose these most beautiful pieces for inclusion in this last edition to be issued during Claudio Monteverdi's lifetime (1567–1643)?

The title, literally 'moral and spiritual forest', is also puzzling. We should bear in mind that Monteverdi, in his mid-70s at the time of publication, was very elderly for that time in history. He had already served for three decades as Maestro di Cappella of San Marco in Venice, during which time he constantly wrote new music for all kinds of liturgical and semi-liturgical celebrations. And indeed, many of the pieces in the 'Selva'appear to have originated from the liturgy of the vespers and the high mass – psalms, hymns, a complete mass,Marian antiphons – pieces we would expect to find in a collection of spiritual music from that time. Surprisingly, however, we also find pieces on secular texts, in the composer's mother tongue even. Though they can be categorised as morale (moralistic), they would in all likelihood not have been performed in liturgical celebrations but may have accompanied the many semi-liturgical festivities held in Venice.

Also remarkable is that Monteverdi dedicates the Selva to Eleonora Gonzaga, reminding us that despite his sudden departure from the court at Mantua in 1610, Monteverdi maintained strong ties with his former employer, for whom he wrote his seminal operas Orfeo and L'Arianna, the latter almost completely lost save for the Lamento d'Arianna, which he gives in the Selva as the contrafact Pianto della Madonna. Mantua marked his heyday, the time of his books of madrigals and the opera premieres.

For this recording, Le Nuove Musiche have opted for a relatively small, soloist line-up, taking transparency as the starting point. Remarkably, the Selva states that the colla parte lines may be omitted, and this is done here in order to achieve the maximum in individual expression and open texture. Another conscious choice entails breaking with the order of the edition and arranging the pieces to create an appropriate liturgical setting, with the vespers psalms forming the backbone, particularly on the first two CDs.

Selva morale e spirituale was Claudio Monteverdi's (1567-1643) most substantial and important anthology of liturgical works since the Vespers in 1610. The collection of various works in different instrumentation was published in Venice in 1640 and 1641. The Selva morale e spirituale (literally meaning "Moral and spiritual Forest") presents works composed at San Marco, Venice, where Monteverdi had served since 1613. It contains various forms of sacred music, from madrigals in Italian to a complete Mass, the instrumentation varying between a single voice to eight voices with instruments: moral madrigals on Italian poems, the Messa à 4 da capella, set in stile antico (old style) for four voices and basso continuo and the seven-part Gloria à 7 in stile concertato.
Most substantial are the psalms compositions, especially the ones used regularly for a vespers service, such as Dixit Dominus, Confitebor tibi, Domine (Psalm 111), Beatus Vir (Psalm 112), Laudate pueri Dominum (Psalm 113) and Laudate Dominum (Psalm 117), most of them in various settings. The collection also contains settings of Marian hymns such as the Magnificat and Salve Regina.
With this new recording Le Nuove Musiche conducted by Krijn Koetsveld presents a new highlight in their Monteverdi Pilgrimage, the projected recording of the complete works by Monteverdi. Their recording of the complete Madrigals received excellent reviews in the international press: "5 stars" (Volkskrant), "A polished, well-balanced sound.. consistently musical and intelligent" (Early Music), "Again a convincing issue…excellent throughout" (Klassik.com), "Performance: 10. …an .incredibly beautiful, excellent recording.."(Dutch magazine Luister).
"Le Nuove Musiche easily withstands the comparison with most renowned ensembles in this particular repertoire. We hear it all: great singing talent, strong imagination, pure textual fidelity and diction, sharp-edged articulation in addition to a smooth phrasing, the ever-rhythmic rhythm with its striking stakes and that perfect sense of balance." (Opus).

Recorded 2020–2021 in Hoogland, Netherlands.
Bilingual booklet in English and Dutch contains liner notes by the leader, Krijn Koetsveld, on the music, along with the artists' biographies.
Listening
Track list
Disk 1
Claudio Monteverdi: O ciechi ciechi, SV 252

Claudio Monteverdi: Voi ch'ascoltate, SV 253

Claudio Monteverdi: E questa vita, SV 254

Claudio Monteverdi: Spuntava il di, SV 255

Claudio Monteverdi: Chi voi che m'innamori, SV 256

Claudio Monteverdi: Confitebor terzo, SV 267

Claudio Monteverdi: Messa, SV 258

Claudio Monteverdi: Crucifixus, SV 259

Claudio Monteverdi: Pianto della Madonna, SV 288

Claudio Monteverdi: Et resurrexit, SV 260

Claudio Monteverdi: Et iterum, SV 261

Claudio Monteverdi: Laudate dominum, SV 287

Claudio Monteverdi: Salve regina terzo, SV 285

Claudio Monteverdi: Laudate dominum terzo, SV 270
Disk 2
Claudio Monteverdi: Beatus vir primo, SV 268

Claudio Monteverdi: Sanctorum meritis primo

Claudio Monteverdi: Dixit dominus primo, SV 263

Claudio Monteverdi: Ab aeternum, SV 262

Claudio Monteverdi: Confitebor secondo, SV 266

Claudio Monteverdi: Memento, SV 276

Claudio Monteverdi: Laudate pueri primo, SV 271

Claudio Monteverdi: Salve regina secondo, SV 284

Claudio Monteverdi: Laudate dominum secondo, SV 272

Claudio Monteverdi: Magnificat primo, SV 281

Claudio Monteverdi: Gloria
Disk 3
Claudio Monteverdi: Dixit dominus secondo, SV 264

Claudio Monteverdi: Deus tuorum militum, SV 278a

Claudio Monteverdi: Confitebor primo, SV 265

Claudio Monteverdi: Iste confessor, SV 278b

Claudio Monteverdi: Beatus vir secondo, SV 269

Claudio Monteverdi: Ut quant laxis, SV 279a

Claudio Monteverdi: Laudate pueri secondo, SV 272

Claudio Monteverdi: Deus tuorum militum, SV 278a

Claudio Monteverdi: Credidi, SV 275

Claudio Monteverdi: Jubilet, SV 287

Claudio Monteverdi: Magnificat secondo, SV 282

Claudio Monteverdi: Salve Regina primo, SV 283

Claudio Monteverdi: Laudate dominum primo