Morandi: Organ Music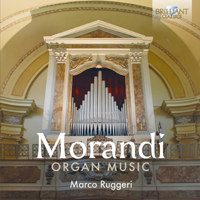 | | |
| --- | --- |
| Composer | Giovanni Morandi |
| Artist | Marco Ruggeri organ |
| Format | 2 CD |
| Cat. number | 95333 |
| EAN code | 5028421953335 |
| Release | July 2016 |
About this release
First and foremost this set should offer a great deal of fun to organists and connoisseurs of organ music who are familiar with the rousing sorties of other 19th-century composers such as Lemare and Lefébure-Wély, but who are curious about a lesser-known name. Over two discs, Marco Ruggeri presents an array of music for mostly liturgical purposes by Giovanni Morandi (1777-1856). There are various voluntaries to be played at the Offertory, the Elevation and after Communion, and these are meditative in mood, written in the style of a plausibly Italian admirer of César Franck.

Interspersed with them are the much more boisterous Allegro marziale, several sinfonias, a variation set, a Rondo with bell imitations and the splendidly titled 'Good save the Queen – Inno Inglese dell'immortale Heudel in F' – this is exactly how the work appeared in an Italian music catalogue of the time. Whether the spelling mistakes originated with Morandi or his publisher is now lost in the mists of time, but the work itself should raise smiles no less than the title. His wife was an opera-singer, and he often accompanied her on her tours; he wrote a vast amount of music, much of it influenced by the operatic culture in which he was immersed.

The organs used on this recording are an instrument made by the Venetian builder Gaetano Callido for the Parish church of SS Simon and Thaddeus in Borca di Cadore in the province of Belluno (CD1); and on CD2, an 1830 instrument built by Antonio and Angelo Amati for the Parish church of SS Peter and Paul in Provaglio d'Iseo, Brescia. Full organ specifications are listed in the booklet, which also contains colour photographs of the organs and a brief introduction to the historical context of Morandi's music.

Giovanni Morandi (1777-1856) was one of the most important organ composers of 18-th century Italy, together with Petrali, Davide di Bergamo and Fumagalli. He was Master of Music of the cathedral of Senigallia, and wrote a substantial amount of (semi) liturgical works for organ.
The formal structures of his organ works, the soaring melodies, brilliant instrumentation, 'orchestral'-type musical dialogues, the pianistic writing, and the sonic and dynamic effects all reflect the vast world of Italian opera in which Morandi was immersed. Morandi's organ works are closely connected to the 18-th century organs in the Veneto, notably those built by Gaetano Callido. The present recording takes Morandi's registrations into account, and applies them both to an important Callido organ (the famous 1791 two-manual instrument of Borca di Cadore) and a 'modern organ' ‒ the Lombardy-style organ built by Amati in 1830 for the parish of Provaglio d'Iseo.
Organist Marco Ruggeri made already several excellent recordings for Brilliant Classics: Petrali organ works (BC95160) and Padre Davide di Bergamo (BC94964), which received excellent reviews in the press.
Track list
Disk 1
Giovanni Morandi: Raccolta di sonate per gli organi moderni: I. Offertorio in E-Flat Major

Giovanni Morandi: Raccolta di sonate per gli organi moderni: II. Elevazione in G Major

Giovanni Morandi: Raccolta di sonate per gli organi moderni: III. Postcommunio in B-Flat Major

Giovanni Morandi: Raccolta di sonate per gli organi moderni: IV. Offertorio in D Major

Giovanni Morandi: Raccolta di sonate per gli organi moderni: V. Elevazione in A Major

Giovanni Morandi: Raccolta di sonate per gli organi moderni: VI. Postcommunio in E Major

Giovanni Morandi: Raccolta di sonate per gli organi moderni: VII. Sinfonia in D Major

Giovanni Morandi: Raccolta di sonate per gli organi moderni: VIII. Allegro marziale in C Major

Giovanni Morandi: Raccolta di sonate per gli organi moderni: IX. Postcommunio in A Major

Giovanni Morandi: Pastorale in B-Flat Major

Giovanni Morandi: Gran sinfonia variata in D Major
Disk 2
Giovanni Morandi: Sinfonia per le feste di 1ª classe in D Major

Giovanni Morandi: Elevazione in G Major

Giovanni Morandi: Offertorio in C Major

Giovanni Morandi: Good save the King – Inno Inglese dell'immortale Haendel in F Major

Giovanni Morandi: Rondò con imitazione de' campanelli in F Major

Giovanni Morandi: Offertorio in D Major

Giovanni Morandi: Elevazione in E-Flat Major

Giovanni Morandi: Offertorio in F Major

Giovanni Morandi: Introduzione, tema con variazioni e finale in F Major

Giovanni Morandi: Postcommunio in B-Flat Major

Giovanni Morandi: Offertorio in C Major