Morricone: Once Upon a Time, Arrangements for Guitar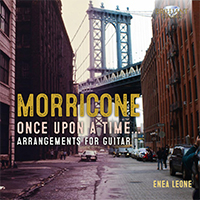 Download booklet
| | |
| --- | --- |
| Composer | Ennio Morricone |
| Artist | Enea Leone guitar |
| Format | 1 CD |
| Cat. number | 95855 |
| EAN code | 5028421958552 |
| Release | February 2020 |
About this release
The maestro of Spaghetti Western music in unfamiliar guise: new arrangements of hit themes from Morricone's greatest film-scores.

Born in 1928, Morricone trained at the Santa Cecilia conservatoire in Rome, and soon began to make a name for himself in Italy as both a trumpeter in light-music orchestras and as a composer and arranger. But it was with the soundtrack to A Fistful of Dollars in 1964 that he gained international attention, and thereafter established his reputation with a hatful of contributions to movies which at the same time made the name of Clint Eastwood as a gum-chewing hardball hero. Morricone's scores defined the mood of Sergio Leone's pictures: spare, precise, instantly memorable.

Enea Leone has selected and arranged the themes from the Leone/Eastwood 'dollar' trilogy alongside later classics directed by Leone such as Once Upon a Time in the West and Once Upon a Time in America. He has also ventured into the film composer's later career, with themes from Investigation of a Citizen Above Suspicion, My Name Is Nobody, The Mission, Nuovo Cinema Paradiso, Love Affair and the music he compiled for Tarantino's 2009 epic Inglourious Basterds.

In 2007, following five nominations, Morricone finally won the Film & TV Music Award for Lifetime Achievement, and in 2016 an Oscar for the best original score for Tarantino's film The Hateful Eight (2015). If belatedly, the awards recognised Morricone's mastery at drawing in a viewer to a scene; capturing a character; underscoring dialogue and driving forward the director's vision of a movie in terms that spoke to millions of people.

While piano versions of Morricone's scores are widely available, his music fits the guitar admirably, as Enea Leone demonstrates on this new recording. He has enjoyed a 20-year career as a performer and teacher and made several well-received recordings for Brilliant Classics such as the complete studies by Fernando Sor (94791), which attracted a glowing review from Classics Today: 'These pieces are both technically beneficial and musically rewarding, and Milan-born guitarist Enea Leone's suave execution, keen ear for tone colour, and steady yet flexible rhythmic sense befit the music.'

Ennio Morricone (b. 1928) is without doubt the most successful, popular and influential composer of film music of the 20th century. He wrote over 400 film scores which received numerous International Awards, including Grammy Awards.
This new recording presents arrangements for guitar of his most iconic melodies from the films Once Upon A Time in The West, A Fistful of Dollars, The Mission, Inglorious Basterds and many more.
Played by Enea Leone, a pupil of the great Alirio Díaz, who already recorded for Brilliant Classics works by Castelnuovo-Tedesco (Appunti), Sor (Complete Studies for Guitar) and Music from Argentina (with bandoneonist Roberto Bongianino).
Listening
Track list
Disk 1
Ennio Morricone: Nuovo Cinema Paradiso: I. Tema d'amore

Ennio Morricone: Nuovo Cinema Paradiso: II. Tema della gioventù e maturità

Ennio Morricone: La leggenda del pianista sull'oceano: I. Playing Love

Ennio Morricone: La leggenda del pianista sull'oceano: II. The Crave

Ennio Morricone: La leggenda del pianista sull'oceano: III. A Mozart Reincarnated

Ennio Morricone: La leggenda del pianista sull'oceano: IV. Tarantella in 3rd Class

Ennio Morricone: C'era una volta in America

Ennio Morricone: The Mission

Ennio Morricone: Bastardi senza Gloria. Rabbia e tarantella

Ennio Morricone: Le professionnel. Chi mai

Ennio Morricone: Giù la testa. Sean Sean

Ennio Morricone: C'era una volta in America. Deborah's Theme

Ennio Morricone: C'era una volta il west: I. Addio a Cheyenne

Ennio Morricone: C'era una volta il west: II. C'era una volta il west

Ennio Morricone: Il mio nome è nessuno

Ennio Morricone: C'era una volta in America. Poverty

Ennio Morricone: Indagine su un Cittadino al di sopra di ogni sospetto

Ennio Morricone: Per un pugno di dollari. Adagio

Ennio Morricone: Per pochi dollari in più. Poker d'Assi

Ennio Morricone: Love Affair

Ennio Morricone: Il buono,il brutto e il cattivo