Mouquet: Complete Music for Flute and Piano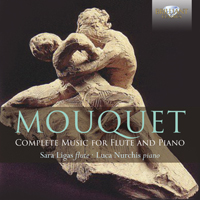 Composer
Jules Mouquet
Artist
Sara Ligas flute
Luca Nurchis piano
Format
1 CD
Cat. number
95505
EAN code
5028421955056
Release
December 2017
About this release
Who was Jules Mouquet (1867-1946)? Born in Paris, he studied at the conservatoire; won the prestigious Prix de Rome which eluded Berlioz three times; became a teacher there, and doubtless a figure stirring impatience in the enfants terribles who crowded round Erik Satie in the 1920s, figures such as Poulenc and Milhaud, who would have seen in Mouquet the embodiment of the cultural conservatism and refined craftsmanship from which they rebelled.

Nevertheless, Mouquet's own music does not deserve its present obscurity. Mostly composed in the first decade of the last century, these attractive works for flute and piano do not aspire to the Impressionism of Claude Debussy which was, by then, a decade old; nor yet do they so much as acknowledge the winds of change blowing from Vienna or New York.

La Flûte de Pan is Mouquet's best-known piece, taken up by the likes of Sir James Galway. Composed in 1904, it was also his first for this combination of flute and piano, cast in a mood of playful and bewitching lyricism as it dances from shady groves to mountain heights via epigrammatic quotations from Greek poetry at the head of each of its three movements.

Classical themes and a mood of carefree gaiety are also shared by the contemporaneous Eglogue, Danse Grecque, Divertissement Grec and Berceuse. The five short pieces of 1925 move towards Debussyan Impressionism with yearning, chromatic tapestries of sound that still draw on ancient Greek modes for a harmonic foundation.

Mouquet's music is recorded here by a pair of young musicians who were born and studied in Sardinia. Sara Ligas has also recorded the complete flute music of Sigfrid Karg-Elert for Brilliant Classics (BC94976).

Jules Mouquet (1867-1946) was born in Paris and studied composition at that city's Conservatoire with Theodore Dubois. A winner of the prestigious Prix de Rome he became Professor at the Paris Conservatoire, and established himself as a key figure in the French cultural elite, a composer, teacher and author, writing prefaces and notes for works by prominent authors, including Rimbaud, Flaubert and Baudelaire.
This new recording presents Mouquet's complete works for flute and piano. Their titles (La Flûte de Pan, Danse Grecque, Eglogue, Berceuse, Divertissement Grec) already hint at the character of the music: evocative, scenic, often using modal scales and generally influenced by the warm, sensual and sweetly-romantic language of the young Debussy.
Beautifully played, with the right mixture of esprit, charm and seductiveness by Sara Ligas and Luca Nurchis, who already successfully recorded flute music by Karg-Elert for Brilliant Classics.
Track list
Disk 1
5 Pièces brèves, Op. 39: I. Andantino in A Minor

5 Pièces brèves, Op. 39: II. Allegretto in G Minor

5 Pièces brèves, Op. 39: III. Adagio - Andante in G Minor

5 Pièces brèves, Op. 39: IV. Andante

5 Pièces brèves, Op. 39: V. Allegro in D Major

Danse Grecque in F Major, Op. 14

Divertissement grec, Op. 23: I. Lydienne

Divertissement grec, Op. 23: II. Dorienne

Divertissement grec, Op. 23: III. Phrygienne

Berceuse, Op. 22

Eglogue, Op. 29

La flûte de pan in F Major, Op. 15: I. Pan et les bergers

La flûte de pan in F Major, Op. 15: II. Pan et les oiseaux

La flûte de pan in F Major, Op. 15: III. Pan et les nymphes