Mousike: The Art of Muses, Harpsichord Music by Contemporary Female Composers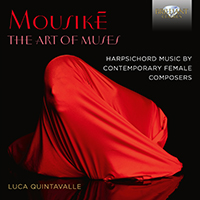 Download booklet
| | |
| --- | --- |
| Composer | Augusta Read Thomas, Anna Thorvaldsdottir, Graciane Finzi, Karola Obermüller, Misato Mochizuki, Sofia Gubaidulina, Santa Ratniece, Tania Léon, Ursula Mamlok |
| Artist | Luca Quintavalle harpsichord |
| Format | 1 CD |
| Cat. number | 96476 |
| EAN code | 5028421964768 |
| Release | December 2022 |
About this release
A transcontinental exhibition of modern female composers writing for the harpsichord in a dazzling array of styles, featuring many first recordings.
Ursula Mamlok's Three Bagatelles are miniatures characterized by a free application of serial technique, courting expressionist parallels with rhetorical, concentrated gestures. In Tumbáo, Tania Leon uses a string bass pattern from her native Cuba without being confined to a specifically Latin style in its development. Graciane Finzi's Espressivo evokes Romanticism (the period when the harpsichord almost disappeared from view) and could even be heard as an evocation of Chopin, but for a complementary tape part featuring a second, detuned harpsichord.
Karola Obermüller composed the Suite des femmages as a set of tributes to both the composer Ruth Crawford Seeger and Obermüller's own mother, Barbara, and they are accordingly imbued with a ferocity and a bracing power which reflects her admiration for both the women and their accomplishments. Errolyn Wallen dedicated Louis's Loops to her infant godson, and there is a playful quality to the juxtaposition of frenetic activity with oases of peace, where echoes of the past resurface poetically and sometimes with subtle irony.
Santa Ratniece took inspiration from the world of astronomy for Mira, which is named after a kind of pulsing star: with every pulse cycle, Mira increases in luminosity and strength. The Mobius-Ring of Misato Mochizuki describes an earthly scientific phenomenon, looping like Wallen's and Ratniece's works through evolving pulsations of the same material. Sofia Gubaidulina organised the Ritorno Perpetuo along complementary principles of varied repetition, determined in part by numerology and the Fibonacci sequence. This is the most extensive work on the album, but every piece here has something distinctive to say, and gains from its contrast with the others.
A previous album of Italian contemporary works for harpsichord on Brilliant Classics (96408) demonstrated Luca Quintavalle's eclectic reach and mastery of diverse styles, to which this unique collection makes a lively sequel.

· Another highly original and ground breaking recording concept by Luca Quintavalle: Harpsichord Music by contemporary female composers.
· This CD was not conceived solely from the important need to give female composers the visibility they deserve. It also looks for the "invisible" that these composers reveal to us. Additionally, it grants us the opportunity to understand the ways in which the rich, at times even contradictory, variety of their compositional styles can not only coexist, but inform and support each other. This recording acknowledges the fundamental contribution of women such as Wanda Landowska (1879-1959), Antoinette Vischer (1909-1973), Elzbieta Chojnacka (1939-2017), Zuzana Růžičková (1927-2017), Mariolina De Robertis, Annelie de Man(1943-2010), Genoveva Gálvez (1929-2021) and many others, without whom the harpsichord repertoire of the last 100 years would be significantly poorer, if not non-existent.
· The composers presented are: Augusta Read Thomas (1964), Ursula Mamlok (1923- 2016), Tania León (1943), Graciane Finzi (1945), Karola Obermüller (1977), Errollyn Wallen (1958), Santa Ratniece (1977), Anna Thorvaldsdottir (1977), Sofia Gubaidulina (1931), Misato Mochizuki (1969). All of the transcriptions of this Cd were made by the artist in accordance with the composers' intentions.
· A fascinating soundscape of extraordinary music, full of unheard-of sounds, timbres and effects.
· Luca Quintavalle is one of the most remarkable keyboard players of the moment. He has collaborated as a soloist with orchestras such as Concerto Köln, Les Talens Lyriques, Balthasar-Neumann-Ensemble, Cappella Gabetta, Il Canto d'Orfeo, Harmonie Universelle, Divino Sospiro, Il Pomo d'Oro, Capella Augustina, La Folia Barockorchester, Kölner Kammerorchester, Orchestre de la Suisse Romande and WDR Sinfonieorchester.
· His first solo recording of Jean-Baptiste Barrière's and Bernard de Bury's harpsichord music by the label Brilliant Classics was chosen as "Recording of the month" from MusicWeb International and got really positive reviews ("a great deal of excellent playing by Luca Quintavalle; enjoyable listening, which may be unreservedly recommended." Early Music-Oxford Journal; "I don't expect this recording to be surpassed" American Record Guide. Recently he recorded the Piano Sonatas by Anton Eberl (BC 95929) for Brilliant Classics, as well as "Italian Contemporary Music for Harpsichord" (BC 96408), to great critical acclaim.
Listening
Track list
Disk 1
Augusta Read Thomas: Fire Waltz - Homage to Béla Bartók

Ursula Mamlok: Three Bagatelles: I. Grazioso

Ursula Mamlok: Three Bagatelles: II. Very Calm

Ursula Mamlok: Three Bagatelles: III. Playful

Tania Léon: Tumbáo

Graciane Finzi: Espressivo

Karola Obermüller: Suite des femmages: I. Tolling

Karola Obermüller: Suite des femmages: II. Thundering

Karola Obermüller: Suite des femmages: III. Piercing

Karola Obermüller: Suite des femmages: IV. Fast

Errollyn Wallen: Louis' Loops

Santa Ratniece: Mira

Anna Thorvaldsdottir: Impressions

Sofia Gubaidulina: Ritorno perpetuo

Misato Mochizuki: Moebius-Ring