Moyreau: Complete Harpsichord Music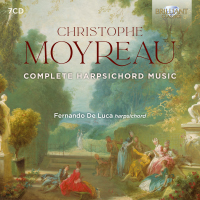 Download booklet
| | |
| --- | --- |
| Composer | Christophe Moyreau |
| Artist | Fernando De Luca harpsichord |
| Format | 7 CD |
| Cat. number | 96285 |
| EAN code | 5028421962856 |
| Release | April 2022 |
About this release
The first-ever survey on record of the complete surviving output by a significant contemporary of Rameau: a missing piece in the jigsaw of the French Baroque.

Christophe Moyreau (1700-1774) was born and died in the city of Orleans, and perhaps one reason why he never attained the fame of contemporaries such as Couperin and Rameau was that he never occupied posts in the French capital. Too much of his career is still shrouded in mystery, but he listed his occupation as 'organist' in the marriage register of his home church in 1726 – becoming father to 11 children over the next 18 years – and at some point he became titular organist at the important Church of Saint-Aignan before taking up the post as organist of the cathedral in 1737.

It seems to have been the lengthy restoration of the cathedral's organ which prompted Moyreau in 1753 to gather together much of his previously composed music into six books of Pièces de clavecin. He published them in two volumes during a lengthy period of what would otherwise have been enforced inactivity; he also wrote and issued a small but influential teaching manual in the same year.
The 126 separate pieces in the six books are remarkably varied in style but consistent in quality of invention. There are dances and character-pieces, organised into long suites, but also standalone overtures, sonatas and a solo concerto. The last of the suites concludes with a grand evocation of the bells of Orleans which has become his best-known work. The second volume includes six 'simphonies' for harpsichord, also recorded here by Fernando de Luca, making this set by far the most comprehensive collection of Moyreau's music ever released.

The experienced Italian harpsichordist, Fernando De Luca, most recently won much critical praise for his equally groundbreaking survey of Christoph Graupner's harpsichord music, on a 14CD set for Brilliant Classics (96131).

Christophe Moyreau (1700-1774) was born and spent most of his life in Orléans. He became organist at Orléans Collégiale Saint-Aignan in February 1719 and at Orléans Cathedral in January 1738 and occupied this position until around 1772.
In French music of his era (secular and also religious), an important place was reserved for the rhythms and structures of the dance. In 1753 Moyreau published his "Pièces de clavecin", 124 pieces grouped in 6 books. The dances Allemande, Courante, Sarabande, Gigue, Rigaudon, Menuet are part of Suites, while these books also include concertos and sonatas. Some of the pieces bear titles (in the style of Couperin and Rameau) like La Flotante, Le Baccante, Le Jaloux, La Coquette, Le Préludant, L'Euridice, La Comique, L'Orphée and Le Caprice. Book 6, uniquely for French harpsichord music, consists of several three-movement keyboard symphonies written in Italian style.
Played by Fernando De Luca, one of Italy's foremost harpsichord players, who recorded to great critical acclaim the complete keyboard works by Graupner, published by Brilliant Classics.
Listening
Track list
Disk 1
Disk 2
Disk 3
Disk 4
Disk 5
Disk 6
Disk 7