Mozart & Beethoven: Quintets for Piano and Winds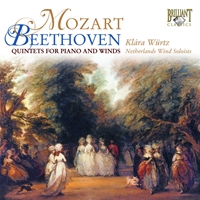 Composer
Ludwig van Beethoven, Wolfgang Amadeus Mozart
Artist
Klára Würz piano
Netherlands Wind Soloists
Format
1 CD
Cat. number
93788
EAN code
5028421937885
Release
April 2009
About this release
"The best thing I have written so far in my life … I wish you could have heard it – and how beautifully it was performed," wrote Mozart to his father in 1784.

K452 is an undisputed masterpiece. Each instrument is in effect a virtuoso soloist, and Mozart's writing for them all is masterful. It dates from the most intensive creative period in Mozart's life, 1784–7, between which time he produced twelve piano concertos, a horn concerto, a symphony, five quintets for various combinations of instruments, five string quartets, two piano quartets, three trios, five sonatas, The Marriage of Figaro, Don Giovanni, plus Der Schauspieldirektor, Eine kleine Nachtmusik and several shorter works – an extraordinary achievement, even by his standards.

Without doubt, the young Beethoven would have been familiar with this work. In 1792 he had arrived in Vienna as a highly praised piano virtuoso and composer for his instrument. Beethoven's early chamber works (with the exception of the Op.1 trios and the Op.5 cello sonatas) are for winds, and Mozart's work provided the model for the Piano Quintet Op.16 in the same way as the Second Piano Concerto Op.19 is the most 'Mozartian' of his concertos. However, far from being 'Mozartian' in sound, Beethoven's forceful and unique piano-writing and his robust Haydnesque humour (he had recently finished his studies with Haydn) mark this work as one of his early masterpieces. It dates from 1796.

Other information:
- Recorded in 1997.
- The wind soloists all hold major positions in leading Dutch orchestras such as the Netherlands Chamber Orchestra, Rotterdam Philharmonic, Residentie Orchestra in The Hague, and the Netherlands Wind Ensemble. They also hold key posts at the conservatories of The Hague and Rotterdam.
- Pianist Klára Würtz was taught by Zoltán Kocsis, and has taken masterclasses with András Schiff. Apart from extensive tours of the US, and many appearances on French, Irish, American and Dutch TV, she has a busy concert schedule in the Netherlands where she lives.
Track list
Disk 1
Quintet in E-Flat, Op. 16, For Piano, Oboe, Clarinet, Horn And Bassoon: I. Grave - Allegro ma non troppo

Quintet in E-Flat, Op. 16, For Piano, Oboe, Clarinet, Horn And Bassoon: II. Andante cantabile

Quintet in E-Flat, Op. 16, For Piano, Oboe, Clarinet, Horn And Bassoon: III. Rondo: Allegro ma non troppo

Quintet in E-Flat, K. 452, For Piano, Oboe, Clarinet, Horn And Bassoon: I. Largo -Allegro Moderato

Quintet in E-Flat, K. 452, For Piano, Oboe, Clarinet, Horn And Bassoon: II. Larghetto

Quintet in E-Flat, K. 452, For Piano, Oboe, Clarinet, Horn And Bassoon: III. Rondo: Allegro Moderato
Disk 1
Quintet in E-Flat, Op. 16, For Piano, Oboe, Clarinet, Horn And Bassoon: I. Grave - Allegro ma non troppo

Quintet in E-Flat, Op. 16, For Piano, Oboe, Clarinet, Horn And Bassoon: II. Andante cantabile

Quintet in E-Flat, Op. 16, For Piano, Oboe, Clarinet, Horn And Bassoon: III. Rondo: Allegro ma non troppo

Quintet in E-Flat, K. 452, For Piano, Oboe, Clarinet, Horn And Bassoon: I. Largo -Allegro Moderato

Quintet in E-Flat, K. 452, For Piano, Oboe, Clarinet, Horn And Bassoon: II. Larghetto

Quintet in E-Flat, K. 452, For Piano, Oboe, Clarinet, Horn And Bassoon: III. Rondo: Allegro Moderato