Mozart: Complete Violin Concertos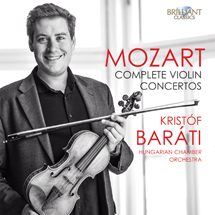 Composer
Wolfgang Amadeus Mozart
Artist
Kristóf Baráti violin
Hungarian Chamber Orchestra
Format
2 CD
Cat. number
95368
EAN code
5028421953687
Release
May 2016
About this release
Following previous successful albums, acclaimed Hungarian violinist Kristóf Baráti returns to Brilliant Classics to make his stamp on the Violin Concertos of Mozart. Praised for this 'strong, penetrating and brilliant tone' and his 'consistently serious, almost dramatic' interpretation of Ysaÿe's solo sonatas (BC94678), Baráti has emerged as one of the most important violinists of his generation, having previously performed with internationally renowned orchestras including the Royal Philharmonic Orchestra and Deutsches Symphonie Orchester, and with conductors Kurt Masur and Charles Dutoit. This album was specially recorded in Hungary's premier concert venue, the Kodály Center in Pécs, on Baráti's violin, the 'Lady Harmsworth' Stradivarius, kindly on loan from the Stradivarius Society of Chicago.

Here, Baráti turns his attention to Mozart for the first time. Leading the Hungarian Chamber Orchestra from the front, Baráti expertly tackles all five concertos known to be by Mozart, as well as the two Rondos and Adagio that together make up all of the composer's music for solo violin and orchestra. All the concertos (except K207, which has been dated to 1773) were composed in 1775 in a flurry of activity. Despite this, they document a strong development of Mozart's mastery of the form; from the fairly staid sonata form of the last movement of the first concerto, to the more radical decisions the composer was taking in his K218, where he boldly decides not to restate the opening 'fanfare' theme of the exposition in the development, instead weaving it into the second and third movements, expertly tying the piece together. Mozart stopped composing violin concertos as abruptly as he had begun; although he still performed his works for a few years afterwards, he seemed to lose interest in composing for the violin. Nevertheless, the five outstanding concertos he has left us with represent an outburst of Mozart's creativity and the astonishing rapidity with which he honed his technique over just a few months.

Hungarian violinist Kristóf Baráti is recognised as one of the leading violinists of his generation. He plays with the Philharmonia Orchestra, Mariinsky, WDR Sinfonieorchester, London Philharmonic, and conductors like Gergiev, Dutoit, Jurowski, Masur, Pletnev, Fischer, Temirkanov.
His extensive discography for Brilliant Classics led to great critical acclaim: "..Baráti is out of the top drawer. With intensity of sound, unbridled athleticism and searing leaps into the stratosphere which send a tingle down the spine" (Gramophone), "Masterful, probing, meditative, it rang with a rare sense of authenticity, and almost majestic scope" (Washington Post). "He is on the order of magnitude greater than any other violinist I've encountered in at least 10 years" (Fanfare on the Beethoven violin sonatas, with Klára Würtz, piano).
On this 2 CD set Baráti plays the complete works for violin and orchestra of Mozart: masterful, strong, alternating great vitality and tenderness, vigour and beauty. He himself conducts the excellent Hungarian Chamber Orchestra.

Recorded in the Kodály Center, Pécs, Hungary in 2015.
Contains notes on the music by an expert.
Contains biographies of the artists.
Listening
Track list
Disk 1
Wolfgang Amadeus Mozart: Violin Concerto No. 1 in B-Flat, K. 207: I. Allegro moderato

Wolfgang Amadeus Mozart: Violin Concerto No. 1 in B-Flat, K. 207: II. Adagio

Wolfgang Amadeus Mozart: Violin Concerto No. 1 in B-Flat, K. 207: III. Presto

Wolfgang Amadeus Mozart: Violin Concerto No. 2 in D Major, K. 211: I. Allegro moderato

Wolfgang Amadeus Mozart: Violin Concerto No. 2 in D Major, K. 211: II. Andante

Wolfgang Amadeus Mozart: Violin Concerto No. 2 in D Major, K. 211: III. Rondeau. Allegro

Wolfgang Amadeus Mozart: Rondo in B-Flat Major, K. 269/261a

Wolfgang Amadeus Mozart: Rondo in C Major, K. 373

Wolfgang Amadeus Mozart: Adagio in E Major, K. 261
Disk 2
Wolfgang Amadeus Mozart: Violin Concerto No. 3 in G Major, K. 216: I. Allegro

Wolfgang Amadeus Mozart: Violin Concerto No. 3 in G Major, K. 216: II. Adagio

Wolfgang Amadeus Mozart: Violin Concerto No. 3 in G Major, K. 216: III. Rondeau. Allegro

Wolfgang Amadeus Mozart: Violin Concerto No. 4 in D Major, K. 218: I. Allegro

Wolfgang Amadeus Mozart: Violin Concerto No. 4 in D Major, K. 218: II. Andante cantabile

Wolfgang Amadeus Mozart: Violin Concerto No. 4 in D Major, K. 218: III. Rondeau

Wolfgang Amadeus Mozart: Violin Concerto No. 5 in A Major, K. 219: I. Allegro aperto

Wolfgang Amadeus Mozart: Violin Concerto No. 5 in A Major, K. 219: II. Adagio

Wolfgang Amadeus Mozart: Violin Concerto No. 5 in A Major, K. 219: III. Rondeau