Mozart: Gran Partita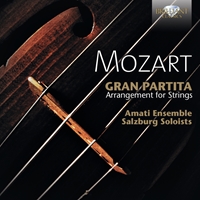 Composer
Wolfgang Amadeus Mozart
Artist
Amati Ensemble
Salzburg Soloists
Format
1 CD
Cat. number
93696
EAN code
5028421936963
Release
April 2007
About this release
Mozart's Serenade for wind ensemble K361, nicknamed 'Gran partita', is justly the most famous piece written for this combination of instruments. What is more, Mozart is a supreme master of the art of instrumentation. Yet here we have a work, perfectly suited to winds, in a new arrangement. Well, the diverse nature of the piece – its many movements and moods – make it a suitable candidate for a more flexible approach. It's even possible to argue that the more operatic character of several movements, such as the Romanze, can be more vividly conveyed and appreciated when heard with an ensemble of
string players.

The Adagio, one of Mozart's most touching slow movements, has become familiar from many different contexts – perhaps most notably in the film of Peter Shaffer's Amadeus. It is, famously, when Salieri hears this movement that he realises Mozart's genius: "On the page it looked nothing. The beginning
simple, almost comic. Just a pulse – bassoons and basset horns – like a rusty squeezebox. Then suddenly – high above it – an oboe, a single note, hanging there unwavering, till a clarinet took over and sweetened it into a phrase of such delight! This was no composition by a performing monkey! This was a music I'd never heard. Filled with such longing, such unfulfillable longing, it had me trembling. It seemed to me that I was
hearing the very voice of God."

The version for strings was made by the Israeli bassoon player Mordechai Rechtmann (1929), who is a member of the Israel Philharmonic Orchestra and has made several arrangements for wind ensembles. This arrangement by Rechtmann works the other way around, and is dedicated to these players. Founded by Gil Sharon in 1992, the Amati Ensemble is composed of a core group of internationally acclaimed artists. The Salzburg Soloists was founded in 1979 by the violinist Luz Leskowitz with the aim of bringing together highly qualified young soloists and chamber-musicians.

Other information:
- Arrangement for Strings by Mordechai Rechtmann.
- A fresh take on one of the most popular of Mozart's works.
- A premiere recording in 2007.
Track list
Disk 1
Serenade No. 10 in B-Flat Major, K. 361 "Gran Partita": I. Largo - Allegro molto (Arr. Mordechai Rechtmann)

Serenade No. 10 in B-Flat Major, K. 361 "Gran Partita": II. Menuetto (Arr. Mordechai Rechtmann)

Serenade No. 10 in B-Flat Major, K. 361 "Gran Partita": III. Adagio (Arr. Mordechai Rechtmann)

Serenade No. 10 in B-Flat Major, K. 361 "Gran Partita": IV. Menuetto. Allegretto (Arr. Mordechai Rechtmann)

Serenade No. 10 in B-Flat Major, K. 361 "Gran Partita": V. Romanze. Adagio (Arr. Mordechai Rechtmann)

Serenade No. 10 in B-Flat Major, K. 361 "Gran Partita": VI. Tema con variazioni (Arr. Mordechai Rechtmann)

Serenade No. 10 in B-Flat Major, K. 361 "Gran Partita": VII. Rondo (Arr. Mordechai Rechtmann)